Dir: Thierry Ragobert. France-Brazil. 2013. 85mins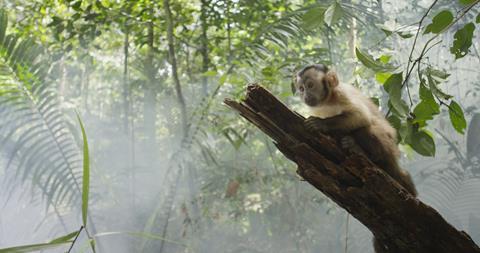 The team behind Arctic eco-doc The White Planet returns with this 3D Amazonian delight, which mixes elements of Madagascar and March Of The Penguins in a scripted documentary-drama about a circus-trained capuchin monkey that is forced to adapt to life in the wild when it survives a jungle plane crash.
With its prowling jaguars and monkey-snatching birds of prey, this is no sanitised version of the great outdoors.
Without voice-over narration, or the human interaction of another French nature doc/feature hybrid, The Child And The Fox, Amazonia avoids the traps of facile Disney-style anthropomorphism. But there's enough of a story about a character they will identify with to keep kids happy, and enough ravishingly shot wildlife safari footage to wow their parents too.
Screening in the Toronto Kids sidebar after closing the Venice Film Festival, Amazonia is due to be released in France by Le Pacte at the end of November – accompanied by not one but three tie-in books. It has already inked distribution deals in several territories, and looks set to extend that roster, given that this is one of those universal feelgood nature docs that comes without linguistic, cultural or political barriers to comprehension.
The 3D photography is sharp but also sober, eschewing flashy in-your-face effects for the simple, ViewMaster pleasure of seeing the natural world in all its layered depth.
The Amazon jungle must be one of the more challenging places in the world to embark on an 18-month 3D shoot involving a cast of animal actors that, it seems, were either entirely wild, or else feral specimens rescued from poachers and looked after in wildlife sanctuaries. The difficulty of making them stick to the script turns out to be a blessing, however: though it's underpinned by the 'hero's journey' of a juvenile monkey with some cute, almost human facial expressions, we're never allowed to forget that wild nature is an unpredictable thing. Shots of waddling armadillos, swarming red ants and preening macaws, or aerial views of mangrove swamps and the forest canopy, don't always move the plot forward, but they do remind us that, if you're a monkey all alone in the jungle, observation is more important than dramatic development.
As much symphonic as dramatic in structure, the film opens with a scene of a little red-collared capuchin monkey – called Sai, according to the pressbook – being loaded onto a light plane with other fairground paraphernalia. While over the Amazon basin the plane flies into a storm and crashes into the tree canopy, killing (we presume) the two pilots and leaving a frantic Sai trapped inside his cage. A curious coati, rummaging for food in the wreckage, manages to free Sai, and he's off out into the jungle to explore – returning to base only once, during a tropical deluge.
The dangers Sai will be forced to confront – trapdoor spiders, slithering anacondas, predatory harpy eagles – are played up by a sometimes ear-piercing soundscape of squawks and roars, ticks and hisses, with Bruno Coulais' lush orchestral soundtrack providing emotional support. Mindful of its minor audience, Amazonia is careful to alternate dark with light, following up Sai's 'Night of the Hunter' drift down a river on a tree-trunk raft and subsequent tropical storm soaking with a comedy-tinged sequence involving some psychedelic mushrooms, and steering him, around the midway point, into a safe haven, as he meets another monkey just like him.
But with its prowling jaguars (filmed, apparently, with the crew inside a cage for safety) and monkey-snatching birds of prey, this is no sanitised version of the great outdoors. The dangers are real, and though we know it's all going to be okay in the end, sensitive younger kids may find it all a bit much to take.
Production companies: Bilboa Films, Gullane
International sales: Le Pacte, www.le-pacte.com
Producers: Stephane Milliere, Laurent Baujard
Co-producers: Fabiano Gullane, Caio Gullane, Debora Ivanov, Gabriel Lacerda
Screenplay: Johanne Bernard, Luiz Bolognesi, Louis-Paul Desanges, Luc Marescot, Thierry Ragobert, based on an original idea by Stephane Milliere and Luc Marescot.
Cinematography: Manuel Teran, Gustavo Hadba, Jerome Bouvier
Editors: Nadine Verdier, Thierry Ragobert
Music: Bruno Coulais
Website: www.amazonia-lefilm.com