Dir: Jessica Hausner. Austria-Germany-Luxembourg. 2014. 96mins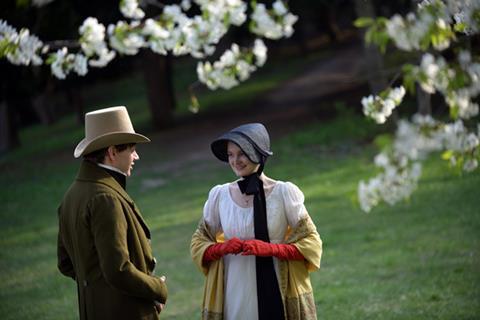 Billed as a " romantic comedy", Jessica Hausner's Amour Fou proves to be a spare, bone dry comedy of manners as it addresses emerging notions of democracy and freedom in early 19th century Germany along with more personal matters of life and death. Elegantly executed in a manner reminiscent of Eric Rohmer, it has the same rigour and solemnity that have marked Hausner's previous features but the rarefied subject matter and measured pace will only attract the most dedicated and patient Hausner admirers suggesting modest arthouse potential at best.
Inevitably, anyone with an understanding of the politics and social currents of the period will derive greater satisfaction from Amour Fou.
Inspired by the suicide of poet Heinrich von Kleist in 1811, Amour Fou also has similarities to Mike Leigh's competition entry in the way it immerses the viewer in a long gone age. There is an attention to detail and manners that is quietly absorbing as we witness the daily life of wife and mother Henriette Vogel (Birte Schnoink).
Static tableaux capture scenes of evening salons and family meals, all in rooms of terracotta red and sky blue. There are music recitals and waltzes. Dogs loll around and a vase of cut flowers is ever present. You could be observing a gallery of paintings from the period.
When the melancholic poet and author Heinrich von Kleist (Christian Friedel) first meets Henriette, he thinks he may have found a soulmate. He is convinced she shares his existential angst and belief that life is essentially without purpose or meaning. He makes her a bold proposition of a suicide pact in which he will kill her and then take his own life. She rejects the notion as preposterous nonsense.
She is not the first. Her view changes when she is diagnosed with a terminal illness and the possibility of arranging the time and manner of her own death becomes an awfully big adventure. Hausner milks some gentle irony from the ebb and flow of Heinrich and Henriette's commitment to their pact. She grows more determined as he suffers doubts.
He regains enthusiasm as her terminal diagnosis is challenged. He often seems to prefer the idea of a pact with his cousin Marie (Sandra Huller) than with Henriette. Evening conversations with family and acquaintances allude to the bigger picture of whether they can resist the notion that even the wealthy and privileged should be taxed and if the lower orders can be trusted to exert any measure of self-determination if new- fangled notions of democracy manage to take root.
Inevitably, anyone with an understanding of the politics and social currents of the period will derive greater satisfaction from Amour Fou. A general audience can savour the smaller struggle being waged between Henriette and Heinrich, a tussle that grows to dominate the film and lend it a focus that is less apparent in the earlier stretches. Birte Schnoink brings a luminous presence to Henriette and makes you believe that she could be tempted by such a pact even as you question her reasons for so blithely disregarding the impact on her devoted husband and loving daughter.
Production companies: Coop99 Filmproduktion, Essential Filmproduktion, Amour Fou
International sales: Coproduction Office www.coproductionoffice.eu
Producers: Martin Gschlacht, Antonion Svoboda, Bruno Wagner, Bady Minck, Alexander Dumreicher- Ivanceanu, Philippe Bober
Cinematography: Martin Gschlacht
Editor: Karina Ressler
Production designer Katharina Woppermann
Main cast: Birte Schnoink, Christian Friedel, Stephan Grossman, Sandra Huller