Dir/scr: Denys Arcand. Canada. 2014. 102mins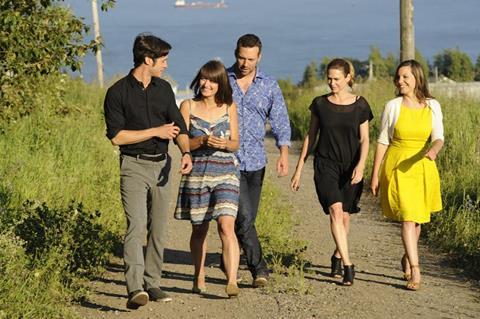 For once, the title does not lie. This is all about beauty, the spectacular beauty of Canadian landscapes, its mountains, its forests, its lakes, the Toronto skyscrapers and the Quebec City old town and most particularly, its ultra-fashionable modern homes. Even the people in it look unbearably handsome, so clean cut and unblemished they seem almost unreal.
If there is a star in this show, it is certainly cinematographer Nathalie Moliavko-Visotzky whose work stands out as the one perfectly valid reason to watch this film.
The Canadian Tourist Office couldn't possibly dream of a better advert, every frame here is a poster, and they all sing the country's praise. As a matter of fact, it is all so glossy and shining, that considering the past record of veteran director Denys Arcand (The Barbarian Invasions), it is not impossible he meant it all as a satire.
In any case, one thing An Eye For Beauty (Le regne de la beaute) is not about is authentic human beings. Most of the characters seem to belong to a Teflon race and the lead more than anyone else. A gorgeous award-winning architect, Luc (Eric Bruneau), takes his work effortlessly in his stride, that is whenever there is time left for him in between such important commitments as skiing, hunting, playing tennis, hockey training, choosing perfect wines, making sublime love and having an affair away from home, even if the beautiful blonde wife, Stephanie (Melanie Thierry) might not like it. For what she doesn't know, won't hurt her.
The whole story is told in flashback and starts with a Paris ceremony in honor of Luc's latest prize for his architectural achievements. Among those complimenting him, there is one bespectacled lady who introduces herself as Lindsay Walker (Melanie Merkosky). She smiles enticingly, he doesn't seem to recognise her and she reminds him that they had met before.
That's where the flashback begins. Back home in Canada, quite a few years back, Luc is on a jury in Toronto, across from him sits that same Lindsay, minus the spectacles. She courts him, shyly but insistently, and soon enough tells him she wants to spend the night with him, informing him that she intends, in any case, to divorce her husband who is away on business. This is the kind of one night stand most married men dream of and Luc is no better than all the rest of the married men. He grabs the chance even if he is not sure why he deserves the honour.
For lesser characters, such an affair could already fill a whole movie. Not in this case. People like Luc have so many other things to do, and despite his torrid passion for Lindsay, the affair is put on hold for a long while. In the meantime, Stephanie is showing gay tendencies and later on, falls victim to mysterious panic attacks, Roger, the older civil engineer working side by side with Luc has serious back problems and dies, Luc and Lindsay meet one more time (the film's original title was Two Nights) and all the rest of the time is dutifully filled up with social activities. The flashback ends back in Paris, to tell anyone who still cares, what exactly has happened to its various protagonists.
If there is a star in this show, it is certainly cinematographer Nathalie Moliavko-Visotzky whose work stands out as the one perfectly valid reason to watch this film. Every single shot must have been aligned for hours, so precise and perfect is the choice of the angle, the frame and the focus. To fit the purpose of the project, the actors are all cute and good-looking, happily enjoying the ideal conditions in which they are supposed to exist.
Production company: Cineimaginaire
International sales: Seville International, www. sevilleinternational.eonefilms.com
Producers: Denise Robert, Daniel Louis
Cinematography: Nathalie Moliavko-Visotzky
Editor: Isabelle Dedieu
Production designer: Patrice Bengle
Music: Pierre Philippe-Cote
Main cast: Eric Bruneau, Melanie Thierry, Melanie Merkosky, Marie-Josee Croze, Mathieu Quesnel, Michel Forget, Genevieve Boivin-Roussy, Magalie Lepine-Blondeau, Yves Jacques, Juana Acosta, Johanne-Marie Tremblay