Dir: Adam McKay. US. 2013. 119mins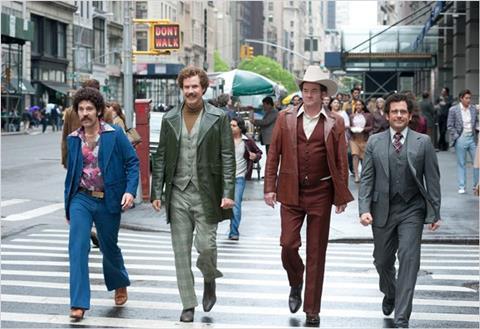 A holiday test of Will Ferrell's star power arrives in the form of Anchorman 2: The Legend Continues, the first starring theatrical sequel for the funnyman. Every bit as epically weird as its predecessor, 1999's Anchorman, Ferrell's shaggy collaboration with director Adam McKay, with whom he shares screenplay credit, represents a leisurely cinematic stroll with one of the comedian's more indelible characters. Whatever one makes of the surrounding vehicle, which has its share of lulls in addition to some high points, they're lying if they say that narcissistic television newsman Ron Burgundy — egotistical, ignorant and full of unearned confidence — doesn't command attention in an uncanny way.
Ferrell's comedies are of course all built to varying degrees around improvisation, but few of his characters more so than the blustering Burgundy, for better and worse.
Opening wide internationally on December 18, Anchorman 2 should parlay the enthusiastic cult status of its antecedent, which has attached itself to American popular culture in a number of ways, into strong returns against the expansion of David O. Russell's American Hustle and, the following week, a bevy of Christmas Day releases. In addition to the regular press blitz, Ferrell and Paramount are waging ancillary campaigns of atypical promotion, with Ferrell pitching pickup trucks for Dodge as Burgundy and appearing across platforms, including in at least one regional news telecast, in character.
Nine-digit grosses, outstripping the original film's $85 million domestic haul, seem a foregone conclusion. Overseas, where the first film was a non-factor and Ferrell has never possessed the same broad-appeal drawing power of Adam Sandler, will be the bigger question mark, and could prove a more challenging sell. The actor has not had anything that could really be called a hit since 2005's Bewitched, which underperformed Stateside at $63 million but pulled in $68 million abroad.
Anchorman 2 opens seven to eight years after the first film, in the early 1980s. Ron Burgundy (Ferrell) and his onetime rival, Veronica Corningstone (Christina Applegate), are now happily married New York City weekend newscast co-anchors, and have a young son, Walter (Judah Nelson). When Veronica receives a promotion and he is canned, however, Ron's entrenched professional jealousies quickly get the best of him, and he storms off.
Recruited by Freddie Sharp (Dylan Baker) to a position at GNN, the first 24-hour cable news network, Ron sets out to reassemble his old team: sportscaster Champ Kind (David Koechner), now running a chain of chicken restaurants that actually serve fried bats; field reporter Brian Fantana (Paul Rudd), now a photographer; and simpleton weatherman Brick Tamland (Steve Carell), who is busy organising his own funeral.
Initially saddled with the indignity of the graveyard shift, Ron bridles under the thumbs of various authority figures and rivals — including Australian multimillionaire GNN owner Kench Allenby (Josh Lawson), popular lead anchor Jack Lime (James Marsden), and Veronica's new boyfriend, Gary (Greg Kinnear). Things change, however, when Ron stumbles upon a formula for ratings success: jingoistic jabber, and "telling people what they want to hear instead of what they need to hear."
Anchorman 2 is, fairly shrewdly, shot through with any number of structural and thematic parallels to the first movie, including a musical sequence, a surreal competitive professional rumble, and Ron's decidedly unsophisticated discomfort at novel, non-white-male workplace equals, this time represented by Linda Jackson (Meagan Good), his strong-willed African-American producer and new romantic foil. And, like its predecessor, the movie at times even legitimately flirts with laying claim to serving as a metaphor for America — Ron succeeding, through a combination of bigheartedness, unfaltering struggle and plain dumb luck, despite much boorish behavior.
Ferrell's comedies are of course all built to varying degrees around improvisation, but few of his characters more so than the blustering Burgundy, for better and worse. (The first Anchorman even spawned a direct-to-video quasi-sequel, Wake Up, Ron Burgundy: The Lost Movie, assembled from unused footage, multiple and significant abandoned subplots and alternate takes.) While this embrace of shambolic rhythms produces its fair share of fantastically funny riffs — including Brick's confusion regarding green-screen, jokes about denim condoms and a disastrous dinner between Ron and Linda's family — one does find themselves wishing for a bit more narrative discipline, and not merely because of the 119-minute running time.
While an extended bout with blindness and Ron's retreat to a lighthouse of solitude win points for didn't-see-that-coming originality, Ferrell and McKay's script also seems to never quite fully and consistently dig into and exploit either the period piece setting or the rich veins of info-tainment satire that Ron's discovery of lowest-common-denominator populism demands. It's a case of more (if perhaps more difficultly harvested) laughs maybe lying on the other side of the fence.
Still, Ferrell and his comrades exhibit a great rapport throughout. He, Carell and Rudd in particular have not only a gift for ad-libbing, but also nonverbal, in-character lateral thinking. This makes the subtle interplay of their shared scenes a delight, and oddly rooted, despite much grade-A silliness.
Production companies: Gary Sanchez Productions, Apatow Productions
Domestic distribution: Paramount Pictures
Producers: Judd Apatow, Will Ferrell, Adam McKay
Executive producers: David Householter, Kevin Messick, Jessica Elbaum
Associate producers: Matt Rebenkoff, Robyn Wholey
Screenplay: Will Ferrell & Adam McKay, based on characters created by Will Ferrell & Adam McKay
Cinematography: Oliver Wood
Editors: Brent White, Melissa Bretherton
Production designer: Clayton Hartley
Music: Andrew Feltenstein and John Nau
Website: www.AnchormanMovie.com
Main cast: Will Ferrell, Steve Carell, Paul Rudd, David Koechner, Christina Applegate, Dylan Baker, Meagan Good, James Marsden, Fred Willard, Kristen Wiig, Greg Kinnear, Josh Lawson, Chris Parnell, June Diane Raphael, with cameos by Harrison Ford, Sacha Baron Cohen, Amy Poehler, Tina Fey, Kanye West, Jim Carrey, Will Smith, Liam Neeson, Marion Cotillard, Kirsten Dunst, Vince Vaughn