If you don't yet know the Internet's most famous cat, Tribeca award winner Lil Bub & Friendz hits the web today.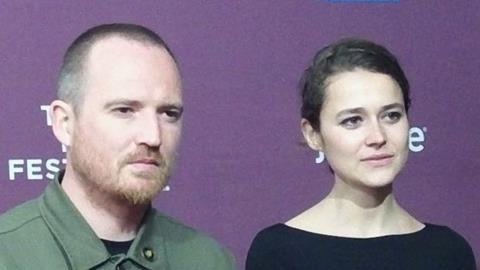 Lil Bub could be the most famous cat on the planet, or at least the Internet, which is pretty much the same thing, right? The 'perma-kitten' with adorable genetic mutations is now the star of a feature documentary, Lil Bub & Friendz.
Andy Capper and Juliette Eisner direct the VICE Media project, which introduces Bub and her owner, Mike Bridavsky, as well as other famous Internet cats — while examining the phenomenon of Internet memes, photos and viral videos.
The film had its world premiere in Tribeca where it won the online festival's audience prize for best feature and the prized feline herself got a photo-op with Robert De Niro.
The film launches online today (view here), and Screen caught up with directors via an email interview.
What initially drew you to these Internet feline stars and made you think it would make a compelling feature documentary?
JE: That cat is 100 times more famous than I'll ever be, even post-documentary. I had to investigate!
AC: It started off when Juliette dragged me to the Internet Cat Video Film Festival at the Walker Art Center to shoot a 10-15 minute film. We were expecting a few hundred internet cat fans to be there but then 10,000 people showed up. And when we saw people's reaction to Bub being there I realized it warranted a longer piece.
Why were Lil Bub and his owner right to be the main subjects of this film?
JE: Lil Bub is hands down one of the more interesting creatures I've ever met. Not only is she extremely adorable, but she exudes this insane aura that draws everyone to her — even the non-cat lovers. It's like John Lennon reincarnate walking down the streets of New York when Bub's in tow: people are swarming to get a closer look. And her fan mail! The little gal gets some of the most inspiring messages I've ever read. One that was especially touching was from young kid in the hospital who wrote to Bub telling her that her image was the only thing that was getting her through this difficult time.
She's cute, but also inspirational: a true underdog who has climbed to fame and success regardless of her difficulties. I think anyone who sees the film would agree.
AC: I loved the story of how Bub represents triumph over adversity and how happy she makes people feel, despite all her problems.
Have you experienced any snobbery that somehow internet cat videos are a joke subject, and not a serious film?
JE: People love to hate! The film is indeed about a cat, which is not the most serious of subjects, but the internet cat phenomenon is something that hundreds of thousands of people across the globe are obsessing over at the moment. The deep love of these celebrity felines is very real. We definitely had fun finding out why.
AC: A few but the majority of reactions have been overwhelming in their positivity. One reviewer wrote something like "this is simply adding to the problem of Internet cat videos". I was like: 'man, you need to get out more if Internet cat videos are a problem in your life.'
What was the craziest moment you experienced while shooting the film?
JE: Seeing over 10,000 people flood the field next to the Walker Art Center in Minneapolis to watch an hour's worth of cat videos.
AC: For me it was operating a dry ice machine while working two hand puppets of tiny dogs in bondage gear at the same time while lying on the floor as the dry ice machine blew billows into my face (the hell scene).
What was it like to see Robert De Niro holding Lil Bub at Tribeca?
JE: Hilarious.
AC: It was surreal and very fun. Thanks to all who voted for us to win the Best Feature Award.
Why was a YouTube release right for this film?
JE: Lil Bub found her fame online, so an online home is where the film should naturally live!
AC: The natural audience lives there.
What are you working on next?
AC: I just got back from Libya, shooting for VICE's show on HBO and working on more VICE news docs around the world. Also finishing an hour long doc on A$AP Rocky, music docs for Noisey and a bunch of other things around news, music and crime.