Animation excelled in 2010, both at the global box office and creatively. Jeremy Kay explores the front runners in the animated feature category.jer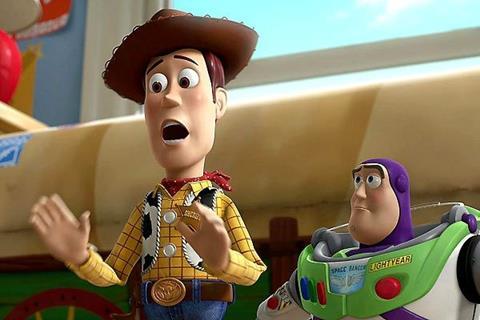 If contemporary animation is a whirlwind of imaginative accomplishment, the class of 2010 will go down in history as a thunderclap of commercial heft and artistry. The past 12 months has seen a body of work that showcased a dazzling range of style, tone and story.
Disney/Pixar's impeccable Toy Story 3 rounded off an exceptional trilogy which took audiences on an emotional 15-year journey and the industry regards it as the front runner heading into awards season.
Yet it faces a stiff challenge from widely admired titles and lesser-known gems which could excel in a category known for throwing the odd wild card into the mix. Take How To Train Your Dragon. Not only is it an awards contender every bit as fierce as the characters it depicts but this is a film which has been hailed privately by people close to Jeffrey Katzenberg's DreamWorks Animation as the studio's finest hour.
However, it would be an affront to the talent throughout the category to define this year's animated feature contest as a two-horse race.
Sylvain Chomet's rich slice of nostalgia, The Illusionist, states its case eloquently despite containing virtually no dialogue. There is strong work too from Disney's gorgeous Rapunzel update Tangled, Paul and Sandra Fierlinger's My Dog Tulip and a pair of witty riffs on the nature of villainy — Universal's Despicable Me and DreamWorks Animation's Megamind.
Some 15 films have been submitted for consideration to the Academy, which means three nominations will be announced on January 25, 2011. Five nominations ensue when 16 or more features are submitted and receive a qualifying run in Los Angeles County, however three tends to be the norm: it has been this way seven of the nine years since the animated feature Oscar was introduced in 2001.
The 15 submissions in alphabetical order are: Lionsgate's Alpha And Omega; Warner Bros' Cats & Dogs: The Revenge Of Kitty Galore; Universal's Despicable Me; The Dreams Of Jinsha from China; DreamWorks Animation's How To Train Your Dragon; Bill Plympton's Idiots And Angels; Sony Pictures Classics' The Illusionist; Warner Bros' Legend Of The Guardians: The Owls Of Ga'Hoole; DreamWorks Animation's Megamind; New Yorker Films' My Dog Tulip; DreamWorks Animation's Shrek Forever After; Japan's Summer Wars; Disney's Tangled and Tinker BellAndThe Great Fairy Rescue; and Disney/Pixar's Toy Story 3.
By mid-November four submissions — The Dreams Of Jinsha, The Illusionist, Summer Wars and Tangled — had not completed their mandatory Los Angeles qualifying runs. This is an essential hoop the contenders must jump through, and there are others.
This year the Academy shaved the minimum running time down from 70 minutes to 40. In addition, animation must figure in at least 75% of a submission's running time. The Academy likes its rules: another puts an end to entries which are little more than repurposed television shows, but this is not believed to be a factor this year. The 100 or so members of the executive committee of the short films and feature animation branch will review the selection before unveiling the nominees in the New Year.
At the box office, 2010 served as a reminder that tentpole animation releases can easily hold their own against the live-action titans. Toy Story 3 finished on $648m outside the US to rank as the eighth biggest international release of all time, while $1.1bn in global ticket sales positioned it as the biggest animated release ever, the second biggest film of the year-to-date behind Disney's Alice In Wonderland and the fifth biggest global release in industry history.
In a banner year for DreamWorks Animation, the studio generated more than $1.3bn and counting worldwide from three films — a rare feat of productivity in a notoriously time-consuming discipline. The aforementioned How To Train Your Dragon amassed just shy of $500m worldwide and Shrek Forever After generated more than $700m, of which roughly $499m came from international.
Megamind's prospects looked promising by mid-November: after two weeks on release it had shot to more than $120m worldwide, despite only being active in around 11 international markets. Universal's Despicable Me, the first production from Chris Meledandri's Illumination Entertainment, has crossed the $500m worldwide mark and is still going strong.
However, the markets have not been kind so far this year to animated product from Warner Bros: Legend Of The Guardians: The Owls Of Ga'Hoolefrom Zack Snyder stood at $130m worldwide by mid-November while Cats & Dogs: The Revenge Of Kitty Galore was unable to follow up on the $200m promise of its 2001 predecessor and extracted a tame $112m worldwide.
FEATURE ANIMATION: THE MAJOR CONTENDERS
TOY STORY 3
If Toy Story 3 clinches top honours on February 27, Pixar will have won the Academy Award four times in a row after Up, Wall•E and Ratatouille. The film's box-office achievements are already etched into the history books and winning the Oscar would be the icing on the cake. Lee Unkrich's lovingly rendered climax to a beloved 15-year story arc refused to rest on its laurels, providing instead a rousing finale which made grown men cry.
The toys' journey home is darker than previous episodes as they find themselves in a de facto prison run by an embittered teddy bear. Along the way they encounter betrayal, heroism, heartbreak, love and laughter — and an unforgettable Ken and Barbie soap opera.
HOW TO TRAIN YOUR DRAGON
Dean DeBlois and Chris Sanders were brought in at the eleventh hour to correct the course of a project which had lost its way. In the wrong hands it could so easily have gone under, but the directors fashioned one of the most acclaimed animated releases of recent years for DreamWorks Animation.
The first of Cressida Cowell's children's books comes to life in a stirring tale of friendship and a boy's desire to become his father's son. The film-makers worked with renowned cinematographer Roger Deakins and the resulting vistas are enchanting.
"Every frame has been influenced by his sensibilities and minimalist use of shadow," says DeBlois. "He took this world with its caricature elements and imbued them with this naturalistic light and texturing. It was very brave for the studio to sign off on that."
THE ILLUSIONIST
Sylvain Chomet (Belleville Rendez-Vous) pulled out of the hat an unproduced screenplay by Jacques Tati and crafted a wistful, hand-drawn love letter to the days of music hall. A disillusioned magician flees France and alights on a Scottish isle, where he discovers a surrogate daughter. The ensuing relationship brings fun, tenderness and a sense of purpose to their lives. Sony Pictures Classics releases in the US.
DESPICABLE ME
Steve Carell gives voice to Gru, the dastardly lead in an engaging tale about a villain who discovers his heart. Brimming with colour, gadgetry and a delightfully playful score, Universal's Despicable Me delivered one of the year's treats — and a $500m-plus global box-office bounty.
MEGAMIND
Will Ferrell portrays the cerulean Mekon-like villain who is thrust into existential turmoil after he wipes out his sickeningly perfect nemesis, voiced by Brad Pitt, in the DreamWorks Animation project. Tina Fey is the damsel stuck in the middle of this witty and imaginatively rendered tale.
TANGLED
Disney's 50th animated feature, Tangled, has had a warm early response from critics and audiences on its US opening over Thanksgiving. Blending gorgeous state-of-the-art CG animation with a classic story — the Rapunzel fairytale — and an Alan Menken song score, Tangled is a return to vintage form for the studio's animation department which is now overseen by Pixar genius and the film's executive producer John Lasseter.
MY DOG TULIP
Based on JR Ackerley's memoir about the bond between man and his best friend, My Dog Tulip has earned a devoted following. Like 2010 nominee The Secret Of Kells, the New Yorker Films release could be the season's wild card. Christopher Plummer, Lynn Redgrave and Isabella Rossellini provide voices.