Four times Oscar-nominated but never a winner, Annette Bening impresses again as faded silver-screen siren Gloria Grahame in real-life love story Film Stars Don't Die In Liverpool.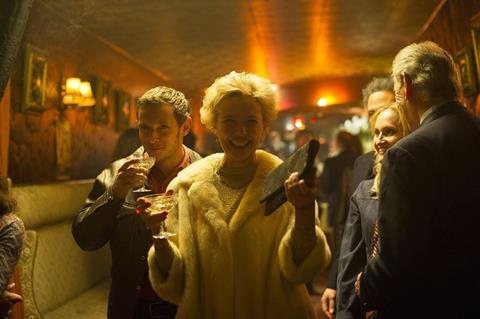 It was a role that took shape at the school gates. Not the literal school gates but in the kind of friendship that grows gradually between two women who have their first children around the same time. Actress Annette Bening and producer Barbara Broccoli met in Los Angeles in the early 1990s and became close as they found themselves in the same social circle that looped around their oldest children.
They talked casually about a project Broccoli was toying with, based on a moment in the life of Broccoli's UK actor friend Peter Turner. He had fallen for a fellow thespian, a woman called Gloria Grahame, who was around 30 years older than him. They had met while renting rooms in the same London digs in the 1980s.
Liverpool-born Turner came to realise the glamorous woman was a Hollywood great of the black-and-white era, though not one of the leading lights despite winning a best supporting actress Oscar for 1952's The Bad And The Beautiful. When Turner met Grahame, she was in the UK to appear on stage in less-than-glamorous Watford, a town just north of London.
"Barbara had known Peter and Gloria when they were together," Bening recalls of those early conversations. "She talked about how when you were around them, [their relationship] really made sense. You thought, 'Yes, they are really in love.'"
Turner had written a memoir of his time with Grahame called Film Stars Don't Die In Liverpool in 1987, to which Broccoli had bought the film rights. She gave the book to Bening. ("It's tasteful and kind of impressionistic," Bening reports. "It doesn't have all the hallmarks of some people who write books about having been in love with someone who was famous.")
A couple of years ago Broccoli was ready to make the film, and Bening reread the book. She realised Turner was the way into the story and into the character of Grahame — the story was very much his story and from his point of view. "[I] understood why Gloria would fall in love with him and what a different kind of man he is," Bening says of Turner. "He is a very beautiful man, who really adored her and treated her well. Sadly for her, that didn't happen to her very much."
Bening knew very little about the actress other than that she had also been Oscar-nominated for her role opposite Robert Young and Robert Mitchum in the 1947 crime thriller Crossfire. (Funnily enough, to prepare for her breakout role in 1990's noirish The Grifters, director Stephen Frears had asked Bening to watch the films of Gloria Grahame.) A YouTube search proved fruitless as Grahame had apparently shied away from the talk-show circuit and did not appear in any archived editions of the Dick Cavett or Michael Parkinson interviews.
"That's one of the interesting things about her," suggests Bening. "She considered herself a B-movie actress even though she did make some very big movies that were A-list movies."
There was plenty of gossip, however, as Grahame had the kind of prickly professional reputation attributed to outspoken women in male-dominated Hollywood, and had been married four times, including briefly to the son (her stepson) of her third husband, the director Nicholas Ray. But Bening, ever the Hollywood pro, was wary of venturing too far down that track.
"I was careful about what I assumed about Gloria but even just the facts of her life were pretty tempestuous," she says carefully. "I focused on this chapter of her life, where Peter had written about her. I asked Peter and trusted Peter and from his point of view tried to come up with something. I also didn't want to impose on her family. I wanted to respect their privacy."
Playing with time
Film Stars Don't Die In Liverpool, directed by UK filmmaker Paul McGuigan and written by Matt Greenhalgh, shot in London and on location in Liverpool in 2016. The film moves seamlessly between past and present and the production moved back and forth frequently between the two locations.
"Which is what it is on films, all the time, but on this one I did have to keep my mind straight. My script was very diagrammed out," Bening smiles. "There's this progression that I needed to find and sometimes we would be jumping ahead into the progression. I tried to find a way in my own head to get that straight. It was tricky."
Easier by far was working with her co-star Jamie Bell who played Peter. "I felt really safe with him. I think that's the best word," Bening says of Bell. "When you feel safe, you can open up a little bit. We didn't really know what it was going to be until we were doing it. For me, Jamie just made everything possible. It began to feel like the nature of Peter and Gloria's attraction, and the way they were with each other grew very organically between us. I trusted him. He's got an old soul and he's respectful. And I was respectful towards him so we got on very well."
The relationship is portrayed as intense, complex and intimate. Both actors were helped by the rare presence of a female cinematographer, Urszula Pontikos (Weekend), who also operated the camera.
"She was absolutely terrific and incredibly smart," Bening enthuses. "The cinematographer is such an important thing for an actor. It's an intimate relationship. The great ones feel as much as the actors, the writers and the directors. The great ones are in there, they feel the room. It's such a man's world, the set, but she handled herself brilliantly and everyone supported her."
When it came to working with McGuigan, whose feature credits include Victor Frankenstein and Lucky Number Slevin, as well as plenty of TV work on series including Scandal and Luke Cage, Bening was happy to go with the flow.
"What I learned early on [in my career] was that everyone is so different," she explains. "What happens is directors usually like to get together [to rehearse] but then they're pulled away because it's right before production and things are busy."
But rehearsing doesn't mean sitting around and learning lines. "It's a chance to get to know each other and share stories, to bond," says Bening. "I love that part. It's really worthwhile and tremendously important. It's quite scary if you haven't had a chance to really sit with someone, look them in the eye and just be around them. It's very hard. I've had to do it a number of times when you go from, 'Hello, nice to meet you,' and you might spend a lunch together, and then suddenly you're in a scene and you have this whole history. We're asked to do that regularly, and that's part of the job but it can be scary, especially if it's a very demanding scene.
"I much prefer being able to have some time together and explore things and talk, talk about our own personal lives, ask questions. There are always good questions to ask if it's a good project. We could still be asking questions about what happened with Peter and Gloria."
Film Stars Don't Die In Liverpool premiered at Telluride and then Toronto in September, and saw its first territory release — in the UK, courtesy of Lionsgate — in mid-November. Sony Pictures Classics will follow in the US with a platform release from December 29.
Since the shoot, Bening has wrapped the lead in Georgetown, a contemporary political thriller that is Christoph Waltz's directorial debut. She co-stars with Waltz and Vanessa Redgrave, who plays Grahame's mother in Film Stars. Bening now plans to take some time off until the end of the school year, to be around while her youngest child finishes high school. "Sometimes you have to be there even in a way they wish you weren't," she grins.