Dir: Will Gluck. US. 2014. 118mins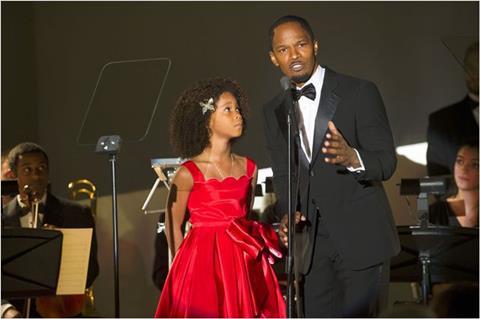 The poise and grace newcomer Quvenzhané Wallis brought to Beasts Of The Southern Wild are all but eradicated by Annie, a shrill, juvenile remake of the well-known tale of an orphan girl and her billionaire benefactor. Though always meant to be a fairy tale, this new Annie comes across as especially materialistic and shallow, treating the titular spitfire's unlikely journey into the lap of luxury as little more than a cataloguing of high-priced trinkets and fancy clothes.
The only cast member to transcend Annie's drudgery is Byrne, who radiates warmth and sweetness where much of the rest of the film ladles on the sarcasm and attitude.
Reduced to playing cutesy-pie bratty for most of the film's running time, Wallis has a few genuine moments with co-stars Jamie Foxx and Rose Byrne, but director Will Gluck shows little skill for capturing the joy or heart of the venerable musical.
Opening December 19 in the US, Annie will square off with another song-and-dance movie, Disney's Into The Woods, which may have more marquee firepower. Aimed at family audiences, this Sony release won't just compete for the kid-friendly crowd with Into The Woods but also Fox's Night At The Museum: Secret Of The Tomb, and no doubt each studio is hoping that the holiday season will be big enough to accommodate all three movies. If Annie falters theatrically, though, home video and cable should be there to make up any shortfalls.
Taking place in present day New York — a conscious departure from the Great Depression-era setting of the 1970s Broadway musical and the subsequent film directed by John Huston (which were both based on the 1920s comic strip) — Annie stars Wallis as the foster child. Trapped in a miserable life with drunken, loud-mouthed caretaker Miss Hannigan (Cameron Diaz), Annie finds a way out by accidentally crossing paths with Will Stacks (Foxx), a cell phone magnate who's running for mayor. Told by his advisors that he seems cold and distant, Will is encouraged to let Annie live with him in his fabulous apartment as a way to convince voters that he has a soft side.
With Easy A, Gluck demonstrated a knack for tart characters and sassy dialogue without sacrificing heart. Unfortunately, Annie proves to be a smartass, rather shabby musical almost from the start, the jokes and the emotion all delivered with a thudding lack of subtlety, presumably to make sure that young people in the audience don't get confused by nuance.
Some of the original Broadway songs, with music by Charles Strouse and lyrics by Martin Charnin, have been updated, but they remain Annie's strongest element, their dependably hummable melodies pleasingly familiar if not exactly soul-stirring. (Gluck doesn't help matters by staging chestnuts like It's The Hard Knock Life without much vigour or visual ingenuity.) However, the tunes aren't always performed very powerfully: While Foxx has the vocal chops, Wallis is a tepid singer, a critical weakness considering that Annie's plucky spirit and indomitable optimism are best articulated through song.
But what's truly galling about this Annie is its gross extravagance. The filmmakers mean to illustrate that the filthy-rich Will got that way because of hard work, but at the expense of having anyone special in his life. (Possible love interest Byrne plays Will's beautiful and capable vice president Grace, who like her boss is a workaholic loner.) But Gluck, who co-wrote this adaptation, makes Will's life seem so wonderfully lavish that the movie ends up equating wealth with happiness.
Once Will invites Annie to move in with him, she becomes a bland princess, handing out pricey cell phones to her foster-kid buddies and cooking elaborate meals in his well-stocked kitchen. Annie doesn't bother suggesting that there's more to existence than material possessions. Instead, expensive accessories are shown to be a young girl's dream come true, the filmmakers never questioning such a stance.
Of course, Annie also rankles because much of its humour comes from the mercenary agreement struck between Annie and Will: She'll pretend to be endlessly appreciative of him in front of the press so that his poll numbers go up, but deep down she's using him as much as he's using her. Consequently, Annie leaves a sour aftertaste, each scene built around the idea that two pragmatic schemers are doing whatever they can to help themselves. By the time the inevitable change of heart occurs for both characters, it's far too late, as the film's cynical spirit has already been well established.
The performances run the gamut, with most trending toward the irritatingly overblown. Diaz fully plays up Hannigan's brassy, lusty wretchedness, but there's no wit to the portrayal, merely a slightly self-satisfied campiness. Likewise, Bobby Cannavale, playing Will's shark-like campaign advisor Guy, is unappealingly broad. Viewing Annie strictly as a means to boost Will's polling, Guy has the potential to be the movie's delightfully boo-hiss villain, but Cannavale and Gluck overdo the callousness, making the character a tedious heavy.
Foxx fares a little better, but he too feels hemmed in by the movie's generally unsophisticated tone. The only cast member to transcend Annie's drudgery is Byrne, who radiates warmth and sweetness where much of the rest of the film ladles on the sarcasm and attitude.
This approach disappoints most when it comes to Wallis. Earning an Oscar nomination for her turn as Hushpuppy in Beasts Of The Southern Wild, she was so striking precisely because she didn't seem like a typical child actor, conveying thoughtfulness and eliciting sympathy without resorting to tics or mugging. It would be a mistake to place too much of the blame of Annie's failure at her feet, but it is disheartening to see a promising performer get thrown into such a soulless studio dud. As Annie herself might say, let's hope tomorrow's a brighter day for Wallis.
Production companies: Columbia Pictures, Village Roadshow Pictures, Overbrook Entertainment, Marcy Media Films, Olive Bridge Entertainment
Distribution: Sony Pictures, www.sonypictures.com
Producers: James Lassiter, Will Gluck, Jada Pinkett Smith, Will Smith, Caleeb Pinkett, Shawn "Jay Z" Carter, Laurence "Jay" Brown, Tyran "Ty Ty" Smith
Executive producers: Celia Costas, Alicia Emmrich
Screenplay: Will Gluck and Aline Brosh McKenna, based on the musical stage play Annie, book by Thomas Meehan, music by Charles Strouse, lyrics by Martin Charnin, and on Little Orphan Annie
Cinematography: Michael Grady
Editor: Tia Nolan
Production designer: Marcia Hinds
Website: www.annie-movie.com
Main cast: Jamie Foxx, Quvenzhané Wallis, Rose Byrne, Bobby Cannavale, Adewale Akinnuoye-Agbaje, David Zayas, Cameron Diaz