Dir-scr: Mike Leigh. UK. 2010. 129mins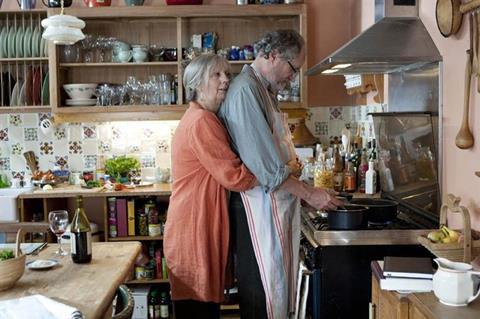 Mike Leigh's thoughtful and insightful film - showing in Competition in Cannes - is a delicately crafted and often moving glimpse into ordinary lives over a year period, touching on a variety of conflicting emotions - from hope to despair, and from birth to death - as a series of folk chat, drink and generally go about their lives.
Another Year is also made with a lightness of touch that makes the smallest of dramas seem all the more powerful.
In the hands of a lesser director the film might have come across as slight, but Leigh is a master of making the ordinary extraordinary, and is helped in no small part by his casting of a talented group of actors, many of whom he has worked with on previous films, forming a minor repertory company at the core of the film.
Leigh's last film, Happy-Go-Lucky (2008), saw him in jovial mood, with the film garnering a Best Screenplay Oscar nomination and much acclaim for led actress Sally Hawkins. And while Another Year might well be sombre in tone in certain sections, it is also made with a lightness of touch that makes the smallest of dramas seem all the more powerful.
The film seems likely to attract strong reviews, and the Mike Leigh brand continues to have a strong value for buyers, especially given the awards and acclaim that tends to follow his films.
The film opens in Spring. Happily married couple Gerri (Sheen), a medical counsellor, and Tom (Broadbent), a geologist, potter around their allotment, and host a dinner for Gerri's lonely work colleague Mary (Manville), who bemoans her terrible love life while drinking far too much.
In Summer Gerri and Tom's overweight friend Ken (Wight) arrives from Hull and proceeds to drink heavily during their barbecue while Mary arrives late (having got lost in her new car), starts to drink and casually - though also seriously - flirts with Gerri and Tom's 30 year-old son Joe (Oliver Maltman).
Autumn still sees Gerri and Tom relishing their time at their allotment, while Tom surprises them by arriving home with his new girlfriend Katie (Karina Fernandez). But when Mary meets Katie she gets increasingly hostile to her as she gets more and more drunk, and still tries to flirt with Tom.
In Winter, Gerri, Tom and Joe drive to Derby for the funeral of the wife of Tom's elder brother Ronnie (David Bradley), who returns home with them for a few days. Mary arrives unannounced, much to Tom and Gerri's annoyance, but they grudgingly let her stay, and over dinner as Tom and Gerri reminisce and Katie and Joe look forward to their trip to Paris, Mary drinks and dwells on the emptiness of her life.
Another Year is a deft and thoughtful film that is deceptive in how it tackles its core subjects of loneliness and companionship. And while Tom and Gerri (Jim Broadbent and Ruth Sheen quite sublime in their warmth, ease and compassion) are the emotional centre of the film, the most striking performance comes from the ever-excellent Lesley Manville. Her white-wine loving Mary is a faded beauty who has - though a combination of poor decisions and bad luck - ended up alone, lonely and desperately unhappy. Her plaintive sadness is evident through her nervous energy and doleful eyes, and while her character is irritating and a little pathetic at times, her sheer sadness leaves you sorry for her.
The simple structure of staging the structure over the four seasons allows for gentle development of characters while also reinforcing Tom and Gerri's consistent contentment. At the same time there is something rather uncomfortable about their ambivalent attitude to their friends drinking far too heavily, though perhaps this is more about the fact they are long time friends rather than forcing a moral stance.
Imelda Staunton, another Mike Leigh regular, makes a striking - though brief - appearance at the start of the film as a sad woman unable to sleep who has no real interest in talking to her counsellor. You expect her to figure again at the close of the film, but her story is left behind as the year draws on.
As usual with Mike Leigh, the film is shot with an easy elegance and unfussy style, with moments of gentle humour shining through. Unexpectedly the cast are uniformly excellent, gently underplaying at times but displaying a real ease in their roles - they inhabit rather than portray the characters, helping make the film even more convincing and engaging.


Production companies: Thin Man Films, Film4, UK Film Council
International sales: Focus Features International
Producer Georgina Lowe
Executive producers: Gail Egan, Tessa Ross
Cinematography: Dick Pope
Production designer: Simon Beresford
Music: Gary Yershon
Main cast: Jim Broadbent, Lesley Manville, Ruth Sheen, Peter Wight, Oliver Maltman, David Bradley, Karina Fernandez, Phil Davis, Imelda Staunton