Fox's Apes beats out Smurfs and Harry Potter for UK box-office crown.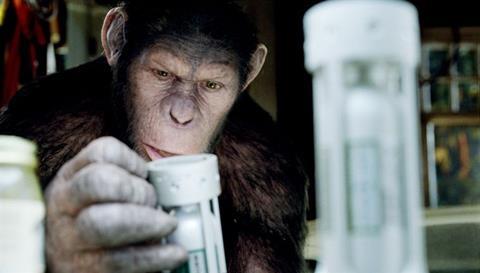 Fox's Rise Of The Planet Of The Apes debuted in first place in the UK, taking £5.8m (including one preview day) from a week-high 488 screens and a week-high screen average of £11,957. The solid haul was a marginal improvement on Tim Burton's 2001 remake Planet Of The Apes, which opened on £5.4m and went on to total an impressive £16.9m.
Sony's family-comedy The Smurfs debuted in second position, grossing a moderate $3.8m (including two preview days) from 447 screens at an £8,452 average.
The Smurfs performance was at least a considerable improvement in the UK for director Raja Gosnell, whose previous effort Beverly Hills Chihuahua managed only a £1m haul from 422 screens on debut in 2008.
Harry Potter And The Deathly Hallows: Part 2 was unable to make it five weeks in a row, slipping to third place after grossing a further $1.7m for £66m. Warner's blockbuster, still playing on 469 screens, dropped only 38% in its fifth week - the second-smallest decline among the top ten films - and is now firmly lodged in fifth position on the UK all-time chart, one place behind Titanic (£69m), which it is unlikely to overtake.
Avatar was the last film to achieve five consecutive weeks in top spot in the UK. James Cameron's behemoth in fact went seven consecutive weeks in first place, and nine in total.
Fourth-placed Super 8 and fifth-placed Mr Popper's Penguins saw underwhelming holdovers, grossing £1.2m and £897,336 respectively, while Universal's surprise smash of the summer Bridesmaids is still playing among the top ten films in its eighth week, grossing a further £332,171 to overtake 2009 film The Hangover on the UK all-time chart.
Icon's The Devil's Double disappointed in eleventh, managing only £318,512 from 209 screens at an average of £1,524 and there were similarly lacklustre openings for Reliance's drama Aarakshan, Trinity's French romantic comedy Beautiful Lies, Icon's documentary Project Nim and Revolver's Elite Squad 2, none of which crossed £80,000 over the weekend.
Critically appreciated Artificial Eye comedy The Salt Of Life at least saw the week's fourth-best screen average, taking £42,737 from 17 screens at an average of £2,514.
In the final weekend for a summer studio tentpole release, this weekend sees saturation releases for Paramount's Cowboy's And Aliens, Fox's Glee: The 3D Concert Movie, Entertainment's The Inbetweeners and Spy Kids: All The Time In The World 4D, and limited releases for Axiom's Oscar winner In A Better World and Optimum's Irish hit The Guard.