Dir: Jason Winer. US. 2011. 110mins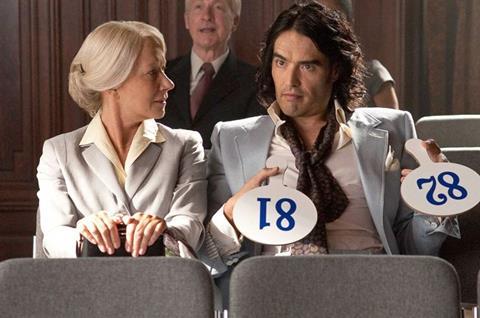 Russell Brand slips into the tuxedo of Dudley Moore in Arthur, an energetic but essentially only middling reimagining of the 1981 comedy about a perpetually soused man-child who awakens to life outside his debauched comfort zone. Despite some amusing bits and a very capable and handsomely mounted production, the results never truly outgrow diversionary setpiece amusement, and coalesce or gel into something humanistic and more deeply funny.
Brand again displays the decorative verbosity and livewire self-involvement he used to good effect as Aldous Snow in Forgetting Sarah Marshall and Get Him to the Greek.
The 2004 remake of Alfie, another rakish British rogue's tale, foundered at the box office, pulling in $14 million domestically and a paltry $35 million overall, but Arthur has the advantage of a PG-13 Stateside rating, and its cast and comparatively positive word-of-mouth should help it easily outstrip same-frame comedy competition Your Highness. Solid eight-figure grosses seem reasonable, along with a healthy shelf life in ancillary markets.
Arthur Bach (Brand) is a trust fund billionaire and impish layabout, or, as he puts it, just a guy with "a savant-ish gift for defying death with fun." Indulging every capricious consumer whim, and burning money in other inventive ways, he lives in a lush New York penthouse apartment with a magnetic floating bed. His excesses are counterbalanced (to the degree possible) by the attention and care of his exasperated but dignified nanny of several decades, Lillian Hobson (Helen Mirren).
Looking to shore up their company's public image and financial future, Arthur's stern mother gives him an ultimatum to marry Susan (Jennifer Garner), or face being cut off from his inheritance. But Arthur randomly meets and is smitten by tour guide Naomi Quinn (Greta Gerwig), and embarks upon a labyrinthine mission to extricate himself from his impending nuptials, all while wooing Naomi.
Peter Baynham's script sands down many of the edges of Steve Gordon's original film, and tries in part to re-contextualise for modern times a protagonist whose two main traits are profligacy and drunkenness. An hour in, the film takes a headlong dive into self-betterment, depositing Arthur and Lillian at an Alcoholics Anonymous meeting, but ducking out of any exploratory follow-up.
It's from this point on that an awkward push and pull characterises the movie. Brand is such an outsized personality that, with him as the lead, the subjective viewpoint of Arthur's dramatic and emotional moments are somewhat hard to buy into, without the more consistent mooring of rooted-in-the-real-world characters.
The love connection between Arthur and Naomi embodies this difficult split, too. Impressively, the film doesn't posit that Arthur is readily willing to completely abandon his serial womanising. But a charming and extravagant date scene in Grand Central Station, which showcases Arthur as being habitually uncomfortable in his own skin, only scratches the surface of the rich possibilities, comedic and otherwise, of a man who has never really been required to be present for any sort of functional adult relationship. The deep panic of that stirring remains essentially untapped.
Arthur evidences solid production design work all around. Director Jason Winer and cinematographer Uta Briesewitz beautifully capture New York City, and the breadth and depth of Arthur's decadence gives production designer Sarah Knowles plenty of opportunity to shine.
Brand again displays the decorative verbosity and livewire self-involvement he used to good effect as Aldous Snow in Forgetting Sarah Marshall and Get Him to the Greek. The star of Gerwig, a delight in Greenberg last year, should continue to rise, as she displays a beguiling blend of natural effervescence and quirkiness.
A reworked version of Christopher Cross' inescapable 1981 hit theme song plays over the end credits.
Production companies: Kevin McCormick/MBST Entertainment, Benderspink Productions
Domestic distribution: Warner Bros.
Producers: Larry Brezner, Kevin McCormick, Chris Bender, Michael Tadross
Executive producers: Scott Kroopf, J.C. Spink, Russell Brand, Nik Linnen
Co-producer: Langley Perer
Screenplay: Peter Baynham, based on Arthur, written and directed by Steve Gordon
Cinematography: Uta Briesewitz
Editor: Brent White
Production designer: Sarah Knowles
Music: Theodore Shapiro
Website: www.ArthurTheMovie.com
Main cast: Russell Brand, Helen Mirren, Jennifer Garner, Greta Gerwig, Geraldine James, Luis Guzman, Nick Nolte, with a cameo by Evander Holyfield