Dir: Alex de la Iglesia. Spain-France. 2011. 98mins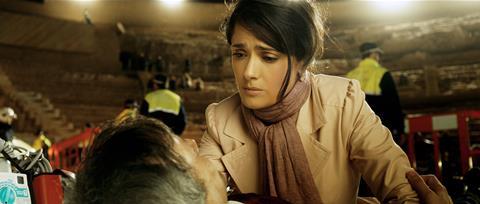 Maverick Spanish filmmaker Alex de la Iglesia aims for a contemporary blend of Ace In The Hole and Network with his satirical new drama As Luck Would Have It (La chispa de la vida), but despite an enthusiastic performance by Salma Hayek and punctuated by a few amusing moments and visual flourishes the film only hits its targets intermittently.
Salma Hayek gives the film a hefty dose of class.
Media, politics, unemployment and the Spanish economy are all the easy targets, but oddly Iglesia –whose films include more outlandishly enjoyable fare such as The Day Of The Beast, Accion Mutante, Perdita Durango and the 2010 film The Last Circus (which won the Silver Bear for best director) – seems to lack his usual sense of mischief.
As Luck Would Have It – which opened in Spain in January with the local title of La chispa de la vida (which more literally translates as 'The Spark Of Life', which has a more direct link to the story) – follows an increasingly awful day in the life of unemployed advertising executive Roberto (Mota) as he struggles to find work.
Encouraged with his loving wife Luisa (Hayek) he approaches former friends and colleagues for work at the agency where he created a Coca Cola campaign – the utilised his line 'The Spark of Life' – but is rebuffed. Angry and frustrated he decides to find the hotel where he and his wife had their honeymoon, but is distraught to find it has been knocked down and is now a museum, linked to a Roman archeological dig.
Blundering into the museum, he accidentally falls from a rooftop and finds himself spread-eagled on the Roman amphitheater dig site with a metal rob imbedded in his head. As paramedics, politicians, firemen and the media descend on him, Roberto decides to take advantage of the situation and hires an agent to sell his media and product placement rights.
When Luisa arrives she is appalled to see the media circus surrounding her husband – Iglesia makes good use of the Roman amphitheater location to parallel the voyeuristic media madness with spectacle of the Roman games, as well as filming Roberto in a Christ on the cross pose – but also wants to keep him comfortable and positive as the doctors try and work out a way to free him.
Salma Hayek gives the film a hefty dose of class, and comes into her own in the last third of the film as the tension rises – plus the prices for interview rights get larger – and a final decision is made to wrench Roberto's head away from the rod and rush him into a mobile hospital. There are a few salient points raised about media and politics, but As Luck Would Have It never really finds the needed spark of grandstanding anger or dark humour to make it feel original or compulsive.
Production company: La Ferme Productions, Alfresco Enterprises, Trivision, Double Nickel Entertainment
International sales: 6Sales , www.6sales.es
Producers: Andres Vicente Gomez, Ximo Perez
Executive producers: Jennette Khan, Adam Richman
Co-producers: Frank Ribiere, Verana Freidiani, Marco Gomez
Screenplay: Randy Feldman
Cinematography: Kiko de la Rica
Editor: Pablo Blanco
Music Joan Valent
Main cast: Jose Mota, Salma Heyk, Blanca Portillo, Juan Luis Galiardo, Fernando Tejero, Manuel Tallafe, Santiago Segura, Antonio Garrido, Carolina Bang, Joaquin Climent, Nerea Camacho, Fernando Tejero