KOSDAQ-listed Signal Entertainment Group is partnering with Batman franchise executive producer Michael Uslan to produce global content, including Asia-themed superhero and animation films.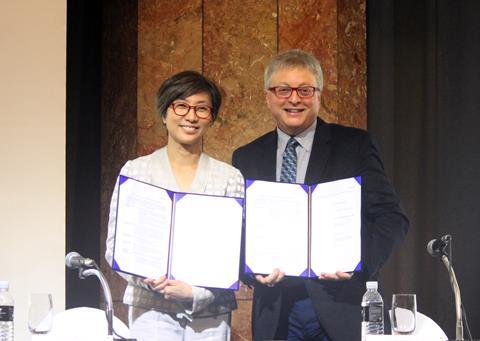 At a signing ceremony in Seoul today, the group announced it has established Signal Pictures with venture capital firm Gemini Investment.
Signal Pictures has invested in Michael Uslan's Uslan Entertainment, becoming its largest shareholder, and the partners said they plan to produce global content with a focus on China.
Kathy Kim, former CJ Entertainment CEO and current president of Signal Entertainment Group's filmed entertainment division, was named CEO. Jonathan Kim, currently CEO of HanMac Culture Group, was named president of production.
Uslan said: "We will be identifying successful IP and creating strong stories with deep characterisations to appeal to the global market. The content will possess uplifting and universal themes that will transcend not merely borders, but cultures as well."
Signal Pictures will be participating in Uslan Entertainment projects including animated film East Dragon, West Dragon, directed by Tony Bancroft, whose credits include Disney's Mulan; The Luckiest Man, a story about legendary New York Yankees player Lou Gehrig who battled with ALS; and a yet-to-be-announced project to be written by Hollywood screenwriter/director Jonathan Hensleigh (Die Hard With A Vengeance).
Working separately from Uslan Entertainment, Signal Entertainment Group and HanMac Culture Group have been collaborating on more than 20 international projects, including Korea-China co-production Making Family.
Scheduled for release on September 15, during China's mid-autumn festival, Making Family stars Aarif Lee (Cold War), Kim Ha-neul (Remember You) and Mason Moon (Babe & Me).