Dir: Frederick Wiseman. US. 2013. 244mins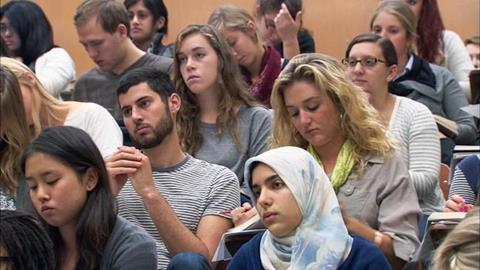 A university isn't just a collection of buildings, professors and students but also a state of mind — a gathering spot to celebrate humanity's thirst for knowledge about the world around us and our place in it. That's one of the principal lessons of At Berkeley, a thoroughly absorbing documentary about the University of California at Berkeley from veteran filmmaker Frederick Wiseman. With his trademark restraint and intelligence, Wiseman delivers a portrait not just of college life in the early 21st century but also a comprehensive study of the tension between different generations and an exploration of the many (sometimes warring) factors that contribute to the foundation of an elite educational institution.
At Berkeley ultimately transcends its subject matter to get at something ineffable and yet so universal about existence.
Running at just over four hours, At Berkeley will pose a challenge on the theatrical front, but devotees of the prolific Wiseman, who turns 84 next year, will seek out the film no matter its length. Still, this will be a limited niche player after enjoying successful stops at fall film festivals such as Venice, Toronto and New York.
Filmed over three months during the fall of 2010 and utilising a crew of only three, At Berkeley continues Wiseman's tradition of eschewing voiceover, talking-head interviews, a music score, or title cards to identify any of the participants. Instead, Wiseman provides an immersive experience in which the audience sees different aspects of life at the renowned Northern California campus, one of America's most prestigious public universities. We meet then-Chancellor Robert J. Birgeneau as he holds meetings concerning budget shortfalls and campus security, but we also sit in on classes that range from zoology to public policy to poetry, hearing not just from teachers but also students.
Because Wiseman never supplies context for what we're watching — nor does he worry about grafting any sort of artificial narrative onto the proceedings — it's incumbent upon the audience to be patient and allow the documentarian's initially seemingly arbitrary selection of scenes to slowly coalesce into a unified vision. With their fly-on-the-wall immediacy, Wiseman's films have always been fascinated by institutions, investigating how people come together — whether it be in dance troupes, boxing gyms or state hospitals — and how hierarchies and social orders begin to form. Consequently, there's no central figure in At Berkeley; instead, Wiseman weaves together a rich tapestry of separate events that collectively suggests a sense of contemporary university life.
At Berkeley's scenes roughly fall into two categories — those in the classroom and those involving administrators conducting the business of a university — and it's telling that Wiseman doesn't seem to favour one group over the other. Rather, Wiseman seems to be arguing that a college as respected and diverse as Berkeley's consists of many different facets whose interdependence is crucial, even if the individual parts don't always recognize this.
That point becomes clear near the end of At Berkeley when students stage a protest to decry state budget cuts that resulted in higher admission fees and faculty layoffs. In his dispassionately observant style, Wiseman shows not just the student protesters but also the university administrators who must decide how to respond to the students' demands. As the film demonstrates, both groups are working toward the same goal — ensuring that Berkeley remains a premier university — but their divergent actions are a by-product of their different perspectives, agendas and ages, an unavoidable but perhaps necessary friction that stirs innovation and passion in institutes of higher learning.
Also in keeping with Wiseman's tendencies, At Berkeley is intrigued by process, presenting many different types of classes with all kinds of students and professors. What's striking is that the actual work involved in education hasn't changed that much over the years, despite technological innovations and cultural shifts: As always, it requires engaged, thoughtful teachers and receptive, inquisitive pupils.
Though some class scenes may run on too long, individual viewers will probably disagree about which filmed classes are the most stimulating, Wiseman offering a buffet of different educational disciplines that illustrate the breadth of student interests. Though they may pad At Berkeley's running time, these classroom scenes may also be part of Wiseman's overall point: Each of us has a world of knowledge available to us, if only we're curious enough to be engrossed in a number of subjects.
Because Berkeley has far fewer administrators than students, it's natural that we get a better sense of the personality of someone like Birgeneau than we do any of the university's young people, who tend only to appear in one scene and then vanish from the film. It's a slight imbalance, but by dint of its length At Berkeley nonetheless captures much of the collegiate experience in abstract yet striking ways: the football games, the pep rallies, the study sessions, the amateur talent shows, the expression of ideas, and the general idealism of youth.
But such is Wiseman's evenhanded approach that At Berkeley also subtly undercuts its locale's intellectually and emotionally invigorating environment with scenes of banal hanging-out, as well as moments of maintenance crews silently cleaning the campus grounds. As with Wiseman's best films, At Berkeley ultimately transcends its subject matter to get at something ineffable and yet so universal about existence, its promise, mystery, disappointment and drudgery all wonderfully mixed together.
Production companies: Berkeley Film, Inc., the Independent Television Service
US distribution: Zipporah Films, www.zipporah.com
International sales: Doc & Film International, www.docandfilm.com
Producer: Frederick Wiseman
Executive producer: Sally Jo Fifer
Cinematography: John Davey
Editor: Frederick Wiseman
Website: www.zipporah.com/films/42