Dir: Anne Gyrithe Bonne. Denmark. 2010. 60mins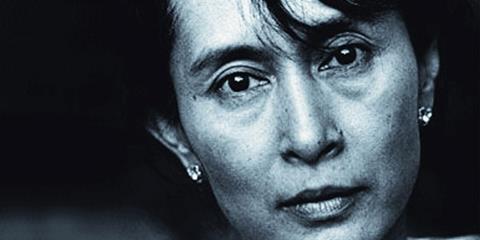 The timing couldn't have been better for the world premiere of Anne Gyrithe Bonne's inspiring and fascinating documentary about Burmese pro-democracy leader Aung San Suu Kyi – just as the film had its first screenings it was announced that she had been released after many years of house arrest and was poised to take her place on the world stage once again.
The film does offer a fascinating glimpse into the personal life of someone who made massive sacrifices for her beliefs.
The film, Aung San Suu Kyi – Lady Of No Fear, screened out of competition in the Amnesty Award section of Denmark's doc fest CPH: DOX, and though at a running time of 60 minutes seems destined for television, it should also attract festivals aware of renewed interest in the subject matter.
Clearly Aung San Suu Kyi is known to the world for the fact that she has been under house arrest in Burma for almost 15 of the 21 years between 1990 and her release on November 31, 2010, but while the film does deal with her political views, its main focus is on her personal life and the impact of her detention on those around her.
Her father Aung San founded the modern Burmese Army and negotiated Burma's independence from the British Empire in 1947, but was assassinated the same year, when she was just two. She gained a degree in politics in New Delhi, before moving to England to study for a BA at Oxford University.
Much of the film focuses on interviews with the friends she made there (they all call her simply 'Suu') and her marriage to Oxford Don Dr. Michael Arris, a scholar in Tibetan culture. She had two sons with Arris, and much of the films dwells on her friends discussing how she became – for a while – an Oxford housewife and mother, with a charming selection of family snaps showing the Arris family at ease in their 1970s and '80s British lifestyle.
She returned to Burma in 1988 to look after her ailing mother and became drawn into the pro-democracy movement, choosing to remain in Burma. She was first placed under house arrest in 1989, and after that point her husband was only able to see her five times, the last being Christmas 1995, after which the military junta refused him a visa.
Much of the film shows television interviews with Arris as he talks about his wife's situation in a diplomatic and restrained manner, not wishing criticism to reach the authorities for fear of reprisals, and footage of him receiving a series of humanitarian awards on her behalf.
The heart of the film is the human impact of her house arrest, on Arris and their children and on their friends in the UK and Burma. She comes across as a charming, poised and thoughtful figure – determined but restrained, and stoical in her decision to fight for her country at the expense of her family. Arris died on his 53rd birthday in 1999, still unable to see his wife.
The film offers nothing new in terms of style or pacing, but it does offer a fascinating glimpse into the personal life of someone who made massive sacrifices for her beliefs.
Production company: Kamoli Films
International sales: First Hand Films, www.firsthandfilms.com
Producer: Helle Ulsteen