Like it or not, the awards race 2018 is already underway.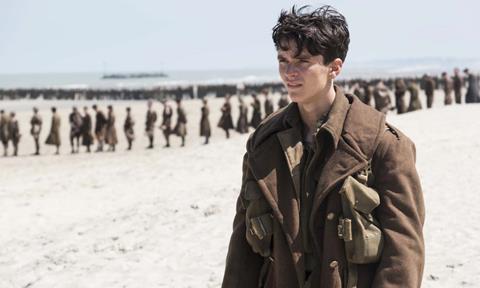 Painful as it may sound, the awards marathon is at least a 12-month proposition these days. With Sundance in the rear-view mirror, the talk of potential 2018 Oscar candidates is already underway in industry circles.
Below, Screen runs through 13 films that could be heading to the dance this time next year (the Oscars will be held one week later in 2018, on March 4).
Downsizing
Matt Damon, Kristen Wiig and Christoph Waltz (all previously nominated) star in awards perennial Alexander Payne's social satire in which a man realizes he would have a better life if he were to shrink himself. Currently in post-production, the film is slated for a December 22 release through Paramount, which is financing. Payne's last six films have been Oscar-nominated.
mother!
Black Swan and Requiem For A Dream director Aronofsky returns to a more intimate setting after 2014 blockbuster Noah with the story of a couple whose relationship is tested when uninvited guests arrive at their home, disrupting their tranquil existence. The stellar cast on mother! includes Jennifer Lawrence, Javier Bardem, Michelle Pfeiffer, Domhnall Gleeson and Ed Harris. A major festival contender and another Paramount charge, the film is slated for an October 2017 release.
Call Me By Your Name
A critics' darling out of Sundance, Luca Guadagnino's feature follows the romance between a seventeen year-old boy and a summer guest at his parents' cliffside mansion on the Italian Riviera. The screenplay, production design and cinematography garnered strong praise as did actors Armie Hammer and breakout star Timothée Chalamet.
Dunkirk
Christopher Nolan is another Oscar perennial. The Inception and Interstellar director's latest big canvas backdrop is the Dunkirk evacuation of summer 1940 when allied soldiers from Britain, Belgium, Canada, and France were penned in on the beaches of northern france by rampant Nazi forces. Hans Zimmer provides the score for the Warner Bros action-drama, whose early footage has been impressive and which has some tongues wagging as a potential Cannes opener. Tom Hardy, Cillian Murphy, Mark Rylance, Kenneth Branagh and One Direction's Harry Styles star. Global rollout begins in July.
Mudbound
Netflix's high-profile acquisition out of Sundance charts the story of two men who return home from World War II to work on a farm in rural Mississippi where they struggle to deal with racism and adjusting to life after war. "Strong performances" come from Carey Mulligan, Mary J Blige, Garrett Hedlund, Jason Mitchell and Rob Morgan.
The Glass Castle
A young girl comes of age in a dysfunctional family which includes a mother who is an eccentric artist and an alcoholic father who tries to stir his children's imaginations as a distraction to their poverty. Naomi Watts, Woody Harrelson and Room star Brie Larson lead the drama, which reunites the latter with Short Term 12 writer-director Destin Daniel Cretton.
Wonderstruck
Carol and Far From Heaven director Todd Haynes is behind the ambitious drama in which the story of a young boy from the Midwest is intertwined with that of a young girl in New York from a different period. The Amazon Studios pick-up, based on the book by Hugo writer Brian Selznick, comprises an impressive production team and cast including powerhouse duo Michelle Williams and Julianne Moore.
Lean On Pete
In the near-words of Richard III: 'My Oscar nomination for a horse!' After National Velvet, The Horse Whisperer, Seabiscuit and War Horse comes the story of a young boy who embarks on a dangerous journey in search of his long-lost aunt and a possible home, his only companion being the stolen racehorse Lean on Pete. Moonlight distributor A24 snapped up Andrew Haigh's US follow-up to critical hit 45 Years. The Film4-backed production stars Travis Fimmel, Chloe Sevigny, Steve Buscemi, Steve Zahn and lead Charlie Plummer.
Mary Magdalene
Lion director Garth Davis tackles the story of Mary Magdalene, who, according to the Bible, traveled with Jesus as one of his followers, but who is also often portrayed in western literature as a repentant prostitute. Universal and TWC have rights to the prestige drama from the latter's regular production collaborators See-Saw Films. The all-star cast includes Rooney Mara in the title role, Joaquin Phoenix as Jesus, Chiwetel Ejiofor as disciple Peter and Tahar Rahim as Judas. Greig Fraser (Zero Dark Thirty) is DoP, costumes come from four-time Oscar nominee Jacqueline Durran (Mr. Turner).
Untitled Detroit Project
The nominations have flowed the last two times Zero Dark Thirty director Kathryn Bigelow has teamed up with writer Mark Boal and DoP Barry Ackroyd. Add to the mix Oscar-winning editor William Goldenberg and sound mixer Ray Beckett and you have an even stronger case for awards consideration. The ensemble cast of the crime-drama set against the backdrop of Detroit's 1967 riots includes John Boyega, John Krasinski, Anthony Mackie, Will Poulter and Jack Reynor. Annapurna is due to release in August.
Star Wars: The Last Jedi
The numbers don't lie. All eight Star Wars films have been nominated for an Oscar. J.J Abrams' most recent instalment in the 'main' franchise, Star Wars: The Force Awakens, garnered five nominations. Looper director Rian Johnson's take on the iconic series sees Rey continue her journey alongside Finn, Poe and Luke Skywalker. Expect effects, sound and score consideration.
The Lego Batman Movie
After The Lego Movie's shock ommission from the animation lineup in 2015 (it did get a best song nomination), can Warner Bros' self-referential spinoff comedy get its revenge? The film has performed impressively at the box office and with critics and it features a starry production team and voice cast. Generally a fiercely contested category, US competition alone will come from the likes of DreamWorks' Boss Baby and Pixar's Coco.
An Inconvenient Sequel: Truth To Power
Given the political climate, An Inconvenient Sequel: Truth To Power will be a timely release this July, more than a decade after the Al Gore-fronted climate change original scooped two Oscars and powered its way to $50m global. The documentary category was probably this year's strongest and few contenders are widely known at this stage but the film played pretty well at Sundance and has the heft of Participant Media behind it. Yet another Paramount charge (which at least raises the question of whether an incoming CEO will go all out on Brad Grey holdovers).
Before you ask…
This is a non-exhaustive list, but… Paul Thomas Anderson's untitled Daniel Day Lewis drama, which began shooting this month, is unlikely to be ready in time if the meticulous director's previous post-production schedules are taken into account, while Asghar Farhadi's untitled drama with Penelope Cruz and Javier Bardem is not due to shoot until later this year.
Wes Anderson's stop-motion animation Isle Of Dogs is slated for a 2018 release so is hard-pushed to be ready in time for the Oscars but George Clooney's Suburbicon could be in the mix despite its crime-caper genre.
Blade Runner 2049 and Guardians Of The Galaxy 2 are expected to be strong contenders in the craft categories, at least, while Fox's The Greatest Showman (dated for late December) boasts a strong team including screenwriter Michael Arndt (Little Miss Sunshine).
Prestige title On Chesil Beach combines Steve McQueen's regular DoP Sean Bobbitt with two-time nominee Saoirse Ronan and producers Number 9 Films while Julia Roberts drama Wonder could feature if it falls the right side of sentimental.
Michael Haneke's drama Happy End, starring Isabelle Huppert, Mathieu Kassovitz and Jean-Louis Trintignant is a powerhouse prospect which will have Sony Classics behind it. Meanwhile, Netflix's eco-doc Chasing Coral has garnered raves and could well be in with a shout.
And of course keep an eye on anything Scott Rudin (Annihilation) and Steven Spielberg related (though Ready Player One isn't released until spring 2018).