Alicia Vikander tells Wendy Mitchell about doing Vera Brittain justice in Testament Of Youth and finding roles of emotional substance.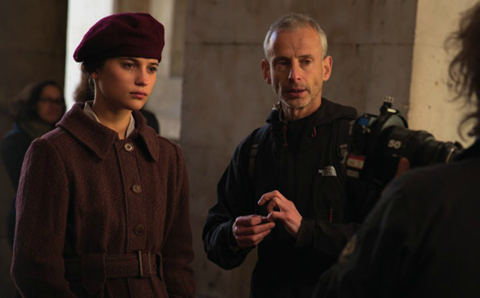 Alicia Vikander says she is drawn to "that rare thing of good female roles. Especially for young women, I try to find roles of emotional substance and not just only being 'the girl'."
That is certainly true of her part in Testament Of Youth, which sees her portray the young English writer Vera Brittain as she deals with the loss of her fiancé and brother in the First World War.
Growing up in Sweden, Vikander had not heard of Brittain. Yet she was immediately drawn to Juliette Towhidi's script. "I was so passionate about the project. She's such a powerful woman who had this strong life journey. It's knowing what journey women have made over 100 years. Emotionally it feels like a girl you could know now, but the rules and context of life back then were different - you needed a chaperone to take a train and you couldn't decide your own education."

A life in letters
Vikander prepared for the role by reading Brittain's books - not just the 1933 memoir of the same name but her letters as well. "The book that collects the letters between her and her brothers and Roland, that's what helped me the most. The novel was written by a woman in the early '30s looking back on her life, while the letters were her in the moment. It was the young woman's words."
She also had the chance to meet Brittain's daughter, Shirley Williams. They had tea together and "she shared her experiences, but of course that's a different woman that she knew than the period in the film; that was the woman leading up to the war, not a mother after the war".
'I try to find roles of emotional substance and just only being the girl'

Alicia Vikander
Vikander, like the rest of the cast, worked with a dialect coach to ensure she had the correct regional tones of the time period. "Being foreign, it was intimidating to take on the part of such a British icon," she recalls, although her accent in the film is pitch perfect (she has lived in London for several years). "I had to try to nail a British accent. That was probably the toughest thing so far; I really wanted to get it right, to give justice to her."
The actress pays credit to UK director James Kent, who makes an impressive feature debut after working in television. "He's such a strong but still very sensitive director, which I think was perfect for this film," she says. "I did my preparation but his know-ledge about this woman meant he was always a source I could come back to. He was so passionate about this project."
Despite the achingly sad moments in the film, she says the set had "a really good vibe" and her co-stars Kit Harington and Taron Egerton "pushed me and made me laugh". They did, however, almost get hypothermia filming swimming scenes in a lake in Yorkshire in March.
The most emotional scene to shoot was one in which Vera, as a nurse serving in France, shows kindness to a dying German soldier. "There were a lot of tough scenes. You read things but they affect you a surprising amount when you're making it. One scene that really hit me was the scene with the German soldier - it was a point where you realise this woman has gone out there with all the people she's lost and it's about what war is. She is taking care of this soldier but remembering the people she has lost. It really became quite a key moment."

The thrills ahead
There are more emotional moments in store for the in-demand actress. Vikander wrapped shooting in Australia in early December for Derek Cianfrance's The Light Between Oceans with Michael Fassbender and Rachel Weisz; and she starts rehearsals for Tom Hooper's The Danish Girl in January in London. The Working Title drama sees her play Eddie Redmayne's wife in the fictionalised account of the life of Danish painters Einar and Gerda Wegener. In 1930, Einar Wegener underwent then- groundbreaking gender reassignment surgery to become Lili Elbe.
Vikander has a slew of further films set to come out in 2015. In addition to Testament Of Youth, the diverse mix includes Tulip Fever, The Man From U.N.C.L.E., Ex-Machina, Seventh Son and John Wells' untitled chef film starring Bradley Cooper.
The way Vikander chooses projects is "hard to describe", she says. "You feel the thrill of reading the script, or there are film-makers, and actors and DoPs out there you really want to work with."