Other titles up for awards include Mad Max: Fury Road, The Martian, The Revenant and Steve Jobs.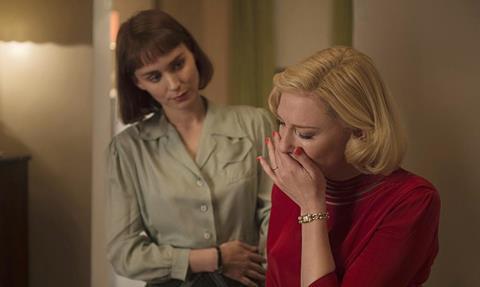 Todd Haynes' Carol leads the fifth Australian Academy of Cinema and Television Arts (AACTA) International Awards, receiving five nominations including best picture, best direction, and best screenplay.
Both Cate Blanchett and Rooney Mara have been nominated for their roles, as best actress and best supporting actress respectively.
The Big Short follows with four nominations, including best direction, best actor for Steve Carell, and best supporting actor for Christian Bale.
Mad Max: Fury Road, The Martian, The Revenant, and Steve Jobs all garnered three nominations.
Sicario and The Danish Girl received two nominations apiece.
The winners will be announced at a ceremony in Los Angeles on January 29.
In total, 17 films are vying for awards in seven categories.
Full List of Nominees
AACTA International Award for Best Film
The Big Short
Carol
Mad Max: Fury Road
The Revenant
Spotlight
AACTA International Award for Best Direction
Adam Mackay – The Big Short
Todd Haynes - Carol
George Miller - Mad Max: Fury Road
Ridley Scott – The Martian
Alejandro González Iñárritu – The Revenant
AACTA International Award for Best Screenplay
Phyllis Nagy - Carol
Alex Garland – Ex Machina
Drew Goddard – The Martian
Tom McCarthy & Josh Singer - Spotlight
Aaron Sorkin – Steve Jobs
AACTA International Award for Best Lead Actor
Steve Carell - The Big Short
Matt Damon - The Martian
Leonardo Dicaprio - The Revenant
Michael Fassbender - Steve Jobs
Eddie Redmayne – The Danish Girl
AACTA International Award for Best Lead Actress
Cate Blanchett - Carol
Emily Blunt - Sicario
Brie Larson - Room
Saoirse Ronan - Brooklyn
Charlize Theron – Mad Max: Fury Road
AACTA International Award for Best Supporting Actor
Christian Bale - The Big Short
Paul Dano – Love and Mercy
Benicio Del Toro - Sicario
Joel Edgerton – Black Mass
Mark Rylance – Bridge Of Spies
AACTA International Award for Best Supporting Actress
Judy Davis – The Dressmaker
Jennifer Jason Leigh – The Hateful Eight
Rooney Mara - Carol
Alicia Vikander – The Danish Girl
Kate Winslet – Steve Jobs