In her own words, Carol producer Elizabeth Karlsen reveals the 14-year-long journey to bring the adaptation of Patricia Highsmith's novel to the screen.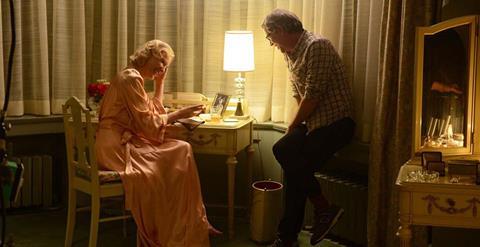 Producer Elizabeth Karlsen started making Carol 14 years ago. Even by passion project standards, that's a long time. Directed by Todd Haynes and starring Cate Blanchett and Rooney Mara — the latter won the best actress prize in Cannes — Carol has now been crowned best film of 2015 by the New York Film Critics Circle.
Phyllis Nagy wrote the script, adapted from Patricia Highsmith's 1952 novel The Price Of Salt, originally published under a pseudonym. The story, set in 1950s New York, is about a young shop girl, Therese, who falls in love with a sophisticated married woman, Carol.
The Weinstein Company released Carol in the US on limited released on November 20. Studiocanal opened the film in the UK a week later and it has taken over $800,000 from more than 200 screens so far. Karlsen and partner Stephen Woolley co-produced through their London-based Number 9 Films, with Christine Vachon and Pam Koffler's New York outfit Killer Films.
Haynes brought together a number of his key collaborators, including DoP Edward Lachman (shooting on super 16mm), costume designer Sandy Powell, composer Carter Burwell, production designer Judy Becker and editor Affonso Gonçalves.
Wendy Mitchell
On the project's origins
Fourteen years ago I spoke to [agent] Jenne Casarotto, who wanted me to meet a writer named Phyllis Nagy. We ended up making Mrs. Harris together. While we were filming Mrs. Harris in Los Angeles, Phyllis said to me, "What I really want to do next is Carol." I had read [Patricia Highsmith's] Ripley novels but not The Price Of Salt. I fell in love with the novel, I thought it was brilliant, and I thought Phyllis was a consummate writer.
I wanted to do it, but the rights were held up with another producer [Dorothy Berwin]. It wasn't possible. So I just waited and waited. It took a good 10 years before the rights were free. When I found out the rights would be free, I knew other people would be after it because of Highsmith. I contacted the Swiss-based publisher Diogenes, who control the Highsmith estate. They said, "No, we're not selling it to another independent producer" — it had been tied up for so long and hadn't gone anywhere. I said, "Please let me take you to lunch so I can plead my case." I flew to Zurich and I somehow convinced them they should sell it to me at Number 9.
I immediately made a proposal. I spoke to Tessa Ross at Film4 [which had been involved in the earlier incarnation of Carol with Berwin]. She said, "I'm in." I said to Tessa, "The only way to get this done is to fly back to Zurich, take your lawyer Harry Dixon, hire a Swiss lawyer, and sit in a room with Diogenes' lawyer." So we flew over, sat in a room for a day and agreed all the terms. We closed the deal and signed off on the rights [in late 2011].
I called Phyllis just before Christmas 2011 and I said, "Phyllis, great news, I've got the rights to the novel!" Phyllis said, "I'm not doing it. I've had my heart broken too many times. I can't go back there." I said, "I'm going to make it with or without you, I'd rather it was with you."
In my memory, she called me back 48 hours later to say she was in. In her memory it was a year later. The important thing is that she was in.
When I look back now, I think, "Wow, all that shows how much I really wanted to do it."
Why I loved it
I was a big Highsmith fan. What I loved about this story is that at the centre of it are two women. They were fully formed, complex, interesting, intelligent, living, breathing characters. Also, I was drawn to the period of New York in 1952 — that's an interesting period in American cultural and political history.
What Highsmith explored and delved into was the mindset of the criminal. In The Price Of Salt it was the lovers; every gesture, look, action. Even to this day, it's so rare to have a lesbian or gay love story with a happy ending. All of that combined made me want to realise it as a film. I was determined, like a terrier.
Packaging and finance
We had director John Crowley attached, and that didn't work out for timing issues — he was stuck in post on another film. Cate Blanchett was attached. Once John was no longer attached, Cate's involvement would be entirely dependent on the director. In a weird way what we had was a script, no director, the possibility of Cate and also a fair number of pre-sales that HanWay had made. A lot of the financing was in place through HanWay pre-sales, Ingenious, Film4 and a post-production equity deal with Goldcrest, as well as a soundtrack deal with Cutting Edge.
The Weinstein Company had come on board in early 2012, with a pre-buy based on the script.
I was on the phone with Christine Vachon, who I speak to on a regular basis, and we were both bemoaning the lot of independent producers. I said, "I've got no director on Carol. I really want to get this movie made." She said, "Ugh, we just lost the star for Todd's new film." And then there was silence. We call it the lightbulb moment.
So we sent it to Todd Haynes — Stephen and I have known him as well for close to 27 years. He came back within 48 hours. He read the script and wanted to do it. I told Cate that Todd was coming on board and she was thrilled as they had done I'm Not There together. Killer Films came on board with Todd. And then we went to all our distributors who had pre-bought the film, and said, "This is what the package is."
Laura Rosenthal came on for casting. Mia Wasikowska had already dropped out — she had a timing clash with making Crimson Peak. It was Todd who cast Rooney [Mara, as Therese]. Ironically, we had gone to Rooney in the first incarnation and she had passed — we went back to her when Todd was on board, and the timing was right for her.
Phyllis and Todd had a very productive, collaborative relationship. They continued to hone the script as they exchanged ideas. Todd suggested the bookending feature — he was inspired by Brief Encounter — and Phyllis came up with a brilliant rendition of that.
Recreating 1950s New York
The market dictated the budget (under $20m, including financing fees). We had to figure out how to shoot it. New York was too expensive, because that New York of 1952 doesn't exist anymore. Also, to shoot in New York is difficult with a schedule of 35 days moving from location to location.
Stephen and I had made a movie in Cincinnati, Ohio — A Rage In Harlem — 27 years ago, and it was set in New York in the 1950s. I was thinking after 27 years it wouldn't look the same. But with our line producer [Gwen Bialic], I was looking at Google images of downtown Cincinnati. And we found that the Ohio Film Office had some of the best rebates in America [up to 35%].
Because of the economic downturn of so many of these manufacturing cities, it really hadn't changed in decades. It was extraordinary what we saw. That was the missing piece of the puzzle, both creatively and financially. We used a lot of local crew. It was incredibly challenging; we had 35 days to shoot the film. When you see what is on the screen, I find it extraordinary that we shot the film in that amount of time.
At that time there was a limited infrastructure in Cincinnati. Since then they've done more films, but a lot of people were trained up on Carol. For example, the woman who did our extras casting had never done extras casting before — she learned on the job and did a spectacular job.
There were challenges. But on the other hand, what Cincinnati brought us — not just this tax rebate — was a real generosity of spirit and can-do attitude. They were so thrilled to have us there that parking meters were removed, shop fronts were painted over, signage was put up. They bent over backwards to help us and I think it really shows in the film.
It was all locations except for one set — the hotel room — which we built on a music hall stage in Cincinnati. We built the department store but it was on the site of an old department store.
Todd was so meticulously prepared in his research and technical preparation that the whole film was shot-listed before we began. He just put himself into this space of just getting Carol made to the best of his abilities — he didn't come out of that bubble.
The first time we did anything together with Rooney and Cate was the camera test day. Everyone's jumpy and nervy and trying things out at a camera test. They were standing in a car park. [Rooney] had this Therese look from early in the film, in the duffel coat and tartan hat. And Cate came out looking like a million dollars in high heels and a mink coat. So Rooney said, "Oh my god, she's going to look like THAT and I'm going to look like THIS!"
Cate was a stalwart throughout; her commitment to the film, her commitment to Todd, her ability to work under trying conditions and long hours. She's a workhorse. She just did what needed to be done with such professionalism and complete commitment to this project. So did Rooney.
I was in awe of the way they worked. They had to be there at 4:30am for hair and make-up — these were long days. The film doesn't end with their ADR, there's so much publicity too. It's not easy getting an independent film out there anymore, especially when it's female-led, it's lesbian, it's period. They have been tireless in their help with this film. Yes, we have top-drawer distributors, but you need your talent too. They have been right there with us every step of the way.
After the shoot
Todd doesn't look at rushes while he films. He has a fantastic relationship with editor Affonso Gonçalves, who he also worked with on Mildred Pierce, and was working on everything back in New York.
When we wrapped, Todd went off to a break, and then he came back to New York and he watched everything and made notes. He spent the first five-and-a-half weeks of the edit doing these amazing detailed notes. Affonso had put together an assembly. By then, Todd knew every single take and produced his cut within four weeks.
That was the cut Stephen and Christine [Vachon] and I saw, and the one we showed to Tessa. We all gave notes but it was so powerful already. We had done some test screenings for about 65 friends and friends of friends. We agreed we should show it to Harvey [Weinstein]. It was a few weeks before picture lock. Harvey came in and was blown away by it. He was very supportive and was excited leaving the screening room.
Taking the film to Cannes
Todd was keen to go to Cannes. It was nerve-wracking. We finished the film in December and showed it to Cannes. Harvey was confident, but we've all been there, when you think something will be in. Cannes is the best film festival in the world and it's harder and harder [to make the cut].
When those 3,000 people stood up in the Palais and started cheering, it was just like the wildest dream. We were thrilled Rooney won best actress, and we were top of the critics' chart. We were thrilled by the response.
It had been the most challenging shoot of my career, involving collaborative relationships over many, many years, shared visions and taste, a passion for independent film-making and a lot of hard work. As an independent producer, it's often a cold place to be. So the warmth is very much felt when the love comes in.