The self-taught composer of Carol and Anomalisa used very different methods to score - and conduct - both films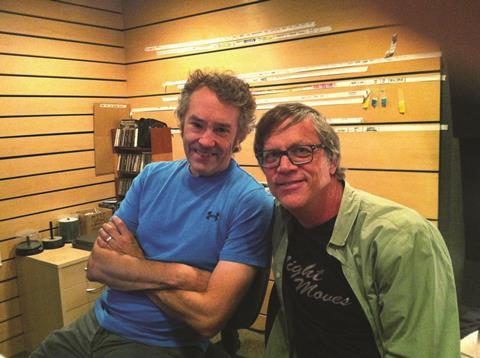 Carter Burwell enjoyed quite the year in 2015. Rapidly approaching 90 feature credits - including every Coen brothers film apart from O Brother, Where Art Thou? and Inside Llewyn Davis - Burwell garnered acclaim this year for his work on Brian Helgeland's Legend, Charlie Kaufman and Duke Johnson's Anomalisa and Todd Haynes' Carol.
His awards season so far has included an Oscar nomination (his first) and a Golden Globe nomination for his Carol score, and a joint prize from the Los Angeles Film Critics Association for Carol and the score for Anomalisa
It took around eight weeks for Burwell to write, record, conduct and mix Carol's score, longer than he typically spends on any one film. It was Burwell's third time working with Haynes following Velvet Goldmine and Mildred Pierce.
His research began by listening to the hundreds of songs compiled by Haynes and music supervisor Randall Poster, including 'You Belong To Me' by Helen Foster and The Rovers, since it was "right for the romance, the time period and sung by a woman", explains Burwell. The song appears on the film's soundtrack. "They didn't necessarily influence the score, but they were a good source of research," he says.
Burwell opted for an intentionally ambiguous sound to match the "contained emotions of the characters" - like "a cloud of piano notes that couldn't tell where the beat was any more." His idea was for the left hand to have delays, and then pile up the notes, while the right hand would have drawn-out individual notes - much longer than a real piano note could hold in that range.
To achieve this, he uploaded the music into a computer so he could treat each hand differently. The two sounds were then set against a simple and spare melody line.
"I wanted to get a sense of organic music by playing both hands at the same time, yet I also wanted to achieve a very unreal way of processing the notes. It involved a bit of studio magic," says Burwell with a laugh. Uniquely on Carol, there was also a cycle of "cross-pollination" whereby sometimes the music would affect the cut, and other times the cut would affect the music, such as the scene that sees Carol and Therese driving through a tunnel.
Burwell opted to record with Seattle Symphony Orchestra, with which he had worked on The Blind Side (the orchestra allows film-makers to make a buyout rather than pay residuals).
"When you work with a smaller orchestra, every musician is naked, they have to play their part," says Burwell. "If someone plays a note wrong, everyone can hear it. Luckily, everyone rose to the occasion."
Returning to a 'sound play'
For Anomalisa — which he recorded after Carol — Burwell's collaboration with co-director and writer Kaufman began 10 years earlier when, with the Coen brothers, they staged the 'sound play' in New York, Los Angeles and London. There were no sets, no costumes and the actors stood at music stands. The music was sparse, with eight musicians playing instruments including the violin, trumpet, cello, guitar, a woodwind, a bass, percussions and a keyboard, in addition to one foley artist.
"This is how the film score worked as well," says Burwell, who managed to secure six out of the eight musicians for the film. "It wasn't a sound play any more," says Burwell. "It was suddenly a visual medium so we had to write a lot of new music that had different themes. I could have used more instruments [for the film], but I wanted to keep the handmade nature of the project."
Not bad for an "untrained rock and roller", as Burwell describes himself. While playing in a number of New York bands in the late 1970s and early 1980s, a fellow musician and burgeoning sound editor Skip Lievsay - who went on to win a sound-mixing Oscar for Gravity - mentioned he was working with a couple of film-makers who had shot their first film and were looking for a composer "for no money". The film-makers turned out to be Joel and Ethan Coen and the film was Blood Simple.
Burwell wrote a piano-based score for the film and for the Coens' follow-up Raising Arizona. On their third film, Miller's Crossing, the brothers asked him to compose an orchestral score. "Most sane directors would have hired a more experienced composer but for some reason they wanted to keep working with me," says Burwell.
He managed to teach himself the basics of orchestral scoring by listening to his favourite pieces, including those from Johannes Brahms, whose work in the 19th century had inspired much of Hollywood's early classical music, while simultaneously reading the score.
Burwell credits himself for "coming a long way", citing scores such as Carol. "I am proud I taught myself enough about orchestration to be able to work with a small orchestra - at most 17 instruments - and create a score as lush and as multi-layered [as Carol]." The composer's work can next be heard on the Coen brothers' Berlin opener Hail, Caesar!.