Eddie Redmayne tells Wendy Mitchell about the emotional and physical challenges of playing theoretical physicist Stephen Hawking.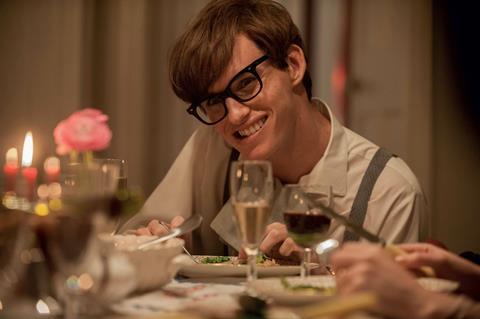 Eddie Redmayne recently spent a lot of time looking in the mirror. No, it's not a vanity problem - it was preparation for a particularly un-vain role, playing Stephen Hawking in The Theory Of Everything.
Redmayne did a wealth of research and preparation to play Hawking, and he reveals there are no shortcuts or simple tricks for identifying those few facial muscles - especially around the eyebrows and lips - that Hawking is able to use at the later stages of his motor neurone disease.
That is where the mirror came in. "It was a lot of sitting in front of a mirror in my apartment with an iPad full of videos of Stephen. It was just learning to do it by trial and error; all of those energies we usually use are channelled into those isolated muscles. And shooting on film, a camera sees that minutiae."
'It was not just educating myself on the physical side of the disease but also the emotional impact on families'

Eddie Redmayne
Modestly, Redmayne admits he had his doubts about whether he could rise to the challenge of playing a living genius.
"When you're in that process of trying to persuade people that you can do something, you do it with a blind confidence to make them believe in you," he says with a small laugh. "Then you get the job and you have no idea how to go about it."
His preparation was multi-layered. It started by discussing, with director James Marsh, what they wanted to achieve with the film and the character. One thing the actor and the director had in common was that they were both "gently intimidated" in telling the story of Jane and Stephen Hawking.
Both men were drawn to the script, by Anthony McCarten, because it was not a straightforward biopic of the brilliant scientist struggling with his disease. "What I read was a complicated and passionate love story about two extraordinary human beings. It was unlike anything I'd read before," Redmayne says.
During his four-month preparation, the actor read Hawking's works and frequently went to an amyotrophic lateral sclerosis (ALS) clinic in London to meet patients. Also, he and co-star Felicity Jones, who plays Hawking's first wife Jane, would also visit ALS patients to see the reality of how families coped with the disease.
"It was not just educating myself on the physical side of the disease but also the emotional impact on families," Redmayne notes.
Dancer Alex Reynolds helped Redmayne to train his body for some of the awkward positions he held for extended takes. To add to the challenge, the film was not able to shoot in sequence, so Redmayne might be shooting a scene with crutches in the morning and then a wheelchair-bound scene in the afternoon. "It was learning to jump between those physicalities to access them quite swiftly. In a way I tried to learn them like a dancer at specific stages."

Seal of approval
Redmayne also knew the role had to have an emotional core at all stages, not just mimicry of a disability. "The disease was secondary to Stephen, and also this script wasn't about his disease," he says proudly.
He and Jones had never worked together before but they were friends who had trained separately at Donmar Warehouse theatre in London. They had each conducted their own research and brought that to the table for two weeks of official rehearsals.
The young actors found a comfort working with each other so that they could improvise together on set - Marsh liked to spend a few minutes most days shooting 'home footage' style unscripted moments.
Redmayne met Hawking about five days before the shoot began, and Redmayne confesses to "fear that I'd done months of preparation, and what if I'd got it all wrong?"
When they met, the actor recalls, "It was that force of personality that came through. His humour and wit and mischief… And that was wonderful; that was the last component to take into the shooting."
The shoot, understandably, was "an intense experience". "We were rigorously protective of these characters. It's a term thrown around a lot but it really was a 'passion project'. Jane and Stephen let
us into their lives."
The shoot was especially rewarding thanks to Marsh's collaborative nature. Redmayne says: "I've never worked with someone who is so emboldening; he believes in collaboration in the truest sense of the word… He encourages every department to get involved."
In addition to being the one to beat for this year's best actor Oscar, Redmayne has also picked up some impressive scientific knowledge along the way. He says he now "sort of" understands black holes. "Get me into worm holes and string theory and I start struggling," he adds with a laugh.
Thankfully, his next job is not in physics but another film with Working Title: Tom Hooper's The Danish Girl, shooting in January.