Felicity Jones tells Wendy Mitchell about her intimidating first experience with Jane Hawking, and meeting carers and families during preparation for The Theory Of Everything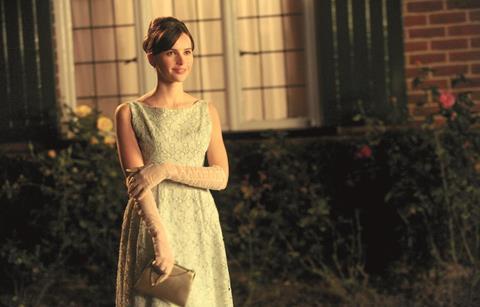 Jane Hawking is not a household name. So it is perhaps even more impressive that Felicity Jones gives the first wife of famous physicist Stephen Hawking equal emotional footing in The Theory Of Everything.
Eddie Redmayne is winning rave reviews and awards buzz for his physically demanding portrayal of Hawking through various stages of motor neurone disease. But Jones, in a less showy role, commands attention as she explores Jane's emotional evolution.
One reason Jones was attracted to Anthony McCarten's script is that "it's not a straightforward biopic, there was this complex, nuanced female character alongside the famous Stephen Hawking".
Jane was not a simple stock character. She is a scholar in her own right, as well as being a wife and mother.
"Jane has a very analytical mind but she also has this huge emotional depth," Jones adds. "This woman isn't just one thing, she's full of opposites like all of us. For instance, she's religious but her sexual identity is still important to her. It was always about breaking these clichés."
Laid bare
The Theory Of Everything is not really a biopic; if anything, it's a love story. "It's an exploration between two extraordinary people," says Jones.
"I read the script quickly in one setting. That's always a good sign - that means there's something good going on, on the page. There was so much story to get my teeth into, she was a fully-fledged character," Jones remembers.
Jane Hawking also happened to be a fully-fledged living woman, and the 31-year-old actress admits it was "intimidating" meeting her for the first time. Best known for roles in contemporary love story Like Crazy and Dickens story The Invisible Woman, Jones had never before played a real living person.
"Jane is a phenomenal woman. When you are meeting a real person that you're playing, my instinct is you are building up trust," she explains.
"You don't force in there asking very intimate questions. I didn't want it to be an impersonation; I wanted to inhabit her. It was convincing her that she was safe trusting me with her story."
Jane Hawking opened up her heart and her home to Jones. Over their first cup of tea, she was showing Jones family photos and her original wedding dress, which she had saved all these decades later. "She was extraordinarily open," the actress remembers.
There were other emotional clues. "She loves music, both her and [current husband] Jonathan do, and there was a piece of music they played on the piano for me that meant a lot. It was a serendipitous moment."
The Theory Of Everything is also about more than just two people. "It was a story exploring larger themes about understanding why we are here," Jones adds. "Jane was exploring that through faith and exploring that through religion, and Stephen through sciences. The film had these broader concepts." Jones' research went far beyond reading about the Hawkings, meeting them and watching documentary footage of their life.
During pre-production, Jones worked with singing instructor Aleksandra Sasha Kozlov, because "a huge part of Jane's identity is singing… and I needed to bring musicality to her voice. If I get her voice and the walk right, then you feel like you're understanding the character."
Jones' physical presence had to change once Redmayne was in a wheelchair (she did gym training to be able to lift a wheelchair). "Eddie and I saw this as a dance where they become one person. We had to become highly aware of each other and sensitive to each other." She and Redmayne also met with carers and family members living with motor neurone disease.
"Eddie and I learned about this intimate side of the struggle and also how many people make the best of it and find humour in different circumstances… It was finding how a real family could cope with this situation. They don't pity themselves."
Shared history
The Theory Of Everything marked Jones' first official work with Redmayne, who she knew from London auditions and working separately at the Donmar Warehouse theatre.
"I had admired and respected his work hugely. We both worked at the Donmar with Michael Grandage. We both brought a lot of techniques from Michael and the theatre to the film, including lots of rehearsal time," explains Jones.
Jones and Redmayne's chemistry, both on screen and off, was essential to making the story click emotionally, as she says: "We were dependent on each other to find characters separately but it needed this work together also." The film, now hotly tipped for Bafta and Oscar nominations, feels like a special moment in each actor's career.
"I was very ready to push myself and Eddie felt similarly. It was not wanting to fall into the traps of doing a costume drama, to keep it fresh, to really become Jane and Stephen. It feels special in that sense. In the scene when Jane and Stephen break up, I felt completely in Jane's head and that's a special moment for an actor." More such moments are to come.
She appears in Eran Creevy's thriller, Autobahn, and next up Jones is shooting JA Bayona's A Monster Calls, alongside Sigourney Weaver.