International awards won by Eddie Redmayne and Julianne Moore.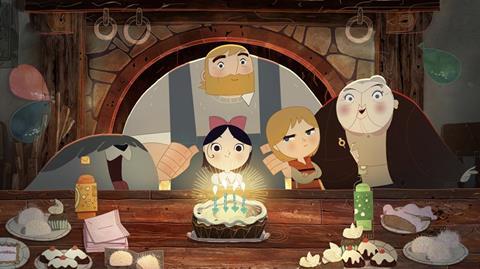 Tomm Moore animation Song Of The Sea has been named Best Film at the 12th IFTA Awards for Film and Drama in Dublin.
The film about a little girl who can turn into a seal was Oscar nominated earlier this year, missing out to Big Hero 6.
But the Irish Film and Television Academy chose it above nominees Frank, Glassland, I Used To Live Here, Noble and Patrick's Day.
Comedy Frank, starring Michael Fassbender, won three awards including best director for Lenny Abrahamson, best supporting actor for Domhnall Gleeson and best director of photography for James Mather.
Family drama Patrick's Day also scored a hat-trick, winning best actor for Moe Dunford, best script for writer-director Terry McMahon and best sound.
Biopic Noble, directed by Stephen Bradley, won best actress for Deirdre O'Kane and best supporting actress for Sarah Greene, who was also named Irish Film Board Rising Star.
Christina Noble, the Irish humanitarian whose life inspired the film, was also the subject of this year's IFTA documentary winner In A House That Ceased To Be.
In the international categories, Richard Linklater's Boyhood was named best film; Julianne Moore was named best actree for Still Alice; and Eddie Redmayne was named best actor for The Theory Of Everything, which also won best production design.
As previously announced, filmmaker Jim Sheridan was honoured with the Lifetime Achievement Award, presented by Sean Bean, for his 30-year career that includes My Left Foot, The Boxer, In America, In the Name of the Father, The Field, Brothers and Some Mother's Son.
Also acknowledged on the night was the success of Yorgos Lanthimos' The Lobster, co-produced by Ireland's Element Pictures, which won the Jury Prize at this year's Cannes Film Festival.
FULL IFTA 2015 WINNERS' LIST
Best Film: Song of the Sea
Best Director Film: Lenny Abrahamson for Frank
Best Script Film: Terry McMahon for Patrick's Day
Irish Film Board Rising Star: Sarah Greene
Best Lead Actor Film: Moe Dunford for Patrick's Day
Best Lead Actress Film: Deirdre O'Kane for Noble
Best Supporting Actor Film: Domhnall Gleeson for Frank
Best Supporting Actress Film: Sarah Greene for Noble
George Morrison Feature Documentary: In A House That Ceased To Be
Best Animation Short: Somewhere Down The Line
Best Short Film: Rockmount
Best Drama: Love/Hate
Best Director Drama: Ciaran Donnelly for Vikings
Best Script Drama: Stuart Carolan for Love/Hate
Best Lead Actor Drama: Aidan Gillen for Charlie
Best Lead Actress Drama: Charlie Murphy for Love/Hate
Best Supporting Actor Drama: Stephen Rea for The Honourable Woman
Best Supporting Actress Drama: Aisling Franciosi for The Fall
Best Director of Photography: James Mather for Frank
Best Costume Design: Lorna Marie Mugan for Peaky Blinders
Best Editing: Emer Reynolds for One Million Dubliners
Best M.A.C. Make-Up and Hair: Vikings
Best Original Score: Stephen McKeon for Queen and Country
Best Production Design: John Paul Kelly for The Theory of Everything
Best Sound: Patrick's Day
Best International Film: Boyhood
Best International Actor: Eddie Redmayne for The Theory of Everything
Best International Actress: Julianne Moore for Still Alice