Laurie Anderson talks the inspirations for her intimate documentary Heart Of A Dog.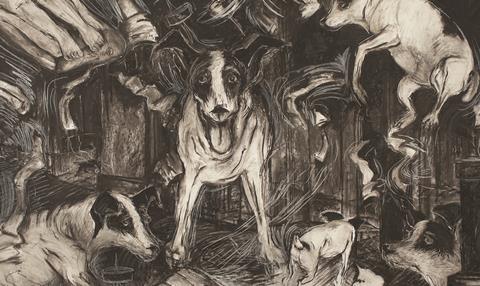 Predictably, the revered avant-garde artist and musician Laurie Anderson used an unconventional approach to film-making when crafting her very personal documentary Heart Of A Dog, which made its debut in Venice.
"With Heart Of A Dog, I got to use a lot of different things that I work with," Anderson says. "I'm mainly a short-story writer, when I tell stories. I did some loop-like imagery, some animation, some music, so in a funny way I was suddenly like, 'Oh I understand this form.'"
The idea for a film began with French/German channel Arte, which suggested to Anderson she make an essay film about her philosophy of life, to which she replied, "I don't have one."
One of the commissioners said, "Start with those stories of your dog." (Anderson had a special bond with her late piano-playing, canvas-painting rat terrier Lolabelle.)
"So Lolabelle became a through-line. I love the idea of an empathetic creature as this guide taking me through," she says. Yet, Anderson adds with a laugh, "It's about the fallibility of words, not about me and my dog."
There are family home videos and memories of her mother, footage of Lolabelle, ruminations on heightened security in the US after 9/11, philosophies from Wittgenstein, Kierkegaard and The Tibetan Book Of The Dead, and playful moments such as a dog's-eye view of Julian Schnabel. They are all woven together with Anderson's intimate narration.
Making films is different from Anderson's work across other art forms. "In a record I could make 12 songs, they could be 12 islands of sound and lyrics, and it doesn't have to go anywhere, it could be just be 12 songs," she says.
"It's the same with paintings. For the film, [I had to think about] what would connect these stories and make them go somewhere, so you would feel differently at the end than the beginning. I tried so many ways. You see how these stories jostle against each other, push up against each other, expand each other."
The death of her husband Lou Reed in 2013 had an impact on the film's ruminations about grief. "He's a very inspiring person who's always on my mind. Of course it's about him, and it's about the Dalai Lama too," says Anderson. "It's about a lot of things. It's about a spirit of generosity. There's oceans of things to say about Lou, and maybe I'll get around to that one day."