Nominees announced for accolade voted on by the public.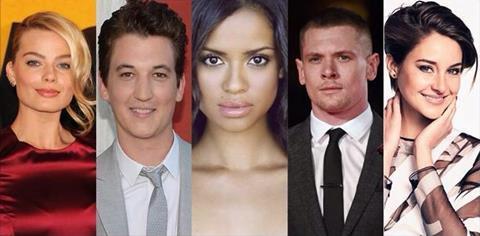 The 2015 EE Rising Star Award nominees for 2015 are Gugu Mbatha-Raw, Jack O'Connell, Margot Robbie, Miles Teller and Shailene Woodley.
Nominees were selected by a group of jurors including actress Alice Eve, director Dexter Fletcher, film and TV producer Pippa Harris and casting director Nina Gold.
The public will know vote on the winner, which will be announced at the EE British Academy Film Awards ceremony on Feb 8.
Touch star Mbatha-Raw shot to fame this year after playing the lead in period drama Belle alongside Tom Wilkinson and Emily Watson.
O'Connell became a household name when he played James Cook in popular UK TV series Skins. Recent feature leads include '71, Starred Up and Angelina Jolie's Unbroken.
Margot Robbie came to attention in Martin Scorsese's The Wolf of Wall Street in which she starred as the female lead opposite Leonardo DiCaprio, and will be seen next month as a con artist opposite Will Smith in Focus.
Miles Teller firmly established himself on the film scene with his roles in Whiplash and Divergent. Cast on the latter was led by The Descendants actress Shailene Woodley.
Previous winners have included Eva Green in 2007, Shia LaBeouf in 2008, Noel Clarke in 2009, Kristen Stewart in 2010, Tom Hardy in 2011, Adam Deacon in 2012 and Juno Temple in 2013.
Last year's nominees were Dane DeHaan, George MacKay, Lupita Nyong'o, Léa Seydoux and the eventual winner, Will Poulter.