Oscar Isaac is one of 2013's breakout stars for his role as the titular conflicted musician in the Coen brothers' Inside Llewyn Davis. He talks to Jeremy Kay.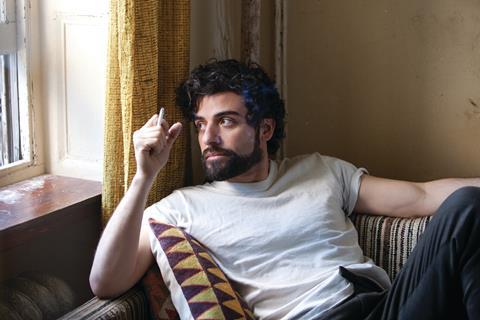 Inside Llewyn Davis star Oscar Isaac studied performing arts at the venerable Juilliard School and had been an accomplished musician for 20 years — but his guitar re-education would come from the unlikeliest source.
It was summer 2011 and the affable performer was in Long Island, New York, shooting the indie caper Revenge For Jolly!.
He had landed a second audition for the Coen brothers' new film and whenever he could, Isaac would practise the intricate Travis guitar-picking technique required for the eponymous lead role based on the lauded folk musician Dave Van Ronk.
"In between takes [of Jolly!] there was this guy playing in a bar and he picks up a guitar and starts playing in exactly that style — flawlessly," says Isaac. "Just amazing. One of the best I've ever heard. So I go over to him and ask him what his story is and he says he's been living here for a long time. I told him I was auditioning for this movie, and he says he played with Dave."
The man's name was Erik Frandsen and before long, Isaac was taking lessons at his new friend's home in Manhattan's MacDougal Street, coincidentally the thoroughfare that inspired the title of Van Ronk's memoir, The Mayor Of MacDougal Street.
Isaac recalls an early encounter and chuckles. "He asked how long I'd played and I said 20 years, and he said: 'Nah. You've owned a guitar for 20 years. You've been playing for maybe six months.' And I was like, 'Fair enough, fair enough.'"
Over time, Isaac grew more familiar with Travis-style picking and that helped enormously by the time he began his tutelage with another master, executive music producer and frequent Coens collaborator, T Bone Burnett.
'There's zero vanity with the Coens… They set the stage for people to do their best work'

Oscar Isaac
"We found my guitar, which is this beautiful 1924 L1 [Gibson] and [Burnett] would listen to me play and help me loosen up — he just steeped me in a lot of that music. It was very organic. It was never dictated as to how to play. It was just more about stripping away," the actor remembers.
The entirely fictitious Llewyn Davis prowls Greenwich Village in 1961 — the same year that Bob Dylan burst onto the scene — and embodies the essence of folk singer-songwriters of the time, such as Van Ronk, who cherished the heritage of old blues recordings from the 1920s.
Van Ronk died in 2002 but in order to get a sense of the man, Isaac met his widow, Andrea Vuocolo Van Ronk, who visited the set of Inside Llewyn Davis several times. He also spoke with The Mayor Of MacDougal Street co-author Elijah Wald.
Tuned into history
"I grew up listening to Dylan but I didn't know about this time before," says Isaac. "You had these guys, these folk artists, who would find all these old songs and curate them and present them. So Llewyn is stuck in a place where all he does is play old songs and he doesn't make new songs, so what is he supposed to do? Is he supposed to change and make novelty songs to make a living?
"Then Bob Dylan comes in and synthesises what the Beat poets are doing with what the folk artists are doing. He starts writing poetry and putting it to old music. Whereas characters like Llewyn are preserving these old songs, rearranging them."
Isaac sought out the Coens when he heard about the film and was not disappointed working with them. "They're so darkly humorous but also childlike in their wonder and the mystery of existence. There's zero vanity with them," he adds.
"There's no pretence. They are what they are — I imagine them with berets in the Village as beatniks. They're so cool and relaxed and just not interested in any games. They set the stage for people to do their best work. It's the most relaxed environment I've ever been in so far as an actor."
Guatemala-born, Miami-raised Isaac stood out in roles in Drive and W.E., but Inside Llewyn Davis has opened "a bunch of doors" for Isaac — for instance, he is set to star opposite Jessica Chastain in JC Chandor's period drama A Most Violent Year. He will also take away the experience of the brothers not giving many compliments.
"What's great about that is… you're no longer looking for approval every take," says Isaac. "You're actually just doing the work. It makes you less square. You're not so needy; you're just doing the work."