The environment, changing the world, courage, honour and in some cases surprise - the winners speak.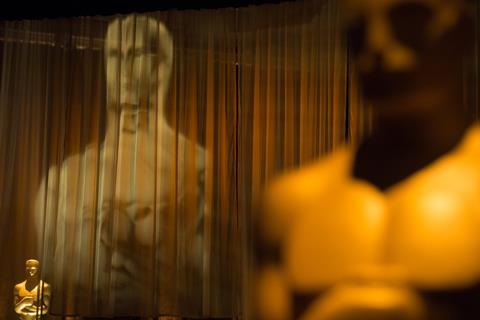 BEST MOTION PICTURE OF THE YEAR
"Thank you, hello everybody. I love you, Lauren, we did it. This film gave a voice to survivors, and this Oscar amplifies that voice which we hope will become a choir that will resonate all the way to the Vatican. Pope Francis, it's time to protect the children and restore the faith. Thank you very much."
Michael Sugar, Spotlight
"We would not be here today without the heroic efforts of our reporters. Not only do they effect global change, but they absolutely show us the necessity for investigative journalism."
Blye Pagon Faust, Spotlight
"We'd also like to thank our partners: Tom Ortenberg and everyone at Open Road, Jeff Skoll and Jonathan King and everyone at Participant, eOne, Anonymous Content, First Look, Michael Bederman, David Mizner. Josh Singer and Tom McCarthy, your tenacity and vision is unparalleled. To our cast, if there ever was a perfectlycalibrated ensemble, you are it. Thank you so much."
Nicole Rocklin, Spotlight
PERFORMANCE BY AN ACTOR IN A LEADING ROLE
"Thank you, thank you all so very much. Thank you to the Academy, thank you to all of you in this room. I have to congratulate the other incredible nominees this year for their unbelievable performances. "The Revenant" was a product of the tireless efforts of an unbelievable cast and crew I got to work alongside. First off to my brother in this endeavor, Mr. Tom Hardy. Tom, your fierce talent on-screen can only be surpassed by your friendship off-screen. To Mr. Alejandro Iñárritu, as the history of cinema unfolds, you have forged your way into history these past two years. What an unbelievable talent you are. Thank you to you and Chivo for creating a transcendent cinematic experience for all of us. Thank you to everybody at Fox and New Regency, in particular Arnon Milchan. You were the champion of this endeavor. My entire team. I have to thank everyone from the very onset of my career. Mr. Caton-Jones for casting me in my first film. Mr. Scorsese for teaching me so much about the cinematic art form. To Mr. Rick Yorn, thank you for helping me navigate my way through this industry. And to my parents, none of this would be possible without you. And to my friends, I love you dearly, you know who you are.
"And lastly, I just want to say this: Making "The Revenant" was about man's relationship to the natural world, a world that we collectively felt in 2015 as the hottest year in recorded history. Our production needed to move to the southern tip of this planet just to be able to find snow. Climate change is real. It is happening right now. It is the most urgent threat facing our entire species, and we need to work collectively together and stop procrastinating. We need to support leaders around the world who do not speak for the big polluters or the big corporations, but who speak for all of humanity, for the indigenous people of the world, for the billions and billions of underprivileged people who will be most affected by this, for our children's children, and for those people out there whose voices have been drowned out by the politics of greed. I thank you all for this amazing award tonight. Let us not take this planet for granted. I do not take tonight for granted. Thank you so very much."
Leonardo DiCaprio, The Revenant
PERFORMANCE BY AN ACTOR IN A SUPPORTING ROLE
"I always just adored stories, hearing them, seeing them, being in them, so for me to have the chance to work with, I think, one of the greatest storytellers of our time, Steven Spielberg, it's just been such an honour. And unlike some of the leaders we're being presented with these days, he leads with such love that he's surrounded by masters in every craft on his film, every craft, not the least, Mr. Tom Hanks. People, I'm so pleased that our film has been nominated so many times, and as a face of the film, I meet many people in the streets and it's lovely to have them, they're always saying to me, 'would it help?' and all that stuff. And I think, if you ever wondered about acting with Tom Hanks, would it help. The answer's clearly yes.
"I want to just say thank you to my fellow nominees. I don't know how they separate my acting from your glorious acting in these wonderful films that you're in, which everyone must see. I don't know how they separated the five of us from all the other supporting actors who are making films at the moment. It's a wonderful time to be an actor and I'm proud to be part of it. Thank you."
Mark Rylance, Bridge Of Spies
PERFORMANCE BY AN ACTRESS IN A LEADING ROLE
"Thank you. Thank you first to the Academy. I want to start big because the thing that I love about moviemaking is how many people it takes to make it, so I want to start first with the Telluride Film Festival, the Toronto Film Festival, who gave us a chance, who gave us a platform first. I'd like to thank A24 for taking this movie into their hands and sharing it with the world. I'd like to thank our director, Lenny Abrahamson, who is absolutely incredible. Emma Donoghue, who created this world. Jacob Tremblay, my partner through this in every way possible. My real partner, Alex Greenwald, I love you the whole thing. To my parents, my agent, my manager, Chris Fioto, Anne Woodward, Lindsay Galin, the rest of my team, my friends, my family. Thank you to everyone who participated in "Room." Thank you to all of you who saw it. Thank you to the fans. Thank you to the moviegoers. Thank you for going to the theater and seeing our films. I appreciate it. Thank you."
Brie Larson, Room
PERFORMANCE BY AN ACTRESS IN A SUPPORTING ROLE
"Wow. Thank you so much, the Academy, for this incredible recognition. I share this with our fabulous crew and cast, and I want to thank, I want to thank Gail and Anne and Nina and Working Title and Focus and Tom. Where are you? My director. Thank you so much for your support and belief in me. And Eddie, there you are. Thank you for being the best acting partner. I couldn't have done it without you. You raised my game. I wouldn't be here if it wasn't for my dream team which is Theresa, Angharad, Charles, Laura. I want to thank my friends [unintelligible] and my mom and dad. Thank you for giving me the belief that anything can happen, even though I would never have believed this. Thank you."
Alicia Vikander, The Danish Girl
ACHIEVEMENT IN DIRECTING
"Gracias a la Academia. I can't believe this is happening. I — it's amazing to receive this award tonight. But it's much more beautiful for me to share it with all the talented and crazy cast and colleagues and crew members along the continent that made this film possible. To all and each of you, I thank you from my heart. Leo, you are "The Revenant." Thank you for, give every soul, your soul, your art, your life. Tom Hardy, all the Native American cast, all the English American cast, thank you very much for your trust, for your talent. I want to thank Chivo. Thank you for bringing the light to this journey. And I want to thank too, to Arnon Milchan. Thank you for your unconditional support. My producers, Mary Parent, Steve Golin, all the people in Fox and New Regency. I, I, very lucky to be here tonight, okay, but unfortunately, many others haven't had the same luck. There is a line in the film that says, Glass to his mixed-race son, "They don't listen to you, they just see the color of your skin." So what a great opportunity to our generation to really liberate ourselves from all prejudice and, you know, this tribal thinking, and make sure for once and forever that the color of the skin become as irrelevant as the length of our hair. This is for my father. Thank you very much."
Alejandro G Inarritu, The Revenant
ACHIEVEMENT IN FILM EDITING
"Charlize [Theron, waves to her]! Us Mad Maxers are doing okay tonight. Thank you so much to the Academy. You know, "Mad Max" was the best-reviewed film of 2015. Audiences loved it, and to be honored tonight is just more than we could ever have hoped for. But, it took enormous creative courage and guts to make this film, so I just want to say thanks to George Miller, Doug Mitchell and the whole crew that endured six months in that Namibian desert to bring back the most amazing footage. But honestly, it's in the edit room that the final… that the film is finally forged. It's the final rewrite, so I just want to salute my beloved picture department who are in Sydney, and all who work in post, who work with their hands, heads and most importantly, their hearts."
Margaret Sixel, Mad Max: Fury Road
ACHIEVEMENT IN CINEMATOGRAPHY
"Academy, thank you so much. This is incredible. I want to share it with the cast and crew, especially with my compadre, Mr. Iñárritu. To your passion, Alejandro. And I want to share this also with Leo and Tom, for their great performance. All the producers, New Regency and Fox for all the freedom and the support. My wife Lauren, Ale, Dani, I love you so much. Daniela, happy birthday. To my parents, my friends. And to all the cinematographers that were nominated with me, I admire you so much. I love your work. Alejandro, thank you so much."
Emmanuel Lubezki, The Revenant
BEST ANIMATED FEATURE FILM OF THE YEAR
"This film was really born from watching our kids grow up, which is not easy. Anyone out there who's in junior high, high school, working it out, suffering. There are days you're gonna feel sad, you're gonna feel angry, you're gonna be scared. That's nothing you can choose, but you can make stuff. Make films. Draw. Write. It'll make a world of difference."
Pete Docter, Inside Out
"And on this film, every single storyboard, every single frame, cut, line of dialogue, every single pixel, was done by the amazing artists we work with at Pixar, led by John Lasseter. They should be up here with us tonight. We love them. Along with our amazing cast — best cast ever assembled, animated or otherwise — we love you."
Jonas Rivera, Inside Out
BEST DOCUMENTARY FEATURE
"Thank you, this is amazing. Thank you to everyone in the Academy, everyone who voted for us, all the love you've shown to the film. To the contributors, everyone who trusted us to actually make this film. Really, this film is all about Amy, this is all about showing the world who she really was: not her tabloid persona, the beautiful girl, the amazing soul, funny, intelligent, witty, someone special, someone who needed looking after. We just wanted to make a film to show the world who she really was."
Asif Kapadia, Amy
BEST FOREIGN LANGUAGE FILM OF THE YEAR
"Wow, thanks to the Academy for this incredible honor. Thank you to Sony Pictures Classics, Tom Bernard and Michael Barker for supporting us. Thanks to Hungary for funding this film. I want to share this with Géza Röhrig, my main actor, and the incredible cast and crew that believe in this project when no one else did. You know, even in the darkest hours of mankind, when in the darkest hours of mankind, there might be a voice within us, that allows us to remain human. That's the hope of this film. Thank you very much, thank you."
László Nemes, Son Of Saul
ACHIEVEMENT IN COSTUME DESIGN
"What another lovely day. Very quickly, if Iain Smith, our amazing executive producer from Scotland hadn't sent me a text saying, 'Whatcha doing at the moment?' and then got me on a plane out to meet George Miller and Doug Mitchell, I wouldn't obviously be standing here. It was a year of our lives in the Namibian desert. We had the most amazing crew. I hope that, I heard that they were on ticker tape, I thought the names were going on the screen. But honestly, if anybody wants to know more about any of them, just get in touch with me through my wonderful agents Wayne Fitterman from William Morris and Sue Latimer from ARG. But it was an incredible experience. I just want to say one quite serious thing, I've been thinking about this a lot, but actually it could be horribly prophetic, "Mad Max," if we're not kinder to each other and if we don't stop polluting our atmosphere, so you know, it could happen."
Jenny Beavan, Mad Max: Fury Road
ACHIEVEMENT IN MAKEUP AND HAIRSTYLING
"Wow, amazing, you can pop the corks at home. We're bringing home gold. Fantastic, thank you very much to the Academy. Thank you very much to Warner Bros. Thank you to all our fantastic crew across the globe; there were many of them as Colin said. A lot of it's already been said by Jenny and Colin, but once again, we want to thank George, who is…you know, it's his vision, yeah, his vision. And thank you for taking us all along. You're amazing, George, we love you."
Lesley Vanderwalt, Mad Max: Fury Road
"I'd just like to thank my parents and my beautiful one-week-old today daughter Elvira, and her beautiful mother Heather."
Damian Martin, Mad Max: Fury Road
"And all our supporters back home."
Elka Wardega, Mad Max: Fury Road
ACHIEVEMENT IN MUSIC WRITTEN FOR MOTION PICTURES (ORIGINAL SCORE)
"Thank you, the Academy, for this prestigious acknowledgement. My tribute goes to the other nominees, and in particular to the esteemed John Williams. There isn't a great soundtrack without a great movie that inspires it. I want to thank Quentin Tarantino for having chosen me, Harvey Weinstein and the entire team who made this extraordinary film. I dedicate this award to my wife Maria, who is there watching me. Thank you."
Ennio Morricone, The Hateful Eight
ACHIEVEMENT IN MUSIC WRITTEN FOR MOTION PICTURES (ORIGINAL SONG)
"I actually can't breathe right now, oh my gosh. Thank you to this man here, Jimmy Napes. To all the nominees, you're incredible. Gaga, you're incredible. I read an article a few months ago by Sir Ian McKellen and he said that no openly gay man had ever won an Oscar, and if this is the case, even if it isn't the case, I want to dedicate this to the LGBT community all around the world. I stand here, I stand here tonight as a proud gay man and I hope we can all stand together as equals one day. Thank you so much."
Sam Smith, "Writing's On The Wall", Spectre
ACHIEVEMENT IN PRODUCTION DESIGN
"It never ceases to annoy me how many people it takes to make me look competent, so, uh. To get one of these, you got an idea of the multitudes, the multitudes of Australians, New Zealanders, Brits, Americans, South Africans, Namibians, who all came together under George's vision to bring you a tale about a man with mental health issues, an amputee Amazon and five runaway sex slaves, so, uh. I'd like to chalk this one up as the first Oscar for diversity."
Colin Gibson, Mad Max: Fury Road
"Thank you, Academy, and thank you to the most amazing crew. Thank you."
Lisa Thompson, Mad Max: Fury Road
BEST ANIMATED SHORT FILM
"We are really happy right now. We want to thank the Academy, our families and everyone in Chile that have supported us and trust in our work. Personally I want to dedicate this achievement to my grandfather, who is the one who inspire this story and to all the people like him who have suffered in exile. We really hope that this must never happen again. Thanks."
Gabriel Osorio, Bear Story
"Thank you all. We are from a small country called Chile. This is the first Oscar for our country, so this is very important for us. Thank you all. Un gran aplauso para todos. Viva Chile!"
Pato Escalia, Bear Story
BEST LIVE ACTION SHORT FILM
"You know, when you make your, your first ever film, you've gotta convince a lot of people to jump on board and take a risk with a first-time director, and, you know, to every single member of the cast and crew of "Stutterer" for jumping on board and taking that risk with me I'm forever grateful. And to the Academy for this award. It's such a huge honor. Thank you so much. To my amazing parents for all the support, thank you. Chloe Pirrie, you're amazing, wherever you are up there. Matthew — to the wonderful Matthew Needham, you are this film, brother, thank you so much. Every day is a proud day to be Irish, but today even more so than usual. To everyone for all the support back home, thank you so much."
Benjamin Clearey, Stutterer
"On behalf of myself and Shan who produced this film with me, we just want to thank Ben for bringing on this journey, and to the Academy for honouring short films. Thank you."
Serena Armitage, Stutterer
BEST DOCUMENTARY SHORT SUBJECT
"Thank God, I have two of them now [laughs]. This is what happens when determined women get together. From Saba, the woman in my film who remarkably survived an honor killing and shared her story, to Sheila Nevins and Lisa Heller from HBO, to Tina Brown, who supported me from day one. To the men who champion women, like Geof Bartz in my film, who's edited the film, to Asad Faruqi, to my friend Ziad, who brought this film to the government. To all the brave men out there, like my father and my husband, who push women to go to school and work, and who want a more just society for women. Last week — this week the Pakistani Prime Minister has said that he will change the law on honour killing after watching this film. That is the power of film."
Sharmeen Obaid Chinoy, A Girl In The River: The Price Of Forgiveness
ACHIEVEMENT IN SOUND EDITING
"For thousands of years, we've been telling stories in the dark around a flickering light, whether a campfire or a projector. David and I do it with sound. George Miller would tell us "Mad Max" is a film we see with our ears. I knew sound could tell my story, but nothing quite like this. Sound artists are storytellers. Thank you, George. I hope to see you around the next campfire."
Mark Mangini, Mad Max: Fury Road
"Yeah, I'm so proud, so proud to work on this loud, loud, loud film, that actually had silence in it. So good to work with this guy. And I'm proud to represent all my Australian colleagues. Yeah!"
David White, Mad Max: Fury Road
ACHIEVEMENT IN SOUND MIXING
"Thank you very much. First of all a big shout out to the Academy, thank you for all your support of our incredible creative craft. To our fellow nominees, we can't say enough, we're so proud to be in your company and we're so proud to represent tonight. To George Miller, you're the heart and soul of all this. We can't say enough about you, thank you, thank you, thank you for giving us the opportunity. To Warner Bros., to all of our friends there and the people that support us. And most of all to our families, to our wives, to Jeanne and to Sue, to our families, to James up in the cheap seats. Thank you all very, very much."
Chris Jenkins, Mad Max: Fury Road
"Thanks everybody. Thanks to all the Australians, Namibians."
Ben Osmo, Mad Max: Fury Road
ACHIEVEMENT IN VISUAL EFFECTS
"I'm really bad at predicting this, apparently. This is so utterly unexpected. Visual effects is massively a team game, more so maybe than any other department. And we have to thank people in two directions: we've got to thank the studio, we've got to thank the production. We've got to thank Alex for being an amazing director. We have to thank Alicia for being Ava. And we have to thank the teams of artists, production and technical personnel at Double Negative, Milk VFX, and Utopia, who are amazing. Without them we are nothing. Thank you so, so much."
Andrew Whitehurst, Ex Machina
ADAPTED SCREENPLAY
"Thank you so much to the Academy. Also thank you to Michael Lewis for writing an amazing book that inspired Charles and I so much. Thank you to Paramount for taking a risk on a movie that's about financial esoterica and believing in it. Thank you to my beautiful wife, Shira Piven, there she is. And my children, Lili Rose, my two daughters, Lili Rose and Pearl, I love you so much. Most of all, if you don't want big money to control government, don't vote for candidates that take money from big banks, oil or weirdo billionaires: Stop!"
Adam McKay, The Big Short
"Thank you very much Plan B. Thank you very much Paramount. To my wife, Mili [Hebrew]. To my kids, I am so happy to be your father. Thank you."
Charles Randolph, The Big Short
ORIGINAL SCREENPLAY
"We've got to thank Open Road. We've got to thank Participant. We've got to thank our wonderful producers, Michael Sugar, Nicole Rocklin, Blye Faust, Steve Golin. We've got to thank our wonderful cast and crew from Boston and Toronto. My wife who, Laura Dave, makes me a better writer every day and makes me a better human every day. And my father Bruce Singer who taught me how to dream."
Josh Singer, Spotlight
"Thank you very much, Academy. We made this film for all the journalists who have and continue to hold the powerful accountable and for the survivors whose courage and will to overcome is really an inspiration to all. We have to do, make sure this never happens again. To Rhonda Price, the Gersh Agency, Andrew Hurwitz. To my beautiful wife Wendy, Nora and Vivian, my family and all our friends, we thank you. This one's for you Geno, we love you. Love you Mom and Dad."
Tom McCarthy, Spotlight