Bestseller or not, Room's sensitive subject matter was always going to be a cinematic challenge. Jeremy Kay speaks to writer Emma Donoghue, director Lenny Abrahamson and producer Ed Guiney about translating its emotional and physical space to the screen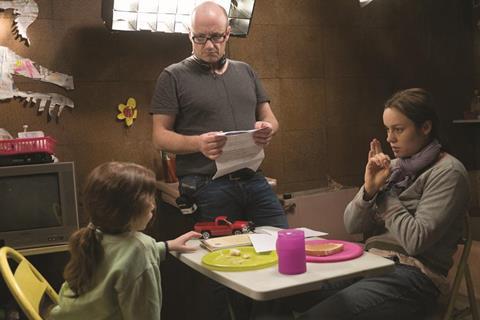 Emma Donoghue had an inkling Room might get the silver screen treatment and adapted the screenplay before her novel was published in 2010.
Word spread fast. "There were lots of nibbles but there was never the right person," says the Irish-Canadian author who lives in Toronto. "And then I got Lenny's letter."
Lenny Abrahamson and regular producer Ed Guiney of Element Pictures were fans of the book and had enlisted the support of Tessa Ross, the then-head of Film4, to contact Donoghue.
"I wrote it more in hope than expectation," says Abrahamson with a chuckle. "I knew that Emma, like many of my countrymen, had fecked off to the New World.
"She had done the thing that everybody hopes to do, which is make it big with this novel that everybody, including the President, was supposed to be reading. I thought if it were me, I would have gone: 'Oh get away from me. I want a big-name director.'"
In fact Donoghue was wary of the US studios. She felt an independent sensibility was required to handle her story about a kidnapped woman, raped in captivity, who raises her son for five years in a fortified shed and makes him believe he inhabits an ordinary, loving world.
Abrahamson only had two films to his name at that point — Garage and Adam & Paul — and was about to make the 2012 drama What Richard Did. Yet his missive hit its mark. "The letter reeked of confidence," says Donoghue, who promptly did some research. "Those two films won me over… There's this hilarious Beckettian humour between the junkies in Adam & Paul, and I thought if he can find the jokes in that situation then he can do this with Room as well."
The author wondered how the film would get funded but, buoyed by Film4's commitment to develop the project, she set about finding an agent to shop the film rights.
"It went quiet but we stayed in touch and she appointed UTA," says Guiney, an old friend of Abrahamson's from their student days at Trinity College, Dublin. "What happened in the interim was Lenny made another movie [Frank] and got a bit more visibility in the world, so the delay kind of suited us."
By early 2013, the film-makers and UTA had settled on a plan. The Irish Film Board came on to develop Room with Film4, while Abrahamson and Donoghue spent the rest of the year working on the script and drawing up a cast wish-list.
So began a collaboration that would result in a festival darling which made waves at Telluride, won the audience award at Toronto and catapulted Brie Larson to the forefront of the best actress Oscar race.
As they hammered out a revised screenplay, Abrahamson was preoccupied with how to create an engrossing cinematic interpretation of Room which, in the reader's mind, occupies an infinite space that belies its dimensions. "Every aspect of this space is another little universe for [the child]: under the bed or behind the TV or what's written on the walls," says Abrahamson. "So the more I thought about that space as [the book does] as full of stories, the more I realised you're going to be emotionally connected to this boy and open to his experience of it, and the less I worried about what the room would be like."
Donoghue adds: "Lenny wasn't afraid of aspects of the book that were peculiar. Some [earlier directors under consideration] were thinking of ways around that and saying: 'Ooh maybe we could add fantasy sequences, flashbacks, get out of the room somehow.' Lenny, from the first letter he sent me, was like: 'I see how to make this work.'"
The one significant modification comes after Ma and Jack escape from the Room.
Abrahamson wanted to avoid the book's longish sequences of debriefs and medical and psychological evaluation before the pair go to live with Ma's parents.
"The clinic sequence in the novel is much longer and the novel has the sequence in the police station," says Abrahamson. "The danger of the police station is that, if that middle bit is too long, there would be a sense where the film feels musically as if it's coming to a completion. You want to keep it in that chicane of the middle. You just had to get the line right to come out the other side with the right amount of energy."
The right partners
Rather like the book, the film jumped up a few gears in the second part of its life, as 2014 turned out to be a year of opportunity.
FilmNation boarded the project early that year and introduced it in Cannes. Brie Larson had just signed on to play the lead, A24 was on board as US distributor and Elevation would distribute in Canada. A year later, in Cannes 2015, FilmNation sold out all territories.
Guiney had earmarked an autumn 2014 production start and Canada fit the bill. "It felt like a real opportunity in terms of how we could access [funds from] Irish Film Board and Telefilm Canada," he says. "We appointed No Trace Camping in early summer 2014 as our Canadian producers."
Now configured as an Irish-Canadian co-production, Canadian funding rules meant Guiney and his fellow producers were only allowed "two-and-a-bit Americans".
William H Macy as Larson's on-screen father counted as a cameo and the production included Larson, of course, and Joan Allen as her mother. Jacob Tremblay, the remarkable youngster who plays Ma's son Jack, hailed from Vancouver.
The production went well and shot chronologically, winding up in December in and around Toronto as Ma and Jack begin the process of assimilation into "normal" life.
It was the first half, set entirely within the 10ft x 10ft confines of Room on a soundstage in Pinewood Toronto Studios, that presented challenges. The film-makers were intent on keeping the space real-size. How hard could it be? They soon realised the magnitude of the task at hand.
"Once Lenny, Ethan [Tobman, production designer] and [cinematographer] Danny Cohen started to think about it, it became this very intense, very storied and rich prospect and we realised to do it properly it needed careful consideration," says Guiney. "You're shooting on this set for five weeks but also the set has to tell the story of Ma and Jack's life together. Lenny wanted to create an environment that could be warm and nurturing to grow up in, because that's one of Ma's great achievements.
"So an awful lot of time went into that and how, over the years, it would have been worn [in] by a small child. Even the way the sunrise hit the cork tiles and how they fade… I cannot imagine many more sets that had so much discussion per square inch."
As the Toronto start date approached, Abrahamson and Tobman had been keen to erect their version of Room as early as possible so the two leads could hunker down and learn how the space worked.
Larson and Tremblay, who had already bonded over Lego in their initial meetings, duly did that and ended up making several of the props such as a toy boat and an articulated snake of eggshells.
"We worked very hard to create as rich an experience as we could and trust that you wouldn't go stir crazy," says Abrahamson, who credits his team with "an epic piece of set design".
"Lenny and Danny wanted the lens of the camera to be within the room," says Guiney. "So Ethan designed this clever modulated set where every four [cork] tiles could be pulled out, so we could just pull out a small area of a wall and put the camera lens there."
Cohen installed a fluorescent light over the sink in addition to a lamp, and simulated natural light through the skylight so they could manipulate mood.
Regulations meant they could only shoot about five hours a day with Tremblay and had to accommodate for breaks and schooling. The production ran to about 10 weeks and despite the grim subject matter, Abrahamson, a father himself, kept things light on set.
It had always been Donoghue's wish to keep the script faithful to the spirit of what became an international bestseller and she is delighted with the outcome. She turns to Abrahamson and smiles. "You didn't really mess with anything much."