From avoiding lawsuits to casting a prestige acting ensemble, the team behind best picture hopeful Spotlight reveal how they pulled off the high-wire act.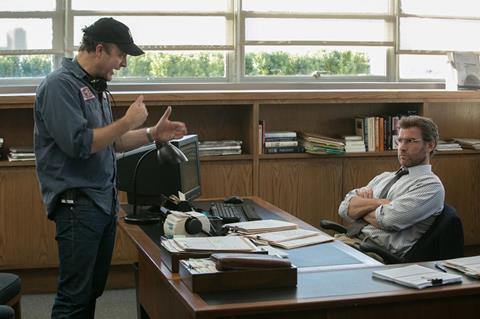 Growing up an Irish Catholic in New Jersey and later attending Boston College in Massachusetts, writer-director Tom McCarthy was one of many who suspected impropriety in the region's Catholic Church. "We heard whispers growing up," confides the 49-year-old actor-turned-film-maker, whose Catholic upbringing helped contextualise the subject of Spotlight, which charts the true story behind The Boston Globe's revelations of child molestation within the local Catholic Archdiocese in 2002. The scandal would shake the Catholic Church to its core and win the paper the Pulitzer Prize in 2003.
"I felt an instant connection with the material," says McCarthy, who used to play softball and soccer on the property belonging to Cardinal Law, the former Archbishop of Boston who was implicated in the Church's cover-up and is a key character in McCarthy's film. The Globe's reporting brought the scandal of sexual abuse of minors by Catholic priests to national attention and led to a number of prison sentences, settlements and resignations. "This was evil on a grand scale," says McCarthy. "This was institutional-level complicity and deference on a societal level."
While many turned a blind eye, the Globe's reporting unit were fearless. "It really was the Spotlight team [the name of the Globe's investigative unit] that blew the doors open on the scandal," says the director. McCarthy's awards darling, starring the heralded ensemble of Michael Keaton, Mark Ruffalo, Rachel McAdams, Liev Schreiber, Brian d'Arcy James, Stanley Tucci and John Slattery, is now reopening those doors for new audiences.
High-wire act
Since its well-received launch at the Venice Film Festival in August, McCarthy's drama has been at the forefront of the awards conversation. Best picture prizes from the Gotham Awards and the LA Film Critics Association, four nominations at the upcoming Independent Spirit Awards (plus a win for best ensemble) and a solid specialty run in the US for Open Road (where it has so far taken $17m) have cemented its status as a blue-ribbon drama brimming with Oscar potential.
But the film suffered a more hazardous journey to screen. The project represented a calculated risk, including a testing budget for such a talk-heavy drama, a director coming off his worst film to date and a controversial subject that required rigorous legal vetting. "There were a million challenges," admits Anonymous Content's Steve Golin, who was initially brought the story by producers Nicole Rocklin and Blye Faust in 2011.
After the team secured the screen rights to the lives of a number of The Boston Globe reporters, the film was initially set up with DreamWorks in early 2013, with writer-director McCarthy and co-screenwriter Josh Singer (The West Wing) on board. Despite its berth on 2013's Black List for best unproduced screenplays, DreamWorks dropped out that same year. "It wasn't an expensive movie but it wasn't cheap either [budgeted at just below $20m]", admits Golin. "Plus, it's a drama. Everyone knows that drama is something of a dirty word: if you don't make a great movie, you can easily lose your money.
"The bullseye on these films is very small and if you don't hit the bullseye like Tom did then you're screwed," he adds. "It's a high-wire act without a net."
"Everyone who read the script said: 'God, that's a great read,'" says executive producer Jonathan King of primary financier Participant Media. "It's an important story. But it's true that we don't have superheroes, we don't have monsters, it's not a romantic comedy. It's a genre of film that has to work at a very high level in terms of quality of direction and performance in order to be a good commercial investment."
In many ways, the modest, astute McCarthy was a great fit. His writing and directing credentials come bolstered by acting roles that have steeped him in the cut and thrust of the media, including in George Clooney's Good Night, And Good Luck and as a hungry reporter who lets ambition get the better of him in season five of HBO's acclaimed TV series The Wire.
But after writing and directing a trio of smaller, well-received indie dramas — The Station Agent (2003), The Visitor (2007) and Win Win (2011) — the film-maker's hot streak had just ended on 2014 comedy-drama The Cobbler, which starred Adam Sandler. That commercial and critical misfire may have made some investors think twice.
"Any director that makes five movies is likely to make one that isn't as great as the others," acknowledges Golin. "The Station Agent, Win Win, those were good movies. For whatever reason, The Cobbler didn't work. But we were working on this film before I ever heard of The Cobbler so we were already pregnant with Tom and he was pregnant with us."
Despite the various challenges, the project wasn't short of would-be suitors. Participant became an early champion and, as competition for the project began to heat up, eOne and Open Road boarded the project for international and US distribution rights respectively, alongside Pierre Omidyar's fledgling financier First Look Media.
Falling dominoes
Securing the first actor can be the biggest challenge for productions when wrangling potentially starry ensembles. "Getting the actors was a struggle," admits Golin. "The schedules and logistics were very difficult."
Mark Ruffalo turned out to be the catalyst when he signed on to play Mike Rezendes, one of the most dogged journalists in the titular investigate unit. "Mark told everyone that he was making the movie and he didn't care about the money," explains Golin. "He was the first actor to sign on. Once he'd signed, all the dominoes start falling."
Casting Michael Keaton in the crucial role of editor Walter 'Robby' Robinson might have proved another risk ahead of Birdman's release, but Golin's connections helped ease that concern. "Alejandro [González Iñárritu] is one of my best friends," he says. "He showed me an early cut of Birdman and I could see how great Michael was. We actually signed Michael to our management company, about six months before Spotlight was happening.
"I thought this would be an amazing part for Michael," he continues. "Alejandro showed Tom Birdman before it was released and he loved Michael too."
Sensing a special opportunity, the actors embraced their roles with gusto during pre-production. "By the time we got together for rehearsals all the actors had reached out and talked to the reporters or editors they were playing," says McCarthy. "I was impressed. Mark was tailing a big case with Rezendes, even filming him. Rachel [McAdams, playing Spotlight reporter Sacha Pfeiffer] was doing the same, and sitting through a ton of interviews. Michael was hanging out with Robby Robinson and following a case while it was unfolding."
The production shot in Toronto and Boston in autumn 2014. Sustaining the tension in such a dialogue-heavy film, however, was always going to be a challenge. "The most difficult part was gathering all the information, keeping the ensemble active and maintaining the emotional level," says McCarthy. Working closely with the acclaimed investigative reporting team and top newspaper editors helped. The production never lacked for an informed opinion from those who were actually there, including Marty Baron — editor of The Boston Globe at the time, now overseeing The Washington Post — played in the film by Schreiber.
"We had four reporters and two editors, including Marty who doesn't mince words, constantly reading drafts and coming back to us," explains McCarthy, who worked on the script with Singer for two-and-a-half years. "Two weeks before the shoot, Josh and I locked ourselves in The Boston Globe's editor's room with Robbie and Rezendes and went through the script. After that, we thought we were in a good place." Golin notes of the creative pair: "They investigated the investigation."
The sensitivity of the material meant that the script's development and the shoot itself were a legal minefield. "We were passed a lot of legal notes," says McCarthy. "More than any movie I've been on," adds Golin. "There have been people who have written letters saying: 'This is not the way that it was.' But that was inevitable. No one's filed a lawsuit against us but frankly if you'd asked me at the beginning of it, I'd have been surprised if it didn't happen. We really prepared for it."
The reaction from the journalists to the finished film was inevitably analytical and forensic. "I brought the film to Boston so they could see it," says McCarthy. "The initial reaction was a bit of a frying pan to the face. When the lights went up there was a long quiet, then we sat there discussing it for an hour and a half. Later that night, we started getting long emails from them, most of them positive. Ultimately, they are happy."