Steven Spielberg reveals how his latest feature, Bridge Of Spies, has been more than 50 years in the making, why he continues to shoot on film and whether he would ever re-cast Indiana Jones. Michael Rosser reports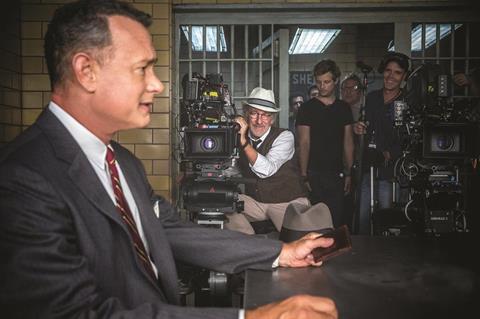 Steven Spielberg was 13 years old when the idea for his latest movie was born. At the height of the Cold War, in 1960, the now veteran director's father, engineer Arnold Spielberg, had just returned to the family home in Phoenix, Arizona from Soviet Russia, where he had travelled as part of a foreign exchange. What he told his young son, who had recently made his first 8mm film using toy trains, fired up his imagination.
"I was inspired by my father, who brought Gary Powers to my attention when I was a teenager," recalls Spielberg, referring to Francis Gary Powers, a US pilot with the CIA who was captured after his U-2 spy plane was shot down over Soviet airspace during a reconnaissance mission.
"On a foreign exchange in Moscow, my dad and three other associates from General Electric stood in line, because they were putting Powers' flight suit, helmet and the remains of the U-2 on display for everybody in Russia to see what America had done," he continues. "So when [Bridge Of Spies] first came into my life, I thought I knew the story because my dad got to see the actual U-2 only months after it was shot down. But when I heard the rest, about this secret CIA exchange of a Soviet spy for an American spy, that's what really compelled me."
It was a story that had been unearthed by UK screenwriter Matt Charman (see below) and recounts true events involving James Donovan, an insurance claims lawyer from Brooklyn who was assigned to defend an accused Soviet spy named Rudolf Abel. Donovan found himself thrust into the heart of the Cold War when the CIA enlisted his support to negotiate the release of Powers for Abel in a spy swap on Berlin's Glienicke Bridge.
Tom Hanks, who has previously collaborated with Spielberg on Saving Private Ryan, Catch Me If You Can and The Terminal, plays Donovan while Abel is portrayed by revered UK theatre and film actor Mark Rylance (who had previously turned down the chance to work with Spielberg on 1987's Empire Of The Sun).
For three-time Oscar winner Spielberg, Bridge Of Spies marked new ground. "I've never had anything to do with espionage, subterfuge or negotiation," says Spielberg, who has previously explored major moments in history with Schindler's List, Munich and Lincoln. "This is my first negotiation movie because that's what James Donovan did best. He was a very, very artful negotiator. I've never done anything like that before, so I was using muscles I didn't even know I had."
Finding inspiration
Exploring new terrain, Spielberg — who turns 69 this month — took inspiration from Martin Ritt's 1965 Cold War thriller The Spy Who Came In From The Cold. "I love the way that film had been photographed," he says of the John le Carré adaptation. "It is also one of my favourite Richard Burton performances, the other being Who's Afraid Of Virginia Woolf?.
"I also thought it was important to bifurcate the film and make the first half very American and the second half very foreign," he continues, discussing his new picture's look. "We did this through lighting, the colour palate, the choices we made in wardrobe, set dressing and art direction, and through Janusz Kaminski's always brilliant cinematography. I needed the first half to have a really Rockwellian, American feel and the second half to have something that felt very offshore."
The result is indeed a film of two halves, the first set in the homely, relative safety of the US and the second played out in the cold, forbidding landscape of East Germany as the Soviet Union sets about constructing the Berlin Wall. The film's classic look and feel is also, in no small part, down to Spielberg's continued insistence to shoot on film. "If it is a straight story, without any benefits of new technology, there's no reason to shoot anything digitally," insists the long-time celluloid champion. "The outcome, digitally, looks like the difference between a painting with acrylics and a painting with oils.
"Film is textural and has a kind of velocity in the grain count alone, whereas digital is as clean as looking through a pane of glass at the outside world," he continues. "To me it's almost too vivid, too vibrant, too real. Especially in historical films, there needs to be a bit of a veil between the here and now and something that happened way back when. That veil is almost unconsciously provided when you shoot on celluloid but is lost when you shoot digitally. As long as we have film, why not shoot with the real stock?"
Doesn't famous digital advocate George Lucas, Spielberg's long-time friend and collaborator on the Indiana Jones series, twist his arm on the issue? "He used to but he could never get me to do that," Spielberg says with a smile.
While Spielberg has stayed true to celluloid, the way in which he shoots is still evolving. "I usually get to the set before most of the crew show up — very, very early," he explains. "I put together my day then because, as I've gotten older, I've got a little more sanguine about allowing myself to be more spontaneous in some of the places that I put my camera, or some of the choices I talk to the actors about."
The director has also moved away from storyboards, now using them only for the most technical sequences — for instance, the heart-stopping scene when Powers is shot out of the sky in Bridge Of Spies. "In that situation, I need six departments to all be on the same page," he says. "But with most of the movies I make today, I don't have any storyboards. I figure it out on my feet. I feel like improvisation is more exciting and gives you more ideas than forethought."
Eclectic tastes
More than 20 years after Jurassic Park and 40 years after Jaws, Spielberg believes "the health of film right now is very robust… The audience is accepting almost every genre that's being thrown their way, which is really good news. There's always going to be an insatiable desire for sequels to favourite movies and there's a desire to continue the current superhero franchises. But the audience is also making room for smaller films that have a lot of personal meaning and give young film-makers a chance to express who they are. It's a very eclectic time."
But even Steven Spielberg can struggle to find budget as he discovered on Lincoln, which won Daniel Day-Lewis the Oscar for his portrayal of the 16th US president. "My company [DreamWorks] had fallen on hard financial times and we had to get a partner to co-finance the budget, which was under $60m," he recalls. "Everyone in Hollywood turned me down. They didn't think making a movie about Abraham Lincoln, even with Daniel Day-Lewis, was commercial. That was the hardest film I had to finance in many years." On a more positive note, he adds: "While we couldn't carry that price tag at the time, we can now."
There have been reports Canada-based media giant Entertainment One is set to join Participant Media as investors in DreamWorks, the production company Spielberg co-founded in 1994 with David Geffen and Jeffrey Katzenberg. "When the appropriate time comes, I'm going to be very happy and proud to make some announcements," is all the film-maker will say for the time being.
While his executive producer slate at DreamWorks is jam-packed, with titles ranging from the fifth Transformers film to the Jurassic World sequel, Spielberg also has a busy few years ahead in the director's chair. ("I always produce to fill in the gaps in which I'm not physically directing, but if I had a choice I'd just be a director 24/7," he admits.) First ready will be The BFG, an adaptation of Roald Dahl's much-loved children's book that reteams Spielberg with Bridge Of Spies actor Rylance in the title role of the Big Friendly Giant. "I have finished my cut and it's gone to [New Zealand's Weta Digital] the company that did The Lord Of The Rings and King Kong, which is doing the digital animation of the giants and the world," says the director. He describes the film as a "hybrid" in its mix of live action and digital giants.
The BFG screenplay was written by Melissa Mathison, who also wrote Spielberg's seminal 1982 blockbuster E.T. The Extra Terrestrial and died in November at the age of 65. "I can't believe she's actually gone. I can't believe I can't just ring her up," says the film-maker, visibly moved by the loss. He adds that Mathison crafted "a very lovely interpretation" of The BFG and "ended her career finishing the script and being on the set every single day. Everybody that was close to Melissa, and even those people who had just a sweet brush with her, understand what the world is missing."
Spielberg will next roll cameras on Ready Player One for Warner Bros, based on an Ernest Cline sci-fi novel that is packed with 1980s references — including Spielberg's own work. So will he be referencing himself in the feature? "No, I'm not," he laughs. "I took the job on one condition — that I don't have to reference myself. So I'm going to avoid that part."
Further upcoming projects include Montezuma, about 16th-century Spanish explorer Hernan Cortes and his historic battle against the Aztec emperor, Montezuma II. Spielberg is developing the project with Javier Bardem, who is set to play Cortes. "My executive producer is actually Kirk Douglas, who is 99 years old," he adds, the same age as Spielberg's father Arnold, who, the director proudly says, still reads all of his screenplays.
Spielberg also confirms he is working on It's What I Do, starring Jennifer Lawrence as wartime photographer Lynsey Addario, one of four journalists held captive by the Libyan army in 2011.
There has also been talk of another Indiana Jones adventure, although after what many deemed a disappointing fourth instalment — Indiana Jones And The Kingdom Of The Crystal Skull in 2008 — why would Spielberg return to the character yet again? "Because there are more adventures out there than films," he says. "As long as there's more adventures out there, I've got a bullwhip, a fedora, a leather jacket and a man on a horse who knows how to get the job done."
With star Harrison Ford now 73 years old, there have been rumours Indiana Jones' whip may be passed to another actor; Chris Pratt, star of Guardians Of The Galaxy and Jurassic World, is one name that's been suggested.
But Spielberg firmly refutes the speculation. "I don't think anyone could replace Harrison as Indy, I don't think that's ever going to happen," he says. "It's certainly not my intention to ever have another actor step into his shoes in the way there have been many actors that have played Spider-Man or Batman. There is only going to be one actor playing Indiana Jones, and that's Harrison Ford."
Writing 'Bridge Of Spies'
UK screenwriter Matt Charman tells Michael Rosser about pitching in his underwear to Steven Spielberg
Matt Charman looks like a man who has won the lottery. And who can blame him? The London-based screenwriter has had his first original feature script snapped up by Steven Spielberg.
"I got lucky so many times on this movie," says Charman, who previously wrote drama series Our Zoo for the BBC, miniseries Black Work for ITV and literary adaption Suite Francaise (with Saul Dibb).
Cold War spy thriller Bridge Of Spies is based on a true story that Charman discovered through a footnote in a book. "I spotted it in a biography of JFK by Robert Dallek called An Unfinished Life," says the history buff.
"In a chapter about Cuba, after the Bay of Pigs disaster, JFK sent someone to negotiate with Castro for the release of 1,500 captured US servicemen. The man he sent was James Donovan and the footnote said, 'Donovan came to prominence for the part he played in the spy swap between Rudolf Abel and Gary Powers.' I remember thinking, 'Who is this guy?'"
Charman began to dig around but there was no definitive story about the US lawyer. After piecing together scraps from The New York Times archive, presidential libraries and magazine articles, he finally caught up with Donovan's son in New York. "Meeting him brought home to me not only how incredible his father was but also the toll this had taken on the family," he says.
With the story ready to be told, Charman went to Los Angeles at the end of 2013 to fulfil his ambition of delivering "an old-fashioned Hollywood pitch" and packed in seven meetings a day for five days. With plenty of interest bubbling, a deal was clinched after a meeting with now former DreamWorks executive Jonathan Eirich. "I was over the moon, and when I landed back in London I had a voicemail saying Steven Spielberg would like to hear my pitch directly," he recalls.
Ready to conduct the call at home, Charman got "very hot and flustered and stripped down to my boxer shorts and T-shirt… And then the phone rang and I got very calm." Halfway through his pitch to Spielberg, Charman realised there was dead silence on the other end of the line and asked the director if he was still there. "I'm rapt. Keep going," the film-maker assured him. At the end of Charman's pitch, Spielberg said: "Listen, I love this. When can you write it?"
"That's when I killed myself to write it in six weeks," recalls Charman, who then flew back out to Hollywood and met Spielberg at his Amblin offices at Universal Studios. The director had the script on his knee and said to the writer: "Okay, let's dig in."
The Coen brothers were brought on board to polish his script and Charman sings their praises. "Two of the greatest living screenwriters worked on some of the scenes in their brilliant, inimitable way," he says. "Then the script came back to me and I was writing it into production and suddenly you're in a Stasi prison in East Germany at three in the morning, sitting next to Steven Spielberg, watching him direct Tom Hanks. It's a bit of a miracle. I'm very aware of how blessed this journey has been."