Producers Dede Gardner and Jeremy Kleiner and director Adam McKay of The Big Short tell Elbert Wyche how they made an entertaining, informative film about the build-up to the calamitous global banking meltdown.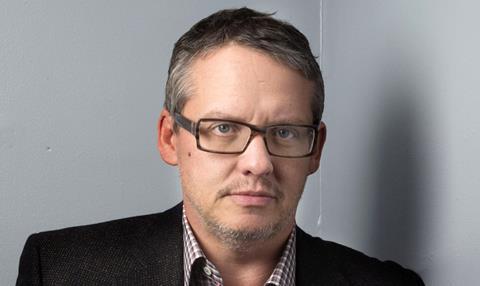 It was February 2010 when Plan B co-presidents Dede Gardner and Jeremy Kleiner first read the manuscript for Michael Lewis's non-fiction book The Big Short: Inside The Doomsday Machine, about how four people predicted the global banking crisis of 2007 and what they did about it.
Gardner and Kleiner knew Lewis well as they were working on an adaptation of another of his entertaining, numbers-as-thrillers books, Moneyball, about the real-life statistical analysis used to buy baseball players for the Oakland Athletics. Plan B CEO Brad Pitt starred in the film, which was released in 2011.
They knew instantly there was a film to be made from The Big Short. Paramount, where Plan B held a production deal at the time, bought the rights. New Regency, with which Plan B went on to sign a first-look deal in 2013, co-financed the feature adaptation with Paramount. "When we were sent the manuscript for The Big Short we were excited; we were fans and there was a relationship there [with Michael Lewis]. We had confidence that something could potentially happen with it, despite the challenges," says Kleiner.
Those challenges had to do with finding a way into the story that would allow audiences to connect with and understand often-impenetrable finance concepts and terminology.
"We thought it was an incredibly well-told story that gave us some insight into the grand mystery of the financial crisis, the causes of which still remain rather opaque to most people," Kleiner explains. "It felt like this was a way in. We didn't know exactly how we would excavate that."
In July 2010, Gardner and Kleiner hired screenwriter Charles Randolph. "He did enormous amounts of research and really got a command of the difficult-to-grasp concepts and aspects of the finance culture," says Kleiner.
While the script they received from Randolph was well written, the entertainment aspect — the fun of it — remained elusive.
"One thing we have confidence in is just being patient," says Kleiner. "While we had this really extraordinary script from Charles, it remained kind of in the space of the complex lexicon of banking and finance."
After a year and a half of various drafts from Randolph, the script was in limbo. There it stayed until the beginning of 2014, when Adam McKay's agent called Plan B and expressed the Anchorman director's desire to write and direct the project.
"I got my interest in financing and banking from a movie I did called The Other Guys," says McKay of his enthusiasm for the subject matter. "Even though it was an absurdist comedy, it had some elements that were about the banking collapse. I started doing a lot of reading and got interested. I ended up reading The Big Short and couldn't put it down. I was amazed by how it was a page turner, yet at the same time filled with so much information. It felt like it was one of the great books of our time."
The fourth wall
A meeting was set between Gardner, Kleiner and McKay and suddenly the producers found their missing piece. "[After the meeting] we thought, 'Of course, that's exactly how you do it,'" recalls Gardner. "You bet on someone who will resequence the approach. By that, I mean highlight the absurdity of the situation in order to get to the guts and the heart of it."
McKay was hired and turned in his first draft in October 2014. Things moved quickly. The cast came together two months later and shooting began in March 2015.
McKay believes in doing whatever the story calls for and, as soon as he read the book, he knew how he wanted to tackle the unique subject matter. One of his ideas was to break the fourth wall to "open the movie up". McKay remembers: "I did a lot of theatre back in the 1990s in Chicago and we played with breaking the fourth wall and addressing audiences and I found it to be really interesting and energetic." He used cutaways featuring well-name figures such as chef Anthony Bourdain and actresses Selena Gomez and Margot Robbie to explain the concepts and terminology that led to the financial collapse of 2008.
"Adam wanted to make the film itself a character, almost like it is a person talking to you," says Kleiner. "It takes the form of [Ryan] Gosling as narrator. The value of the ideas in the film is important and he really wanted people to be able to access them."
On-the-money casting
When writing, McKay likes to have actors in mind for each role. Nearly every actor he had in mind during the script stage signed on for the film, and with haste. Christian Bale, Ryan Gosling and Steve Carell all joined within a week of being offered their respective roles. Brad Pitt, who also has a producer credit, had claimed his role when he first read the book in the summer of 2010.
Availability can be the trickiest part to casting an ensemble film. "I was having conversations with them and they were excited and probably the luckiest point of the whole thing was that the schedules worked," says McKay. "That's when Paramount really said, 'OK, we're making this movie.'"
The film is set primarily in New York City, with scenes in Florida, Las Vegas and California, from 2005 to the financial collapse in 2007. Gardner, Kleiner and McKay looked at shooting in Atlanta, New Orleans and New York City.
"New Orleans really fit the bill because it had a section that looked like Florida," McKay says. "It has a downtown with some high rises and it has a nice casino right in the middle of town, which we needed. So you mix all that in a pot and it was pretty clear we were going to New Orleans and our line producer [Louise Rosner] was able to figure out a way for us to do five days in New York City and three days in Vegas for exteriors. It ended up being the perfect blend."
Generous tax incentives offered by the state of Louisiana were also a major determining factor.
The main characters in The Big Short are not the pillars of Wall Street. They are the outsiders. This was one of the factors that drew McKay to the story and it greatly informed his style choice for both the look and feel of the movie.
"They're strange guys, they're angry guys, they're newbies and their experience through this story was not one of being in impressive marble conference rooms with $6,000 suits and perfect haircuts," McKay says. "These guys were vacillating between excitement, nervousness and panic attacks. This was a hair-raising experience for them. I wanted it to feel like that, I didn't want it to feel like those big powerful, austere Wall Street movies. I wanted the phone calls to be as pulse pounding for us, the audience, as they were for the actual people, and as unnerving. All of that led me to the idea of shooting it from a much more impressionistic standpoint; a much more vérité style."
One name stood out to the director: cinematographer Barry Ackroyd. "He's the master of the style," says McKay. "He doesn't just set the lighting and collaborate on the shots, he also operates the 'A' camera. I don't know if I've ever seen a better eye from anyone holding a camera. He was integral to this movie."
The style of the film really came together in post-production, for which McKay credits editor Hank Corwin. "I felt like [Hank] was the last band member that we needed," says the director. "He and our composer Nicholas Britell. We had an amazing collaborative experience in post. Hank's a real artist. I've never seen an editor bring so many fresh ideas to the table."
Having established a career built on broad comedies, The Big Short marked a shift for McKay. Although it looks like a big departure from his usual genre and style, the former head writer of Saturday Night Live says it felt like a natural progression.
"I've always been engaged politically," he says. "For me, I felt like this was where I wanted to go. It was really great to work on a movie with no genre to it. I felt free to do whatever was necessary to the story­telling. It felt very natural to me.
"When you do comedies you're constantly looking for jokes, you're constantly improvising. It was a much more relaxed pace so we were really able to get into the nuance of the moment and all these actors really came prepared."
The preparation led to a shoot that was one of the most relaxed and smooth-running productions that McKay, Kleiner and Gardner claim to have ever been part of. "We'd shot a couple of movies in New Orleans before, so we knew it very well," says Gardner. "We knew what was possible there. We had an amazing crew that just hit the ground running. It was a fairly seamless shoot."
The film was in the can by the end of May 2015 and it premiered in December at AFI Fest. "This movie allows people to get closer and look deeper into the world of banking and finance than they normally would," McKay suggests. "It allows us to feel like we can understand what's going on so we can ask questions, we can challenge our representatives and we can challenge these banks. Most of all, it's fun. It's a very entertaining movie even though it gets very tragic."
Filmography Adam McKay
2015 The Big Short
2013 Anchorman 2: The Legend Continues
2010 The Other Guys
2008 Step Brothers
2006 Talladega Nights: The Ballad Of Ricky Bobby
2004 Wake Up, Ron Burgundy: The Lost Movie (DVD)
2004 Anchorman: The Legend Of Ron Burgundy