Yella and Jerichow director Christian Petzold and producer Florian Koerner von Gustorf speak about their latest collaboration.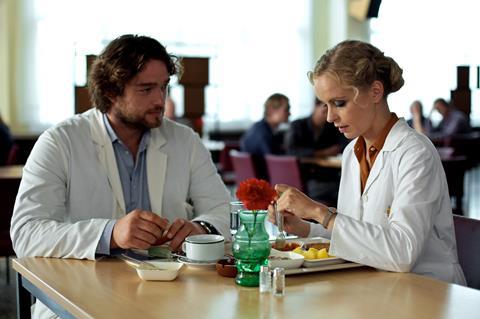 Synopsis: Summer 1980 in the GDR: Barbara, a doctor, has been transferred for disciplinary reasons to work at a clinic in a provincial backwater after she applied for an exit visa. Meanwhile, her West German lover Jörg, a sales rep for Mannesmann, is trying to find a way to help her escape. Barbara's state of limbo is interrupted when she meets the young doctor Andre who is apparently at the clinic for the same reason. Has he fallen in love with her or just been put on her trail by the Stasi?
Director/writer: Christian Petzold
Producers: Florian Koerner von Gustorf, Michael Weber
Production Company Schramm Film Koerner & Weber
Co-producers: ZDF and ARTE
Cast: Nina Hoss plays Barbara, Ronald Zehrfeld plays Andre, Mark Waschke is Barbara's West German lover Jörg, and Jasna Fritzi Bauer plays the young patient Stella
Financing: Medienboard Berlin-Brandenburg (€ 350,000), BKM (€ 200,000), German Federal Film Board (FFA, € 280,000), German Federal Film Fund (DFFF, € 465,887)
Country of Production: Germany
Shooting locations: Kirchmöser (near Brandenburg), Ahrenshoop
Shooting dates: 34 shooting days from August 16 until October 5, 2011
International sales: The Match Factory
Distribution: Germany (Piffl Medien)
Release date: 2012
On the genesis of Barbara:
Christian Petzold: I was filming Toter Mann with Nina Hoss in Stuttgart in 2001. During the shoot, I was reading the trilogy Die Schuldlosen by Hermann Broch where there is a short novella entitled Barbara about a doctor working during National Socialism. At the same time, I started reading Christoph Hein's novel Drachenblut which is also about a woman doctor based on the Baltic Coast.
On the story's setting in former East Germany (GDR):
Christian Petzold: About four or five years ago, I spoke with a doctor from Bad Saarow [near Berlin] who told me a lot about the background, about how many of the people who applied for exit visas were humiliated by being put into prison or their circle of friends were subverted. There was a shortage of doctors in the GDR, so if you were a doctor and applied for an exit visa, the men would be sent to be an army doctor and the women packed off to the provinces.
On working with Nina Hoss for the fifth time after such films as Yella and Jerichow:
Christian Petzold: We go from one project to the next because it's like opening one door and then wanting to know what is behind the next one.
On producing all of Petzold's films save for Toter Mann and Wolfsburg:
Florian Koerner von Gustorf: Christian is a director who always stays in budget and never comes up with those kind of 'money shots' where you ask 'Can we really afford this?' The budget for Barbara at 2.9m Euros is higher than we have had in the past. We began with his graduation film [Pilotinnen in 1994] costing 200,000 Euros. Then there was a time when we had 2m for films like Gespenster, Yella and Jerichow.
But the fact that this film has a historical subject meant that we needed more money. However, we managed to get the financing together, starting with the [FFA's] "reference" funding thanks to the Film Prize nomination and participation at the Berlinale as well as backing from the German Federal Film Fund [DFFF], German Federal Film Board [FFA], Medienboard Berlin-Brandenburg and BKM. In addition, we had a minimum guarantee from The Match Factory, and ZDF and ARTE are onboard as co-producers.