Dir: Hitoshi One. Japan. 2014. 138mins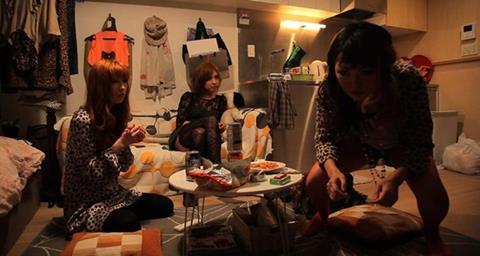 This slow-burn Japanese drama follows the interweaving and intertwined love affairs and passions of nine twentysomethings, slowing unveiling the complexities of their feelings and their relationships. While slightly ponderous in its opening, Be My Baby is a film that becomes enthralling and engaging as the character's are developed and is well worth distribution and further festival exposure.
Be My Baby is a fine – and rather unusual – low-budget drama with more than a few twists towards the end.
Hitoshi One's low budget second film – which premiered at the Hong Kong International Film Festival – was shot over just four days and dwells wonderfully on emotional manipulation, petty viciousness, unrequited love, insecurity, infidelity and self-respect and while it flies close to soap opera territory at times its youthful vibrancy keeps it moving at all times.
The film opens in a tiny Japanese apartment owned by Koji (Kenta Nikura) which he shares with his meek girlfriend Tomoko (Naoko Kawai). They are entertaining a variety of friends – some close and some new – and trying to set up his friend Osamu (Kenta Enya) with the garishly dressed Yuko (Yumi Goto), who Koji and his friends dismiss as ugly.
The long – gloriously claustrophobic – opening sequence introduces the varied band of characters (some couples and some not) as they interact. It is initially hard to get a grip on the characters and their intertwined relationships, but the film's leisurely running time is much needed as Be My Baby explores the backgrounds, secrets and attitudes of the characters.
The small shared apartments where they live serves to heighten the intensity of the drama – perhaps modest though it may be – and as the audience grows to understand the foibles and passions of them it gets more and more enjoyable. They are fickle, insecure, petty, duplicitous and weighed down by flaws, but are all the more interesting because they are no simple clichés.
As the two weeks after that first party gradually unfolds the film brims with intriguing developments and smart character development. Be My Baby is a fine – and rather unusual – low-budget drama with more than a few twists towards the end.
Production companies: Cinema Impact, Spotted Productions
International sales: Third Window Films, www.thirdwindowfilms.com
Producer: Masashi Yamamoto
Screenplay: Daisuke Miuva
Cinematography: Futa Takagi, Yasuyuki Ozaki, Hitoshi One
Editor: Yasuyuki Ozaki
Music: Taisei Iwasaki
Main cast: Kenta Nikura, Naoko Sato, Chihiro Shibata, Yumi Goto, Takumi Matsuzawa, Kenta Enya, Yuki Ueda, Aya Kunitake, Daisuke Sawamura, Sadaharu Matsushita