Experimental strand to open with Guy Maddin's The Forbidden Room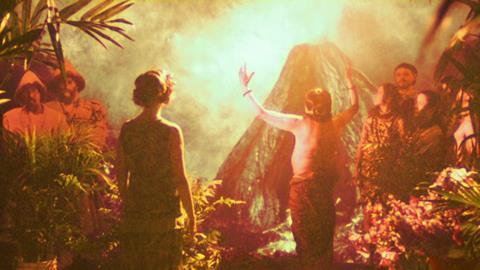 The Berlinale (Feb 5-15) has unveiled the line-up for its 45th Forum strand, comprising 43 films in its main programme, of which 31 are world premieres and 10 international premieres.
The programme includes avant garde, experimental works, essays, long-term observations and political reportage.
Canadian director Guy Maddin's The Forbidden Room will open this year's programme. The film's numerous plotlines are inspired by real, imaginary and photographic memories of films from the silent era, using a half-damaged nitrate print aesthetic in homage.
Films of the 45th Forum
Abaabi ba boda boda (The Boda Boda Thieves) by Yes! That's Us,
Uganda / South Africa / Kenya / Germany - WP
Al-wadi (The Valley) by Ghassan Salhab, Lebanon / France / Germany
Balikbayan #1 (Memories of Overdevelopment Redux) by Kidlat Tahimik, The Philippines - WP
Beira-Mar (Seashore) by Filipe Matzembacher, Marcio Reolon, Brazil - WP
Ben Zaken by Efrat Corem, Israel - IP
Brasil S/A (Brazilian Dream) by Marcelo Pedroso, Brazil - IP
Ce gigantesque retournement de la terre (This Gigantic Furrowing of the Ground) by Claire Angelini, France - WP
Chaiki (The Gulls) by Ella Manzheeva, Russian Federation - WP
Cheol won gi haeng (End of Winter) by Kim Dae-hwan, Republic of Korea - IP
Counting by Jem Cohen, USA - WP
Dari Marusan by Izumi Takahashi, Japan - IP
The Days Run Away Like Wild Horses Over the Hills by Marcin Malaszczak, Germany / Poland / USA - WP
Le dos rouge (Portrait of the Artist) by Antoine Barraud, France - IP
Exotica, Erotica, Etc. by Evangelia Kranioti, France - WP
Flotel Europa by Vladimir Tomic, Denmark / Serbia - WP
The Forbidden Room by Guy Maddin, Evan Johnson, Canada
Freie Zeiten (After Work) by Janina Herhoffer, Germany - WP
Futaba kara toku hanarete dainibu (Nuclear Nation II) by Atsushi Funahashi, Japan - IP
Der Geldkomplex (The Money Complex) by Juan Rodrigáñez, Spain - WP
Il gesto delle mani (Hand Gestures) by Francesco Clerici, Italy - WP
H. by Rania Attieh, Daniel Garcia, Argentina / USA - IP
Hedi Schneider steckt fest (Hedi Schneider is Stuck) by Sonja Heiss, Germany / Norway - WP
Histoire de Judas (The Story of Judas) by Rabah Ameur-Zaïmeche, France - WP
Hotline by Silvina Landsmann, Israel / France - WP
K by Emyr ap Richard, Darhad Erdenibulag, People's Republic of China / United Kingdom - WP
Koza by Ivan Ostrochovský, Slovakia / Czech Republic - WP
Madare ghalb atomi (Atom Heart Mother) by Ali Ahmadzadeh, Iran - WP
La maldad (Evilness) by Joshua Gil, Mexico - WP
Mar by Dominga Sotomayor, Chile / Argentina - IP
Mizu no koe o kiku (The Voice of Water) by Masashi Yamamoto, Japan - IP
La mujer de barro (The Mud Woman) by Sergio Castro San Martín, Chile / Argentina - WP
Nefesim kesilene kadar (Until I Lose My Breath) by Emine Emel Balcı, Turkey / Germany - WP
La nuit et l'enfant (The Night and the Kid) by David Yon, France - WP
Queen of Earth by Alex Ross Perry, USA - WP
Rabo de Peixe (Fish Tail) by Joaquim Pinto, Nuno Leonel, Portugal - WP
La sirène de Faso Fani (The Siren of Faso Fani) by Michel K. Zongo, Burkina Faso / France / Germany - WP
Sueñan los androides (Androids Dream) by Ion de Sosa, Spain / Germany - IP
Superwelt (Superworld) by Karl Markovics, Austria - WP
Thamaniat wa ushrun laylan wa bayt min al-sheir (Twenty-Eight Nights and A Poem) by Akram Zaatari, Lebanon / France - WP
Über die Jahre (Over the Years) by Nikolaus Geyrhalter, Austria - WP
Viaggio nella dopo-storia (Journey into Post-History) by Vincent Dieutre, France - WP
Violencia (Violence) by Jorge Forero, Colombia / Mexico - WP
Zurich by Sacha Polak, The Netherlands / Germany / Belgium - WP