Berlinale Co-Production Market matches 36 new feature film projects with international co-production partners .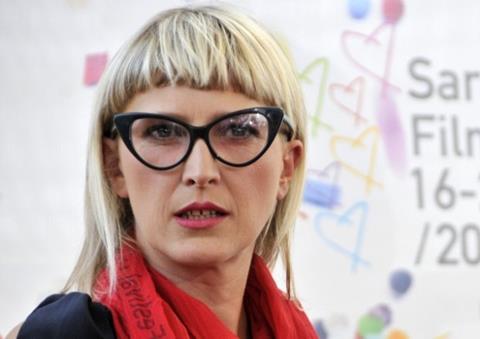 The 13th edition of the Berlinale Co-Production Market (Feb 14-16) has unveiled the 36 feature film projects from 29 different countries that will look to forge international co-production and financing partnerships.
Among the directors of the selected projects are Ciro Guerra, whose Embrace of the Serpent was presented as a project at a past edition of the market and is nominated for this year's Best Foreign Language Film at the Academy Awards.
Also included Jasmila Zbanic, winner of the Golden Bear in 2006; Irish director Mark Noonan, who presented his debut film You're Ugly Too last year at the Berlinale in the Generation Kplus programme and is currently working on his second feature film; as well as a host of other acclaimed directors such as Diego Lerman, Oliver Schmitz, Brandon Cronenberg and Alvaro Brechner.
The latest feature from Roar Uthang, who directed Noregian disaster movie The Wave, will also be presented.
During the three-day event, producers will have the chance to meet, in pre-arranged one-on-one meetings, interested potential partners from a participant pool composed of 500 producers and film financiers from around the world.
From a total of 301 submissions, 20 feature film projects were chosen for the official selection. These projects are being developed by international producers and have already secured domestic production support or at least 30% of their budget. Budgets for the projects range from €1 to €9.6.
In co-operation with CineMart Rotterdam, three projects have also been selected again for the Rotterdam-Berlinale Express. These projects will participate both at CineMart and at the Berlinale Co-Production Market.
The filmmakers of the 2015 Berlinale Residency programme will also be returning to Berlin in February: Fernando Eimbcke, Ella Manzheeva and Daniel Borgman will be back, together with their producers, to present the projects that they developed in the German capital last autumn.
At the Talent Project Market, organised in co-operation with Berlinale Talents, ten up-and-coming producers, chosen from a total of 152 applicants, will present their projects on the international market.
In addition to the meetings with potential partners, projects also have the chance to win one of three awards at the event. In addition to the Eurimages Co-Production Development Award, with prize money of €20,000, the VFF Talent Highlight Pitch Award, worth €10,000, and the ARTE International Prize, worth €7,000, will also be presented at the Berlinale Co-Production Market.
The five companies in the company matching programme hail from Brazil, Germany, France, Italy and Canada. The 500 other participants can also request one-on-one meetings with these companies to exchange information on a structural level or on the basis of project slates, and to start to consider long-term co-operations.
There are at least six films in the festival programme of the upcoming Berlinale that were presented as projects at the Berlinale Co-Production Market. These projects networked with partners for co-production, world sales, TV, distribution, and financing at Berlin in previous years: United States of Love by Tomasz Wasilewski is in Competition, while The Wounded Angel by Emir Baigazin, Remainder by Omer Fast, Aloys by Tobias Nölle, Uncle Howard by Aaron Brookner and Sand Storm by Elite Zexer are all being screened in Panorama.
Official Project Selection
Berlinale Co-Production Market 2016
(in alphabetical order according to production company):
Hostages (D: Rezo Gigineishvili)
20 Steps Productions, Georgia
The Little Comrade (D: Moonika Siimets)
Amrion, Estonia
A Sort of Family (D: Diego Lerman)
Campo Cine, Argentina
The Crooked Horn (D: Esmaeel Monsef)
Caractères Productions & Alias Films, France
Blind Willows, Sleeping Woman (D: Pierre Földes)
Cinema Defacto, Frankreich & Proton Cinema, Hungary
Srebrenica (D: Jasmila Zbanic)
Deblokada, Bosnia and Herzegovina
The Desert Bride (D: Cecilia Atán & Valeria Pivato)
El Perro en la Luna, Argentinina & Ceibita Films, Chile
Butterfingers (D: Barnaby Southcombe)
Embargo Films, United Kingdom
Vivarium (D: Lorcan Finnegan)
Fantastic Films, Ireland
Amundsen (D: Roar Uthaug)
Friland Produksjon, Norway
Invite Me to War (D: Shariff Korver)
Lemming Film, Netherlands
The Guest (D: Duccio Chiarini)
Mood Film, Italy
Outside (D: Michal Hogenauer)
Negativ, Czech Republic
Patrick (D: Gonçalo Waddington)
O Som e a Fúria, Portugal
Tyger, Tyger (D: Mark Noonan)
Savage Productions, Ireland
The Farm (D: Oliver Schmitz)
Shadowy Meadows Productions, South Africa & Busse & Halberschmidt Filmproduktion, Germany
Echo (D: Arati Kadav)
Sikhya Entertainment, India
A Small Small World (D: Philip Haucke)
Sommerhaus Filmproduktion, Germany
Memories from the Cell (D: Alvaro Brechner)
Tornasol Films, Spain
Bayonette (D: Kyzza Terrazas)
Woo Films & Redrum, Mexico
Rotterdam Berlinale Express
Birds of Passage (D: Ciro Guerra)
Ciudad Lunar & Blond Indian Films, Colombia
Slam (D: Partho Sen-Gupta)
Invisible Republic, Australia
Bootlegger (D: Caroline Monnet)
Microclimat Films, Canada
Projects of Berlinale Residency
Across the Fields (D: Daniel Borgman)
Adomeit Film, Denmark
Tachal (D: Ella Manzheeva)
Anniko Films & Telesto Film Company, Russian Federation
Diary of an Elephant (D: Fernando Eimbcke)
Cinepantera, Mexico
Talent Project Market
(in alphabetical order according to production company):
The Fading Light of Neon Boy (P: Jessica Luz)
Besouro Filmes, Brazil
From Grace (P: Gary Cranner)
Chezville, Norway
Lucid (P: Raquelle David)
Damsel Pictures, Australia
The Disappeared (P: Emine Yildirim)
Giyotin Film, Turkey
Summer 1993 (P: Valerie Delpierre)
Inicia Films, Spain
Money for a Funeral (P/D: Magdelena Ilieva)
Little Wing Productions, Bulgaria
Transmorphosis (P/D: Jakob M. Erwa)
Mojo:Pictures, Germany
The Moto Snatcher (P: Cecilia Salim)
Murillo Cine, Argentina
Tank (P: Max Serdiuk)
Noosphere Films, Ukraine
The Gospel According to My Father (P: Stav Meron)
Pardes Films, Israel
Company Matching
Gullane, Brazil
Komplizen Film, Germany
Lucky Red, Italy
Memento Films, France
The Film Farm, Canada