The inside track on all the films screening in and out of competition at Berlin. Profiles by Martin Blaney, Patricia Dobson, Jason Gray, Udita Jhunjhunwala, Jeremy Kay, Theodore Schwinke and Nancy Tartaglione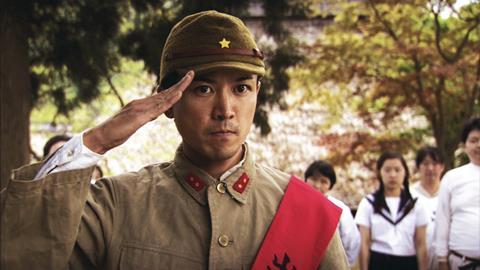 About Her Brother (Jap) Closing film, out of competition
Director Yoji Yamada
The story About Her Brother depicts the close bond between a strait-laced widow and her wayward but cheerful younger brother.
The cast The film reunites 2008 Berlin competition entry Kabei — Our Mother director Yamada with cast members Sayuri Yoshinaga and Tsurube Shofukutei, feted for his performance in 2009's Dear Doctor.
The buzz Yamada has strong ties with Berlin — Love And Honour opened the Panorama in 2007 and the second film in his samurai trilogy, The HiddenBlade, competed in 2005. About Her Brother will be closing the festival as an international premiere.
Int'l sales Shochiku Co
Tel: (81) 3 5550 1623
E-mail: ibd@shochiku.co.jp
Apart Together (Chi) Opening film, world premiere
Director Wang Quanan
The story More than 50 years after the end of the Chinese Civil War, an ageing veteran returns to Shanghai to find his long-lost wife, causing problems for her new family.
The cast Golden Horse winner Lisa Lu Yan and Taiwanese singer and TV host Ling Feng join Chinese TV actors Xu Caigen, Monica Mo and Ma Xiaoqing.
The buzz Wang's fifth film, and his first dealing with relations between mainland China and Taiwan. He focuses on the ageing soldier and his long-separated wife, believing these to be the kind of people who are suffering the most from the political divide between the two countries. Like his 2007 Golden Bear-winning Tuya's Marriage and last year's Weaving Girl, Wang's film centres on the leading lady.
Int'l sales Celluloid Dreams
Tel: (33) 1 49 70 03 70; E-mail: hengameh@celluloid-dreams.com
Caterpillar (Jap) World premiere
Director Koji Wakamatsu
The story An adaptation of renowned author Edogawa Rampo's short story about the relationship between a horrifically deformed soldier and his caring, but conflicted, wife. Wakamatsu emphasises the madness and futility of war, moving the story's timeframe forward to 1940, during the Sino-Japanese conflict.
The cast Shinobu Terajima and Shima Ohnishi reteam following Akame 48 Waterfalls, which screened in Panorama in 2004.
The buzz The prolific director first made a splash at Berlin in 1965 with sexy competition entry Secrets Behind The Wall. Last year his 100th film, United Red Army, which many felt should have competed, screened in the Forum and won the NETPAC and CICAE awards.
Int'l sales Dissidenz International
Tel: (33) 1 42 77 88 20
E-mail: bqtran@dissidenz-intl.com
Exit Through The Gift Shop (UK) Out of competition
Director Banksy
The story The enigmatic urban artist tries his hand at documentary directing as he turns the tables on a French videographer who has been pursuing him for years.
The cast Banksy's identity remains a mystery throughout the film as he sits in shadow and, speaking through a voice modifier, chimes on the surreal sequence of events that led to his friendship with Thierry Guetta, aka Mr Brainwash.
The buzz A surprise screening at Sundance, this was easily one of the most entertaining and best-received films at the festival.
Int'l sales Cinetic Media
Tel: (1) 212 204 7979
A Family (Den) World premiere
Director Pernille Fischer Christensen
The story A successful gallery owner faces a life crisis when her father asks her to take the reins of the family's bakery after he is taken ill.
The cast A line-up of popular, award-winning Danish actors is lead by Jesper Christensen, Lene Maria Christensen, Pilou Asbaek and Anne Louise Hassing.
The buzz Fischer Christensen has Berlin form — her debut, A Soap, won the Jury Grand Prix Silver Bear in 2006 and went on to win the Danish Film Critics Award (Bodil) for best film in 2007. Like A Soap and the follow-up, Dancers, this Zentropa production is another sensitive study of a woman in crisis.
Int'l sales TrustNordisk
Tel: (45) 3686 8788
The Ghost Writer (Fr-Ger-UK) World premiere
Director Roman Polansk
The story Based on the bestselling novel by Robert Harris, this Hitchcockian thriller centres on a ghost writer who uncovers political and sexual intrigue when he takes a job helping the former British prime minister to write his memoirs.
The cast A heavyweight cast is led by Ewan McGregor, Pierce Brosnan, Kim Cattrall, Olivia Williams and Tom Wilkinson.
The buzz Polanski's arrest in Switzerland last summer has made this his most talked-about film in years. He edited The Ghost Writer from prison and is now under house arrest pending possible extradition to the US to answer charges of rape of a minor in 1977. The film, meanwhile, has been gathering positive word-of-mouth, and with the A-list cast is likely to match the $120m global tally of Polanski's last big hit, The Pianist.
Int'l sales Summit International
Tel: (1) 310 309 8400
Greenberg (US) World premiere
Director Noah Baumbach
The story A New Yorker searching for meaning in life stays with his successful brother in Los Angeles and makes a strong connection with his personal assistant.
The cast Ben Stiller, Greta Gerwig, Jennifer Jason Leigh, Rhys Ifans.
The buzz This is indie darling Baumbach's first feature since Margot At The Wedding three years ago. Factor in the sterling cast and this will be one of the most anticipated films in competition.
Int'l sales Focus Features International
Tel: (44) 20 7307 1330
Honey (Turk-Ger) World premiere
Director Semih Kaplanoglu
The story An insecure young boy faces a test of courage when he goes in search of his bee-keeping father who has not returned from a trip to a faraway forest.
The cast Seven-year-old newcomer Bora Altas stars with Erdal Besikcioglu and Tulin Ozen.
The buzz The third film in Kaplanoglu's reverse bildungsroman trilogy after Milk (2008) and Egg (2007), which both did the festival circuit including Venice and Fajr. This promises to be another uncompromising arthouse drama from the Turkish auteur, eschewing music so as to better create the emotional world of the film.
Int'l sales The Match Factory
Tel: (49) 221 539 7090
How I Ended This Summer (Russ) World premiere
Director Alexei Popogrebsk
The story At a research base on a desolate island in the Arctic Ocean, a young researcher receives an important message. As he tries to find the right moment to tell his colleague, fear, lies and suspicion start to poison the atmosphere.
The cast Sergei Puskepalis was named best actor in Sochi and Karlovy Vary for Simple Things. Breakout actor Grigory Dobrygin also stars in new Russian superhero thriller Black Lightning.
The buzz Visually rich, existentialist drama from the director behind the intimate, understated Simple Things and Koktebel. The latter screened in the Berlinale Forum in 2004, after picking up awards in Moscow and Karlovy Vary the previous year. Popogrebsky was named Fipresci Discovery of the Year at Cannes in 2004. This is his first time in the main competition at Berlin.
Int'l sales Bavaria Film
Tel: (49) 172 858 7043; E-mail:stefanie.zeitler@bavaria-film.de
HOWL (US)
Directors Rob Epstein, Jeffrey Friedman
The story Inventive account of the creation of beat poet Allen Ginsberg's famous poem HOWL, and the resulting obscenity trial in the US.
The cast James Franco, David Strathairn, Jon Hamm, Mary-Louise Parker, Jeff Daniels.
The buzz Well liked by literary audiences following its world premiere at Sundance, Howl also drew attention for the stunning visuals and Franco's intense portrait of Ginsberg.
Int'l sales The Match Factory
Tel: (49) 221 539 7090
The Hunter (Ger-Iran) World premiere
Director Rafi Pitts
The story When his wife is killed in a police shootout, a man takes revenge by killing two policemen. He is arrested after fleeing into a dense forest, but turns the tables on his captors.
The cast Director Rafi Pitts stars with popular Iranian actor Mitra Hajjar, Ali Nicksaulat, Hassan Ghalenoi and Manoochehr Rahimi.
The buzz Iranian Pitts was one of the discoveries of Berlin 2006 where It's Winter (Zemestan) screened in competition and his previous film, Abel Ferrara: Not Guilty, screened at Locarno.
Int'l sales The Match Factory
Tel: (49) 221 539 7090
If I Want To Whistle I Whistle (Rom-Swe) World premiere
Director Florin Serban
The story A young man about to be released from a juvenile detention centre falls in love with a social worker.
The castIf I Want To Whistle I Whistle marks the debut of newcomer George Pistereanu and National Acting University graduate Ada Condeescu. Their co-stars include well-known Romanian actors Clara Voda (The Death Of Mr Lazarescu) and Mihai Constantin (Nunta Muta).
The buzz This study in social realism is the feature debut of Florin Serban, a graduate of both Romania's national film school and Columbia University's film programme. The project won both the development and work-in-progress awards at the Sarajevo Film Festival's Cinelink co-production market last year.
Int'l sales Celluloid Dreams
Tel: (33) 1 49 70 03 70
E-mail: hengameh@celluloid-dreams.com
Jew Süss — Rise And Fall (Aust-Ger) World premiere
Director Oskar Roehler
The story Based on real events, this film charts the rise and fall of actor Ferdinand Marian, who was forced to star in anti-Semitic film Jud Süss by Nazi propaganda minister Joseph Goebbels.
The cast Lead Tobias Moretti is known to international TV audiences from the popular Inspector Rex series. Co-stars Martina Gedeck and Moritz Bleibtreu starred in Roehler's Michel Houellebecq adaptation The Elementary Particles.
The buzzJud Süss is Roehler's third entry in the Berlinale competition following Angst in 2003 and The Elementary Particles in 2006, for which Bleibtreu won the best actor Silver Bear.
Int'l sales TF1 International
Tel: (33) 1 41 41 21 68
The Kids Are All Right (US-Fr) Out of competition
Director Lisa Cholodenko
The story The teenage children of a lesbian couple search out theirsperm-donor father, who soon becomes very involved in the family.
The cast Annette Bening and Julianne Moore play the couple, Mark Ruffalo stars as the hippie donor, and Josh Hutcherson and Mia Wasikowska (who plays the title role in Tim Burton's Alice In Wonderland) portray the kids.
The buzz Cholodenko's previous films, High Art and Laurel Canyon, were small-scale dramas, but she shifts gears with The Kids Are All Right to deliver a more mainstream relationship comedy. The film, which marks the director's first visit to Berlin, premiered at the Sundance festival to warm reviews.
Int'l sales Inferno Entertainment
Tel: (1) 310 598 2550
The Killer Inside Me (US-UK)
Director Michael Winterbottom
The story A Texan deputy sheriff goes on a killing spree in this adaptation of Jim Thompson's pulp novel.
The cast Casey Affleck, in his first lead role since Gone Baby Gone, stars alongside Jessica Alba and Kate Hudson.
The buzz Prolific UK director Winterbottom's latest film premiered at Sundance last month to mixed reviews, but considerable controversy due to its graphic violence. A Berlin regular, he won the Golden Bear in 2003 for In This World and the best director prize in 2006 for The Road To Guantanamo(with co-director Mat Whitecross).
Int'l sales WME (North America)
Tel: (1) 310 246 3126;
Wild Bunch (international)
Tel: (33) 6 20 36 77 72
Mammuth (Fr) World premiere
Directors Benoit Delépine, Gustave de Kervern.
The story A blue-collar worker nearing retirement has to track down his former employers to ensure he receives a pension. His travels, on the back of a Mammoth motorcycle, force him to confront his past. The cast A who's who of French cinema — Gérard Depardieu, Yolande Moreau and Isabelle Adjani. Moreau won a best actress Cesar for Séraphine last year. Benoit Poelvoorde and Bouli Lanners co-star.
The buzz Delépine and de Kervern are Canal Plus alumni who have both written for and acted in the flagship channel's satirical news magazine Groland. They have directed four films together, including 2008's Louise-Michel, for which they took a special jury prize in Sundance. Depardieu looks tailor-made for the lead role.
Int'l sales Funny Balloons
Tel: (33) 1 40 13 05 84
My Name Is Khan (Ind) Out of competition
Director Karan Johar
The story When the events of 9/11 turn a married couple's life upside down, the husband, who has Asperger's syndrome, travels across the US to win back the love of his life.
The cast India's number-one star Shahrukh Khan headlines the cast alongside Kajol. The pair were once ranked among Bollywood's hottest on-screen couples and this is their first film together in eight years.
The buzz This is one of the most eagerly anticipated films of the year.
Director Johar, Khan and Kajol are Bollywood's most popular film-making team, whose hits include Kuch Kuch Hota Hai (1998) and Kabhi Khushi Kabhie Gham (2001). The theme and tone of this film, however, marks a departure for a director usually associated with bubblegum family entertainment. It is Johar's first visit to Berlin.
Worldwide distribution 20th Century Fox
On The Path (Bos Herz-Aust-Ger-Cro) World premiere
Director Jasmila Zbanic
The story In Bosnia in the aftermath of the Balkan war, a woman begins to question her relationship with her husband after he becomes involved with a fundamentalist Muslim community.
The cast Croatia's Zrinka Cvitesic heads the cast alongside Leon Lucev (who starred in the director's Grbavica: The Land Of My Dreams) and Ermin Bravo.
The buzz Zbanic won the Golden Bear for her debut film Grbavica in 2006. Hopes are high for her follow-up.
Int'l sales The Match Factory
Tel: (49) 221 539 7090
Please Give (US) Out of competition
Director Nicole Holofcener
The story A successful couple must wait for the death of the elderly lady in a neighbouring apartment before they can knock through the walls and expand their living space.
The cast Catherine Keener, Amanda Peet, Oliver Platt, Rebecca Hall, Sarah Steele, Ann Guilbert
The buzz Great cast and a positive response from the world premiere in Sundance promise a crowd-pleaser. Sony Pictures Classics has US rights.Worldwide distribution Sony Pictures Releasing International
Puzzle (Arg-Fr) World premiere
Director Natalia Smirnoff
The story A bored 50-year-old housewife discovers a talent for solving jigsaw puzzles, but her new obsession forces her to reassess her life and relationships.
The cast Maria Onetto, whose credits include Lucrecia Martel's The Headless Woman, takes the lead role.
The buzz The debut feature from assistant director and casting director Natalia Smirnoff, whose credits include several films of Latin American auteur Martel. Described by Smirnoff as a simple and moving film with heart, the project won the Films In Progress section of the San Sebastian Film Festival last year, which carried $14,000 (¤10,000) to go towards post-production.
Int'l sales Memento Films Int'l
Tel: (33) 1 53 34 90 20
The Robber (Aust-Ger) World premiere
Director Benjamin Heisenberg
The story Based on the true story of Johann Rettenberger, a marathon runner who led a double life as a bank robber. When the authorities close in, he goes on the run to escape the biggest police hunt in post-war Austrianhistory.
The cast Andreas Lust in the title role was one of the leads in GötzSpielmann's Oscar-nominated drama Revanche. Co-star Franziska Weisz appearedin Thomas Sieben's Distance and Michael Glawogger's Kill Daddy Good Night at the Berlinale last year.
The buzz Heisenberg's first time in the Berlinale competition. Sleepers, his graduation film from Munich's Academy for Television & Film (HFF), premiered in Cannes' Un Certain Regard in 2005.
Int'l sales Films Distribution
Tel: (33) 1 531 03399
Shahada (Ger) World premiere
Director Burhan Qurbani
The story The paths of three young Muslims cross in a Berlin mosque during the month of Ramadan.
The cast Headed by Carlo Ljubek, who played opposite Miki Manojlovic in the Bulgarian film The World Is Big And Salvation Is Around The Corner. His co-stars include Jeremias Acheampong, Maryam Zaree and Sergej Moya, whose short, Hollywood Drama, also stars Ljubek and is screening in the Perspektive Deutsches Kino.
The buzz German-Afghan film-maker Qurbani is in Berlin for the first time with his graduation film from the Baden-Württemberg Film Academy in Ludwigsburg. Shahada is also the first feature film from the nascent Berlin production house Bittersuess Pictures.
Int'l sales Memento Films Int'l
Tel: (33) 1 53 34 90 20
Shutter Island (US) World premiere. Out of competition
Director Martin Scorsese
The story In 1954, two US marshals are summoned to a remote island hospital
for the criminally insane to investigate the disappearance of a murderess.
The cast Leonardo DiCaprio and Mark Ruffalo star with Ben Kingsley, Michelle Williams, Emily Mortimer, Patricia Clarkson and Max Von Sydow.
The buzz Widely anticipated Dennis Lehane adaptation reunites Scorsese and frequent collaborator DiCaprio. Paramount will hope to make a big splash here before launching in theatres.
Worldwide distribution PPI/ UPI/various.
A Somewhat Gentle Man (Nor) World premiere
Director Hans Petter Moland
The story After serving 12 years for murder, a man has to settle his account with the person responsible for sending him to jail, even though this will bring him into conflict with his own son.
The cast The director's third collaboration with Stellan Skarsgard, the film also stars Jannike Kruse and Jan Gunnar Roise.
The buzz Moland's films have enjoyed fruitful festival lives — Beautiful Country, conceived by Terrence Malick and released by Sony Pictures Classics, was in competition in Berlin in 2004, United We Stand won several awards in 2003, as did Aberdeen — so it is no surprise his latest has its international premiere at Berlin.
Int'l sales TrustNordisk
Tel: (45) 3686 8788
Submarino (Den) World premiere
Director Thomas Vinterberg
The story A tale of redemption for two estranged brothers — one an alcoholic, the other a junkie.
The cast Jakob Cedergren, who won awards for his performance in Terribly Happy, stars alongside Peter Plaugborg, Patricia Schumann, Gustav Fischer Kjaerulff and Morten Rose.
The buzz Vinterberg won the special jury prize at Cannes for his acclaimed 1998 debut, Festen, but had mixed fortunes with his three follow-ups, the English-language It's All About Love and Dear Wendy, and most recently When A Man Comes Home. Submarino has good advance word-of-mouth and looks like a return to the wrenching themes and style of Festen.
Int'l sales The Match Factory
Tel: (49) 221 539 7090
A Woman, A Gun And A Noodle Shop (Chi)
Director Zhang Yimou
The story A black comedy set in a Chinese noodle shop in the desert, wherein the owner plots to murder his adulterous wife and her lover.
The cast Xiao Shenyang, a TV comedian who won overnight fame for his performance at the 2009 New Year's Eve Gala, stars with Sun Honglei, recently seen in Forever Enthralled (2008) and Mongol (2007), and Yan Ni.
The buzz Zhang shifts gears with his latest film. Transferring the Coen brothers' Blood Simple into a Chinese comedy, this stars China's most popular comedians and has taken more than $36.6m in China and Hong Kong. Stylistically very distinct from his previous three Berlin-winning films, Red Sorghum (which won in 1988), The Road Home (2000) and Hero (2003).
Int'l sales Wild Bunch (Europe) Tel: (33) 6 20 36 77 72; Edko Films (Asia)
Tel: (852) 2529 3898