Other titles include Rebecca Miller's Maggie's Plan, starring Greta Gerwig, and David Farr's The Ones Below, starring David Morrissey.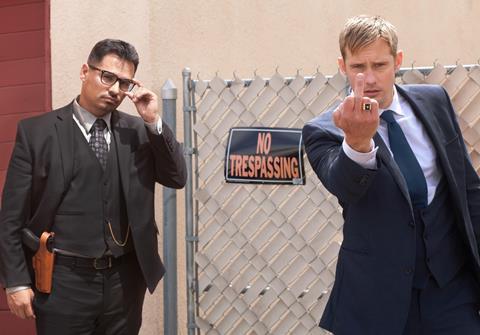 Scroll down for full lists
The Berlin International Film Festival (Feb 11-21) has announced the first titles in Panorama – its strand that comprises new independent and arthouse films that deal with controversial subjects or unconventional aesthetic styles.
The initial features include three from the UK, with John Michael McDonagh returning to Berlin for the world premiere of War On Everyone.
The film, a satire centred on two corrupt cops in New Mexico, stars Alexander Skarsgård, Michael Peña, Theo James and Tessa Thompson.
McDonagh was previously in Panorama in 2011 with The Guard and 2013 with Calvary.
Also from the UK is David Farr's The Ones Below, which revolves around a couple expecting their first child who discover an unnerving difference between themselves and the couple living in the flat below. Receiving its European premiere in Berlin, it stars Clémence Poésy, David Morrissey, Stephen Campbell Moore and Laura Birn.
The final UK title is Omer Fast's Remainder, which will receive its international premiere and has a cast that includes Screen Stars of Tomorrow Tom Sturridge and Cush Jumbo as well as Ed Speleers, Arsher Ali and Shaun Prendergast.
Based on Tom McCarthy's novel, the story centres on a man who loses his memory when he's struck by a falling object and develops a way to reconstruct his past.
Other selected titles include Maggie's Plan, a US feature directed by Rebecca Miller (The Ballad of Jack and Rose) and starring Greta Gerwig, Ethan Hawke, Julianne Moore, Bill Hader and Maya Rudolph.
Frances Ha star Gerwig plays Maggie, whose plan to have a baby on her own is derailed when she falls in love with a married man. It will receive its European premiere in Berlin, after debuting at Toronto in September.
French directors Olivier Ducastel and Jacques Martineau will return to Berlin having won the Europa Cinemas prize in 2005 with Cockles & Muscles, the Teddy award in 2000 with The Adventures of Felix and played in Competition in 1998 with The Perfect Guy.
The duo return with the world premiere of Paris 05:59 (Théo et Hugo dans le même bateau), a relationship drama starring Geoffrey Couët and François Nambot that unfolds over a night in Paris.
The Panorama strand will also include the first fiction feature from Ghana to be selected for the Berlinale. Nakom, from directors Kelly Daniela Norris and TW Pittman, centres on a young medical student who has to return to his village after his father dies and get the family farm back on track.
By mid-January, 32 features and 18 documentaries will have been selected for the strand.
Teddy
The 2016 Berlinale will also mark the 30th anniversary of the Teddy Award, an offshoot of the Panorama strand that rewards LGBTIQ films.
This year's anniversary programme will present 16 films, including "rarely seen works", some of which had been made before the award came into existence in 1987.
As part of this, the Panorama will include a special screening of Different From The Others (Anders als die Andern), a German film from 1919 that is considered the first gay film in cinema. Directed by Richard Oswald, the screening will mark the world premiere of its restoration, carried out by the Outfest Legacy Project and UCLA Film & Television Archive in Los Angeles.
Panorama 2016
I, Olga Hepnarová (Já, Olga Hepnarová) (Cze-Pol-Slo-Fra) WP
Dirs: Tomáš Weinreb, Petr Kazda
Junction 48 (Isr-Ger-US) WP
Dir: Udi Aloni
The First, the Last (Les Premiers, les Derniers) (Fra-Bel) IP
Dir: Bouli Lanners

Maggie's Plan (US) EP
Dir: Rebecca Miller
Nakom (Gha-US) WP
Dirs: Kelly Daniela Norris, TW Pittman
Remainder (UK- Ger) IP
Dir: Omer Fast
On the Other Side (S one strane) (Cro-Serb) WP
Dir: Zrinko Ogresta
Starve Your Dog (Mor) EP
Dir: Hicham Lasri
Sand Storm (Sufat Chol) (Isr) EP
Dir: Elite Zexer
Théo et Hugo dans le même bateau (Paris 05:59) (Fra) WP
Dirs: Olivier Ducastel, Jacques Martineau
The Ones Below (UK) EP
Dir: David Farr
War on Everyone (UK) WP
Dir: John Michael McDonagh
Panorama Dokumente
Don't Blink - Robert Frank (US-Fra) IP
Dir: Laura Israel
Hotel Dallas (Rom-US) WP
Dir: Livia Ungur, Sherng-Lee Huang
Teddy30
1 Berlin Harlem – (Ger- FDR) 1974
Dirs: Lothar Lambert, Wolfram Zobus
Anders als die Andern (Different from the Others) (Ger) 1919
Dir: Richard Oswald
Before Stonewall (US) 1984
Dirs: Greta Schiller, Robert Rosenberg
Info-Schau (former title of Panorama) 1985
Die Betörung der Blauen Matrosen (The Enchantment of the Blue Sailors) (Ger-FDR) 1975
Dir: Ulrike Ottinger
Die Wiese der Sachen (The Meadow of Things) (Ger-FDR)1974-1987
Dir: Heinz Emigholz
Panorama / Teddy Award winner 1988
Gendernauts - Eine Reise durch die Geschlechter (Gendernauts - A Journey Through Shifting Identities) (Ger) 1999
Dir: Monika Treut
Panorama / Teddy Award winner 1999
I Shot Andy Warhol (US) 1996
Dir: Mary Harron
Je, tu, il, elle (I, You, He, She) (Fra-Bel) 1974
Dir: Chantal Akerman
Looking for Langston (UK) 1989
Dir: Isaac Julien
Panorama / Teddy Award winner 1989
Machboim (Hide and Seek) (Isr) 1979
Dir: Dan Wolman
Info-Schau (former title of Panorama)1980
Marble Ass (Yug) 1995
Dir: Želimir Žilnik
Panorama / Teddy Award winner 1995
Nitrate Kisses (US) 1992
Dir: Barbara Hammer
Forum 1993
The Watermelon Woman (US) 1996
Dir:Cheryl Dunye
Panorama / Teddy Award winner 1996
Tongues Untied (US) 1989
Dir: Marlon Riggs
Panorama / Teddy Award winner 1990
Toute une nuit (A Whole Night) (Fra-Bel) 1982
Dir: Chantal Akerman
Info-Schau (former title of Panorama) 1983
Tras el cristal (In a Glass Cage) (Spa) 1987
Dir: Agustí Vilaronga