The full line-up of world premieres in Competition at the 66th Cannes Film Festival with details on each title including sales contacts.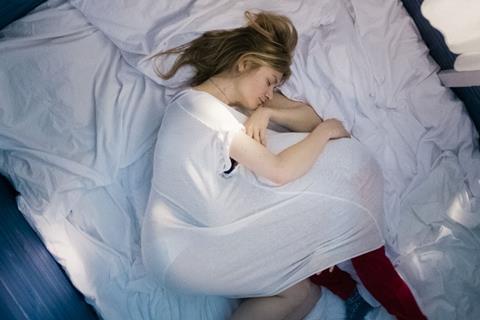 24 Weeks (Ger)
Dir Anne Zohra Berrached
Berrached returns to the Berlinale with her second feature after presenting her debut, Two Mothers, in the festival's Perspektive Deutsches Kino sidebar in 2013. Julia Jentsch plays cabaret artist Astrid, who is six months pregnant when she learns her child is likely to have Down's syndrome and a serious heart complaint. Together with her husband, she is faced with a life-or-death decision: either give birth to a child who might be severely handicapped or opt for a late-term abortion.
Contact Beta Cinema beta@betacinema.com
A Dragon Arrives! (Iran)
Dir Mani Haghighi
Previously at the Berlinale in 2012 with the black comedy Modest Reception, which won the Netpac award, Iranian director Haghighi returns with an intriguing story following a detective's unauthorised investigation into mysterious earthquakes on the remote island of Qeshm. The film is officially an international premiere as it screened at Iran's Fajr Film Festival.
Contact The Match Factory info@matchfactory.de
A Lullaby To The Sorrowful Mystery (Phil-Sing)
Dir Lav Diaz
Like his previous film From What Is Before (winner of Locarno's Golden Leopard), Filipino auteur Diaz's period picture is shot in his signature black-and-white style and has an epic running time — this time of 482 minutes. A Lullaby To The Sorrowful Mystery marries history, literature and mythology with interconnected narrative threads on the Philippine revolution against the Spanish colonising force. John Lloyd Cruz and Piolo Pascual lead a large ensemble cast in what is the first Philippines-Singapore co-production.
Contact Films Boutique simon@filmsboutique.com
Alone In Berlin (Ger-Fr-UK)
Dir Vincent Perez
Emma Thompson and Brendan Gleeson star in this English-language adaptation of Hans Fallada's classic 1947 novel. Written by Good Bye Lenin! co-writer Achim von Borries, the film is based on the true story of a working-class couple who conduct a series of anonymous protests against the Nazi regime. Produced by Stefan Arndt and Uwe Schott for X-Filme, Alone In Berlin is co-produced by James Schamus, Marco Pacchioni, Christian Grass and Paul Trijbits.
Contact Cornerstone Films office@cornerstonefilm.com
Being 17 (Fr)
Dir André Téchiné
Swiss actor Kacey Mottet Klein — who was an EFP Shooting Star in 2015 — and newcomer Corentin Fila co-star as adolescent boys who are forced to live under the same roof due to family circumstances. Loosely adapted from French literary sensation Edouard Louis' En Finir Avec Eddy Bellegueule, an autobiographical tale about growing up gay in a working-class neighbourhood, Téchiné co-wrote the script with Girlhood's Céline Sciamma.
Contact Elle Driver semira@elledriver.eu
Boris Without Béatrice (Can)
Dir Denis Coté
French-Canadian writer-director Coté, whose Vic + Flo Saw A Bear won the Silver Bear (Alfred Bauer Prize) in 2013, returns to the festival with his ninth feature. Set in present-day Quebec, the drama, produced by Metafilms, is about the strong-willed Boris (James Hyndman) and his wife Béatrice (Simone-Elise Girard), a government minister bedridden due to a mysterious depression. The sudden appearance of a stranger (Denis Lavant) forces Boris to confront the world and face up to his achievements and certainties.
Contact Films Boutique info@filmsboutique.com
The Commune (Den-Swe-Neth)
Dir Thomas Vinterberg
Vinterberg's The Commune is his most personal film yet, partly inspired by his own childhood growing up in a communal house. He brings back together his Festen actors, Trine Dyrholm and Ulrich Thomsen, to portray a married couple whose marital bond is strained when Dyrholm learns she is replaceable in the relationship. At the same time, their daughter, played by impressive newcomer Martha Sofie Wallstrom Hansen, discovers first love. Tobias Lindholm, Vinterberg's collaborator on The Hunt, co-wrote the script. The Commune opened in Denmark in mid-January.
Contact TrustNordisk info@trustnordisk.com
Crosscurrent (China)
Dir Yang Chao
This long-gestating project by China's Yang is about the young captain of a cargo ship sailing up the Yangtze River who witnesses the life of a woman backwards over a period of 20 years. Crosscurrent stars Blind Massage's Qin Hao and is shot by renowned Taiwanese cinematographer Mark Lee, who captures images of mist-covered waters, rainy nocturnal landscapes and time-weathered ferry piers. Yang's Passages won a special mention from the Camera d'Or jury at Cannes in 2004.
Contact Ray Produktion yiranss88@gmail.com
Death In Sarajevo (Fr-Bos)
Dir Danis Tanovic
After his Silver Bear for An Episode In The Life Of An Iron Picker in 2013, Tanovic returns to the Berlinale with an adaptation of French writer Bernard-Henri Lévy's play Hotel Europe, which suggests the European dream is in tatters. It is set on the eve of the 2014 centennial commemoration of the start of the First World War in Sarajevo, with a Frenchman sitting in his hotel room recalling his time in the city during the Bosnian War.
Contact The Match Factory info@matchfactory.de
Fire At Sea (It-Fr)
Dir Gianfranco Rosi
Situated closer to Africa than Europe, the Italian island of Lampedusa is one of the first points of call for hundreds of thousands of African and Middle Eastern refugees and migrants hoping to make a new life in Europe. Italian-American Rosi — who won the Golden Lion in Venice for his documentary Sacro GRA in 2013 — spent months on the island capturing the everyday lives of its 6,000-strong population. He focuses in particular on 12-year-old local boy Samuele.
Contact Doc & Film International doc@docandfilm.com
Genius (UK-US)
Dir Michael Grandage
UK theatre director and producer Grandage makes his feature debut with the story of Max Perkins' time as the book editor at US publisher Scribner, where he oversaw works by Thomas Wolfe, Ernest Hemingway and F Scott Fitzgerald among others. Colin Firth stars as Perkins alongside Nicole Kidman, Jude Law, Guy Pearce, Laura Linney and Dominic West. John Logan wrote the script.
Contact FilmNation Entertainment info@wearefilmnation.com
Hedi (Tun-Bel-Fr)
Dir Mohamed Ben Attia
Tunisian director Ben Attia makes his feature debut with this romantic drama about an unremarkable young man who allows his life to be ruled by his domineering mother. On the eve of his wedding to a girl of his mother's choosing, he is sent on a business trip to the coastal city of Mahdia. There he meets Rim, a free-spirited, fun-loving hotel events co-ordinator with whom he falls passionately in love.
Contact Luxbox info@luxboxfilms.com
Letters From War (Port)
Dir Ivo M Ferreira
Set in the final years of the Angolan war of independence against Portugal (1961-74), Ferreira's third feature is inspired by a collection of letters sent by novelist Antonio Lobo Antunes to his young, pregnant wife. She is back in Lisbon while he is doing military service in the colony in the early 1970s. Miguel Nunes, who attended the festival for the Berlinale Talents programme in 2015, plays Antunes. The film was shot on location in Angola in 2015.
Contact The Match Factory info@matchfactory.de
Midnight Special (US)
Dir Jeff Nichols
Adam Driver and Michael Shannon star in this sci-fi thriller about a man on the run from both the US government and extremists who are hunting down his son, who is said to possess special powers. Kirsten Dunst and Joel Edgerton co-star in the latest film from the director of Mud and Take Shelter, which is backed and will be released worldwide by Warner Bros.
Contact Warner Bros www.warnerbros.com
Soy Nero (Ger-Fr-Mex)
Dir Rafi Pitts
Shot on location in Mexico and the US, Soy Nero is about a 19-year-old Mexican boy who dreams of emigrating north of the border. However, the only way for him to achieve this may be to enlist in the US Army and fight in the Middle East as a so-called 'green-card soldier'. Soy Nero is Iran-born Pitts' third film to screen in the Berlinale's Competition following It's Winter (2006) and The Hunter (2010).
Contact The Match Factory info@matchfactory.de
Things To Come (Fr)
Dir Mia Hansen-Love
Berlinale regular Isabelle Huppert, who shared a Berlin Silver Bear with her 8 Women co-stars in 2002 and was last at the festival with The Nun, stars as a philosophy teacher forced out of a rut when her husband leaves her at the same time her demanding mother dies. Hansen-Love's fifth feature marks a change in generation and pace following her techno-scene inspired Eden. Things To Come is produced by Charles Gillibert of Paris-based CG Cinema, whose recent credits include the Oscar-nominated Mustang and Clouds Of Sils Maria.
Contact Les Films du Losange b.vincent@filmsdulosange.fr
United States Of Love (Pol-Swe)
Dir Tomasz Wasilewski
Set in Poland in 1990 immediately after the fall of communism, Wasilewski's third feature following In A Bedroom and Floating Skyscrapers focuses on four seemingly happy women of different ages who share an irresistible urge to change their lives and fulfil their desires. United States Of Love is the second project to be completed by Manana, the production arm of Polish distributor AP Manana, after making its first foray into production with Jacek Borcuch's Lasting.
Contact New Europe Film Sales jan@neweuropefilmsales.com
Zero Days (US)
Dir Alex Gibney
Oscar-winning documentary film-maker Gibney turns his critical eye on hacking and cyber security in this film about the battles between online criminals and the white-hat hackers who try to stop them.
Contact Jigsaw Productions info@jigsawprods.com