Screen talks to this year's selection of European Shooting Stars.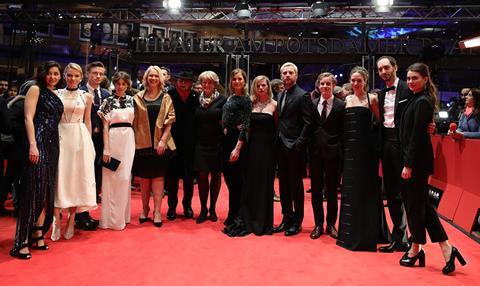 Maruša Majer (Slovenia)
Biggest inspiration?
My biggest inspirations have been the roles I have played in the last few years. It is always my goal to really get in touch with the person I am playing, making them three-dimensional is what drives me the most.
Biggest challenge?
Trying to get into another person's emotions, goals, wishes, dreams and background is not something that happens overnight and it doesn't always come easily. There are many things my ego and identity have to go through in every project.
Next up?
As soon I get back from Berlin I have a premiere of a theatre play based on the text of Vladimir Majakovski in Slovenia. After that I have some projects in other theatre institutions in Slovenia and I am always doing things on the independent theatre scene.
Karin Franz Körlof (Sweden)
Biggest inspiration?
Culture in general and films in particular are my biggest sources of inspiration. I try to watch as many films as possible, it's a way of exploring the world and finding new points of view.
Big break?
A Serious Game, without a doubt. It has opened up so many possibilities for me. I was nominated for a Guldbagge this year for the role, it's the most prestigious acting price you can receive in Sweden.
Biggest challenge?
Every part I play, every scene I shoot, every line I say is a challenge. Once you think you've got it, someone pulls the rug from under your feet. You never do the same thing twice.
Next up?
I recently finished shooting The Wife, directed by Björn Runge. I have a supporting role alongside Glenn Close, Jonathan Pryce and Max Irons. I'm also writing the script for my own first feature film. I have directed three short films earlier and my aim is to continue doing both directing and acting.
Victoria Guerra (Portugal)
Biggest inspiration?
On each different project I have the opportunity to work and learn from so many different people. I get to research and live different characters and their universes.
Big break?
Being cast in the feature film Lines Of Wellington as Clarissa, an English-speaking role.
Biggest challenge?
Working with Andrzej Zulawski on the film Cosmos. Not only was it a French-language film, which was a first for me, but his insanely beautiful working methods and directing style were very different to anything I had encountered before.
Next up?
Continuing to act in cinema, theatre and television, either in Portugal or internationally. I hope to be challenged by new methods and different characters, directors and actors.
Tudor Aaron Istodor (Romania)
Biggest inspiration?
Jazz music. Listening to John Coltrane, Bill Evans, Miles Davis gives me something that no other art form could give me. When I listen to jazz, my imagination is flowing, my senses are immensely opened.
Biggest challenge?
I replaced an actor in a dance-theatre project at the Avignon Festival, that involved a lot of physicality. It was my first time doing dance-theatre, so I rehearsed a lot, got into shape, and I had to do 11 shows every day.
Next up?
I will travel around the country, promoting my latest feature films [Stanlin's Couch with Gérard Depardieu and The Fixer].
Zofia Wichłacz (Poland)
Biggest inspiration?
I've always been infatuated with the work of actors, both in film or on stage. I often find myself trying to follow the truth of one character, rather than the overall plot.
Big break?
The experience I had with Warsaw 44, a big budget movie in which I made my screen acting debut three years ago. From the casting process to rehearsing and life on set, the whole journey really changed me a lot.
Biggest challenge?
Each role I have played offered plenty of questions. I'm driven by those uncertainties and excited to find answers.
Next up?
I will keep on working hard on my accent and skills. I am very happy that I am getting more and more auditions from many different parts of the world, one of my biggest dreams is to star in an international project.
Alessandro Borghi (Italy)
Biggest inspiration?
I've always been passionate about cinema, I love many actors including Leonardo Di Caprio, Daniel Day Lewis, and Joaquin Phoenix. In life, my dad has always been my biggest inspiration.
Big break?
When Stefano Sollima called me to tell me "You are number 8 [In Suburra], are you happy?" I realised for the first time that I had the opportunity to do this job exactly the way I wanted.
Biggest challenge?
My biggest challenge has been, and still is, the need to get as close as possible to reality. I'm not afraid of changing weight, look or type of character.
Next up?
At the moment I'm on set for Netflix's Suburra series, I hope this could make an opportunity for me to keep working with international productions.
Hannah Hoekstra (The Netherlands)
Biggest inspiration?
I try to look at the world as a child. Everything I see can be a motivation or an inspiration. That is why I like acting so much, it is inevitable for me.
Big break?
I hope to have an answer to that question when I am very, very old.
Biggest challenge?
I just finished a movie called Arthur & Claire by Miguel Alexandre. That whole project was amazing. I had to speak German though, to act in another language is a tricky thing. I loved it and I hope a lot more is to come.
Next up?
The future will tell. I hope to play a lot of extraordinary parts, in theatre as well as in film. From animals to boys, from kids to old people. Bring it on!
Louis Hofmann (Germany)
Biggest inspiration?
I love to analyse actors, trying to figure out how they might have approached the role. I am always stunned by the performances of Tom Schilling, Eddie Redmayne and Leonardo DiCaprio.
Big break?
Marc Brummund's 2015 drama Sanctuary was my first role not as a child. I was given space for more complex emotions. I've always been very ambitious but that movie gave me the confidence and push I needed. I also had roles in Land Of Mine and Alone In Berlin.
Next up?
I have two projects being released soon: Christian Zübert's comedy Lommbock and the first German Amazon series You Are Wanted. I am also shooting the Netflix original series Dark, directed by Baran bo Odar.
Elīna Vaska (Latvia)
Biggest inspiration?
The sources for my inspiration are always changing, but if I have to name one thing then it would be classical music. For me it is the most pure and therefore honest art form there is, it urges me to create.
Big Break?
Playing the lead role in Mellow Mud, directed by Renars Vimba. The film had its premiere in Berlinale and also received the Crystal Bear.
Biggest challenge?
To deal with my insecurities and lack of confidence. My debut in cinema as an actress has changed me as person, it came as an affirmation of my abilities. Now I am slowly becoming more certain of my talents and competence in acting.
Esben Smed (Denmark)
Biggest inspiration?
I want to say, 'mother nature and the creatures and spirits that dwell there', but that's because it looks better than just typing 'Daniel Day-Lewis'.
Big break?
I played a main character in the two seasons of new Danish drama series Follow The Money, which was aired on national television. That must have been what did it. I'm also currently playing King Leontes in Shakespeare's The Winter's Tale in Denmark.
Next up?
At the moment everything is up in the air, but I should have a clearer picture soon. Schedules need to match together and funding needs to be in place before you get given the 'go'.