Magnus, The Model, Pyromaniac [pictured] and Devil's Bride have all sold to multiple territories.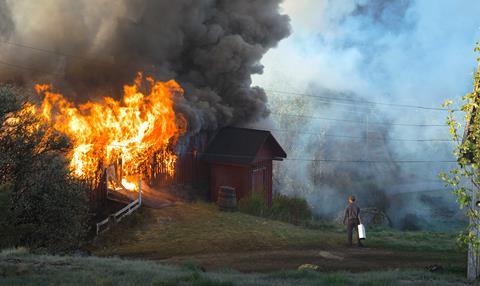 Scandinavian sales powerhouse TrustNordisk has closed deals on four titles at the EFM.
Magnus, Benjamin Ree's documentary about chess player Magnus Carlsen featuring high profile grandmasters including Garry Kasparov, has sold to Germany (NFP), Hong Kong (EDKO films Ltd), former Yugoslavia (Discovery Film) and Benelux (September Film Rights).
The film is produced by Sigurd M. Karoliussen for Moskus Film in co-production with VGTV, Nordisk Film Production and Main Island Production.
The Model, directed by Mads Matthiesen, has sold to Latin America (California Fil ms), China (HGC Entertainment), Russia CIS (Voxell Media), Hungary (Vertigo Media), Turkey (Ozen Film), Estonia (Estin Film), Lithuania (Incognito Film) and Former Yugoslavia (2i Film d.o.o.).
Starring Ed Skrein (Deadpool) and debutant Maria Palm, the drama tells the story of an emerging model who develops a dangerous obsession with a male fashion photographer.
TrustNordisk previously closed deals for France (AB Groupe), Poland (Kino Swiat), Korea (Scene & Sound), Bulgaria (Pro Films) and Middle East (Gulf Film).
The film was produced by Jonas Bagger for Zentropa Entertainments10 ApS with executive producers Louise Vesth and Marie Gade Denessen and co-produced by Ole Wendorff-Østergaard for Sputnik Film, Madeleine Ekman for Zentropa International Sweden and in co-production with Film i Väst and Zentropa International Poland.
It has support from the Danish Film Institute, TV2 Denmark and Polish Film Institute and was developed with the MEDIA Programme of the European Union.
Pyromaniac, directed by Erik Skjoldbjærg (Insomnia), has sold to Korea (Sidus FNH Corporation), former Yugoslavia (Cinemania Group) and Turkey (Sinema TV Yay. VE PROD).
Based on Gaute Heivoll's novel Before I Burn, the film is set in a peaceful village where a pyromaniac begins to run wild, setting multiple fires.
Edward Dreyer and Aage Aaberge produced for Glør Film in co-production with Bleck Film Sweden and Neue Road Movies Germany.
Support came from The Norwegian Film Institute, Nordisk Film, Fuzz, Swedish Film Institute, Nordisk Film & TV Fond, Eikeland and Haug, ZDF/Arte and NRK.
Devil's Bride, from director Saara Cantell (Heartbeats), tells the true story of the most widespread and systematic witch-hunt in Scandinavian history. The title has sold to Turkey (Sinema TV Yay. VE PROD), South East Asia (Golden River Thailand) and former Yugoslavia (Cinemania Group).
The film was produced by Markku Flink for Periferia Productions in co-production with Götafilm Intl, Pomor Film, Sun and Moon Pictures Ltd, Schubert International Filmproduktions GmbH & Co.
It has support from The Finnish Film Institute, Swedish Film Institute, Norwegian Film Institute, Film3, Nordic Film & TV Fond, Åland regional government, Latvian National Film Centre, Riga Film Fund, the Swedish Cultural Foundation in Finland, Church Media Foundation, Förening Konstsamfundet, with YLE.