Reliance Big Entertainment, headed by Amit Khanna, has been investing heavily in the film business at home and overseas. He talks to Liz Shackleton about the base for growth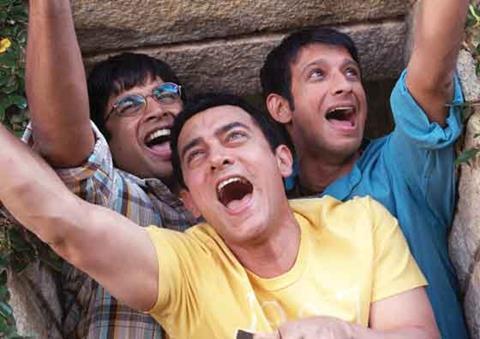 While Reliance Big Entertainment (RBE)'s forays into Hollywood — including last year's $325m deal with DreamWorks — have been grabbing headlines, company chairman Amit Khanna has also been building an entire global studio infrastructure from his base in Mumbai.
RBE may be based in India but the studio has its sights set on the international market. Khanna describes it as "a global integrated media content and entertainment company" — one without legacy issues, which is building itself from the ground up and taking full advantage of digital technology.
"We are developing the services sector through Reliance MediaWorks…we hope in 18 months to be the largest player in that business globally"
The digital mantra is reflected in every aspect of RBE's business — from the DCI-compliant digital screens in the Big Cinemas circuit both in India and overseas, to the digital post-production and restoration facilities under the Reliance MediaWorks (RMW) banner, to the online gaming units which also form part of the RBE mix. Film-makers shooting movies for RBE may still do it on film, but their work can then be digitised and zapped along RMW's fibre-optic network to Reliance-owned cinemas in the US.
"We have a large play now developing the services sector through Reliance MediaWorks," explains Khanna. "The front end is in London and the US and there's a lot of work going through that, plus a deal on 3D. We hope in 18 months to be the largest player in that business globally."
When RBE makes such assertions, it usually has the firepower to back them up. As part of the $75bn Reliance ADA Group, the company has the resources to become a global player in the kind of timespan that only a start-up from an emerging economy would dare to dream. Headed by Anil Arjun, RMW is building a global network of digital post facilities, through acquisition and alliances with companies such as California-based 2D-to-3D conversion specialist In-Three, and with a fibre-optic pipeline linking Mumbai to the US.
On the production front, the company has had one massive hit in the last nine months in 3 Idiots — which is India's all-time biggest film — followed by Kites and Raavan which Khanna acknowledges were not profitable. But by exploiting the films across as many platforms as possible, the losses were not as bad as they could have been if relying on theatrical revenue. "What we managed to set up with these two films and previously with 3 Idiots [was] for the first time we had the whole paraphernalia across multiple platforms and also internationally," says Khanna. "We can release a film ourselves everywhere in India and no other company does that."
Beyond the diaspora
This distribution infrastructure is being put into place by Reliance Big Pictures, headed by industry veteran Sanjeev Lamba, and replaces the traditional model in which a producer would make a film and sell it piecemeal to distributors and broadcasters around India. Reliance Big Pictures can now handle all-India distribution, owns 260 screens across the country and has a video arm which also handles product for four of the US studios. Through its acquisition of Stuart Ford's IM Global earlier this year, the company also plans to expand internationally beyond the diaspora.
"We can release a film ourselves everywhere in India and no other company does that"
Meanwhile, RBE sister company Reliance Communications is developing direct-to-home (DTH) and IPTV platforms and recently acquired cable operator DigiCable. "This gives us an opportunity in VoD which we're already offering on DTH and now starting on the DigiCable platform," says Khanna.
Khanna also sees these ancillary platforms as an opportunity for Hollywood and other foreign product to enter the notoriously tough Indian market. "As the pay-TV universe increases the prices for movies will rise, so that affects both our domestic and imported product business," he says.
While the studio product Reliance distributes on video is locked into satellite deals, Khanna is also working with IM Global to source independent product for distribution in India.
Amit Khanna
Born in 1951, Khanna started his film career in 1971 with Bollywood legend Dev Anand.


In 1980 he produced Man Pasand and later wrote and directed acclaimed films Sheeshay Ka Ghar and Shesh.


Khanna started working in television in the 1980s and established Plus Channel in 1990, one of India's first private media conglomerates.


In the late 1990s, Indian business tycoons the Ambani brothers started talking to Khanna about acquiring the Plus library. In 2000 they hired him to spearhead their push into the entertainment business. The brothers split their business interests in 2005, with Khanna continuing to work with Anil Ambani on launching Reliance Entertainment.


Reliance acquired Adlabs Films in 2005, forming the basis of Reliance MediaWorks and Big Cinemas. In 2008, Reliance announced a $1bn investment in the film business in India and overseas. In 2009, it concluded its $325m deal with DreamWorks and has announced pacts with 10 Los Angeles production companies.