Dir/scr: Mike Binder. US. 2014. 121mins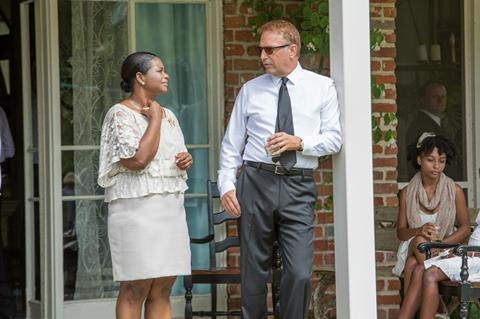 For most of its running time, Black And White is a flawed but sensitive and unassuming effort to examine race through the prism of a white, well-to-do lawyer fighting for the custody of his black granddaughter over her black grandmother. Unfortunately, writer-director Mike Binder throws away much of the goodwill he accrues with a final stretch that's badly mishandled, jettisoning nuanced observations for emotional manipulation. Kevin Costner gives one of his strongest performances in recent years, but the effort is for naught in a film that ultimately doesn't have the courage to deal honestly with the issues it raises.
For a well-meaning movie about well-meaning individuals, Black And White sabotages itself in its last 15 minutes, pulling out melodramatic plot twists and phony emotional crescendos that are both unearned and unnecessary.
Premiering at the Toronto Film Festival, Black And White will target adult audiences and fans of Costner, although his fading box office appeal may be a commercial hindrance. Binder has received solid reviews for previous films The Upside Of Anger and Reign Over Me, so specialty markets may be this drama's best chance. Also, sadly, the always contentious matter of race in America could make Black And White perpetually timely.
As the film opens, tragedy has struck Elliott (Costner), a rich Los Angeles lawyer whose drinking problem is exacerbated by the tragic death of his wife in a car accident. Working through the grief, he focuses on raising his black granddaughter Eloise (Jillian Estell), whose mother (Elliott's daughter) died in childbirth and whose father Reggie (Andre Holland) is a black crack addict who ran off long ago. Elliott has remained friendly with Rowena (Octavia Spencer), Eloise's grandmother and Reggie's mom, and Rowena's extended family, but he's furious when she decides to fight him in court for custody of the seven-year-old girl. Equally upsetting to Elliott, Reggie re-enters the picture, claiming to be sober and wanting to be part of his daughter's life.
Despite its achingly significant title, Black And White is largely a modest character piece that sidesteps the potentially inflammatory subject matter for an intimate look at a group of imperfect individuals all trying to do what's best for Eloise. Binder finds sufficient drama in those conflicting visions of Eloise's future, observing how Elliott's drunken, decent man and Rowena's strong-willed, stubborn woman may let past pains hinder their ability to be sensible now. (As we will learn, Elliott never liked Reggie for reasons that will certainly be understandable to most audience members, no matter their race.)
Smartly, Binder doesn't pretend that the custody battle doesn't in some ways hinge upon race, nor is he naïve enough to believe that his characters have the same opportunities and advantages. Quite clearly, Black And White illustrates that a rich white man like Elliott is the "better" custodian for Eloise than Rowena, who isn't as well-off and lives in a dangerous part of Los Angeles. But the movie works hard to complicate that scenario, showing that Elliott is an angry man in denial about his drinking problem. (In one of the movie's cleverer ironies, both Elliott and Reggie have dependency issues — except Elliott feels morally superior to Reggie because, to his way of thinking, at least he's not a crack addict.)
Costner, who was superb as a washed-up, alcoholic former baseball player in The Upside Of Anger, again plays a damaged man, and the actor utilizes his weathered, weary charm to give Elliott a pained vulnerability. But Costner doesn't shy away from Elliott's failings: While he may not be a racist, he does assign racial stereotypes to Reggie's shortcomings as a father, Binder's way of suggesting that even the most enlightened individuals can't completely see beyond race.
Spencer has the trickier role because, on paper, Rowena could seem like an offensive variation on the clichéd sassy, tough-talking, no-nonsense black woman. It's to the actress's credit that she mostly transcends those clichés, showing that Rowena may be similar to a type of African-American woman we see in the media but that she's not defined by those narrow character traits. And like Elliott, Rowena has her failings, refusing to acknowledge the long road her drug-addicted son still needs to travel before he can be a worthy father to Eloise.
For a well-meaning movie about well-meaning individuals, Black And White sabotages itself in its last 15 minutes, pulling out melodramatic plot twists and phony emotional crescendos that are both unearned and unnecessary. Most of the film concerns the custody case, making for an unusual courtroom drama that's less about guilt and innocence than it is about trying to secure a better future for a little girl. At its best, Black And White argues that her better future is in the hands of people who can't always do the right thing for themselves.
Production companies: Treehouse Films, Sunlight Productions
International sales: IM Global, www.imglobalfilm.com
Producers: Kevin Costner, Mike Binder, Todd Lewis
Executive producers: Jacob Pechenik, Robert Ogden Barnum, Cassian Elwes
Cinematography: Russ Alsobrook
Production designer: Christian Wintter
Editor: Roger Nygard
Music: Terence Blanchard
Main cast: Kevin Costner, Octavia Spencer, Jillian Estell, Bill Burr, Mpho Koaho, Jennifer Ehle, Andre Holland, Gillian Jacobs, Anthony Mackie