Dir: Jamie Chambers. UK. 2013. 90mins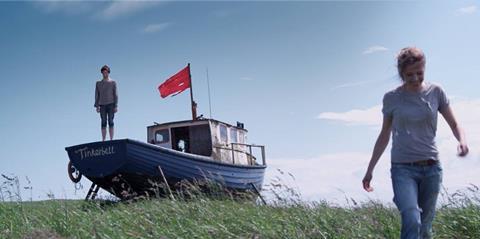 A low key and rather lyrical Scottish drama, the elegantly staged Blackbird is about the passing of the old ways, as a rather strange and sensitive young man with a passion for old Scottish folk songs tries to preserve the ancient cultural part of village life, while at same time feeling the lure of escape to the big city.
Beautifully shot and knowingly artistic.
The notion of lack of opportunity for young people in remote villages and towns is a familiar one, but the most intriguing aspect of the film is Ruadhan (Andrew Rothney) and his longing for old folk songs that he learns from the elderly folk of the community.
His presentation as a hyper-sensitive type is given further weight by the fact that he spends much of his time in an old and battered boat that sites high-and-dry in a field and wanders round with a sack full of odd objects and detritus he collects during his ramblings.
A solitary and brooding soul, he has a relationship of sorts with local girl Amy (an impressive Scarlett Mack) who has reluctantly returned to the community, but his character is too strange and complex for this to be the driver of the film. Instead it is his friendship with the elderly and the happiness has finds when he hears them sing old folk songs that what defines him.
Beautifully shot and knowingly artistic, Blackbird may well be too mannered and inaccessible for mainstream release, but its qualities could well appeal to other festivals.The film had its world premiere at the Edinburgh International Film Festival.
Production companies Transgressive North, Deerstalker Films
Contact: Deerstalker Films, www.deerstalkerfilms.com
Producer: James Barrett
Executive producers: Margaret Glover, Alasdair Robertson
Screenplay: Jamie Chambers, John Crane, Robyn Pete
Cinematography: John Craine
Editor: Martin McEwan
Production designer: Anisha Fields
Music: Duncan Strachan, Jamie Chambers, Michael Brogan, Esther Swift, Patrick Kenny, Brendan Musk
Main cast: Andrew Rothney, Scarlett Mack, Patrick Wallace, Sheila Stewart, Norman Maclean, Margaret Bennett