Urgent racial drama set in Oakland stars Daveed Diggs who gives an impassioned, tortured performance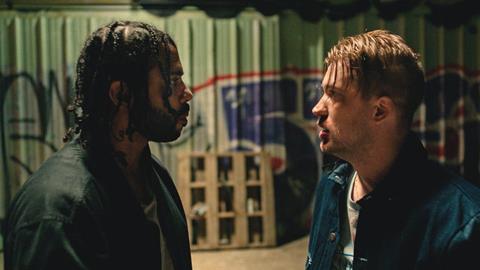 Dir: Carlos López Estrada. US. 2018. 95mins
A black man out on parole slowly discovers that his everyday life is its own kind of prison in Blindspotting, a polemic which is vital and messy in equal measure. Bluntly dissecting America's racial and economic strife with the urgency of young storytellers hungry to have their voices heard, this upstart portrait of two lifelong friends doesn't pretend to have answers for the seemingly intractable social ills it explores — nor does it deny that its main characters are, in some ways, part of the problem. But as led by Daveed Diggs' impassioned, tormented performance, Blindspotting is hard to shake, despite its on-the-nose plot points and melodramatic flourishes.
Estrada floods the film with hyper-vivid dream sequences and unpredictable shifts into shocking violence or touching vulnerability
Premiering in Sundance's US Dramatic Competition, the film will court buyers looking to capitalize on Diggs' Hamilton fame — not to mention the movie's incendiary subject matter involving racial profiling and police misconduct. Blindspotting's uneven tone could restrictit to art houses, however, with limited chances of breakout appeal.
Set in Oakland, the movie introduces us to Collin (Diggs), an African-American man three days away from completing his year of parole after a short prison sentence. (We will learn his reasons for being incarcerated much later.) Working at a moving company with his best friend, a hot-headed white guy named Miles (Rafael Casal) who worships hip-hop culture, Collin is shocked one night to witness the shooting of an unarmed black man by a white cop — an incident that haunts him in the days to come.
Directed by newcomer Carlos López Estrada and written by the two rising stars, Blindspotting wins no points for subtlety, laying out its commentary with fevered intensity. The police shooting consciously echoes similar incidents across the US, and the movie's examination of the gentrification of Oakland by prosperous white people moving into the city from nearby San Francisco has a contemptuous tenor. The filmmakers tell their tale from the perspective of the directionless, sensitive Collin, but Blindspotting is as much about him as it is about his environment, illustrating how racism, a hostile police force and lack of opportunity conspire to make him feel imprisoned in his circumstances.
The volatile material is amplified by Estrada, who floods the film with hyper-vivid dream sequences and unpredictable shifts into shocking violence or touching vulnerability. Likewise, his two leads deliver anguished, emphatic performances which attempt to capture their characters' desperation and disillusionment. While Collin navigates his path toward being free of parole, he's also nursing feelings for a local beauty (Janina Gavankar) who ended things once he was incarcerated. At the same time, the immature Miles must contend with the responsibilities of being a husband and father, although his hair-trigger temper and insistence on being embraced as an honorary black man by Collin and other African-Americans threaten his well-being and his friendship.
Casal effortlessly conveys Miles' livewire danger, giving Blindspotting a consistent twinge of unease. Still, he's not nearly as nuanced as Diggs, whose Collin is trying to make positive personal changes, even though it's unclear whether he has the mental fortitude to follow through with those aspirations. And since his character enjoys coming up with freestyle rhymes about his life, it gives Diggs an opportunity to show off his rhythmic, fluid raps, which feel like state-of-emergency warnings bursting forth from Collin's very core.
Rather overtly, Blindspotting argues that, white or black, these two young men are the kind that society's rigid class system is leaving behind. The speechifying and manipulative plot twists are overdone, sometimes infuriatingly so, but the emotion behind the calculation still stings. If anything, Blindspotting's muddled, hectic drama ends up feeling like an apt distillation of these anxious characters who live in a perilous world.
Production company: Snoot Entertainment
International sales: Endeavor Content, lcopland@endeavorcontent.com and cgelb@endeavorcontent.com
Producers: Rafael Casal, Daveed Diggs, Keith Calder, Jess Calder
Screenplay: Rafael Casal & Daveed Diggs
Cinematography: Robby Baumgartner
Production design: Tom Hammock
Editor: Gabriel Fleming
Music: Michael Yezerski
Main Cast: Daveed Diggs, Rafael Casal, Janina Gavankar, Jasmine Cephas Jones, Ethan Embry, Tisha Campbell-Martin, Wayne Knight