The Sea Of Cortez may inhabit a galaxy far, far away but it provided a suitable place for former Jedi masters Liam Neeson and Ewan McGregor to enjoy an impromptu spar at the weekend.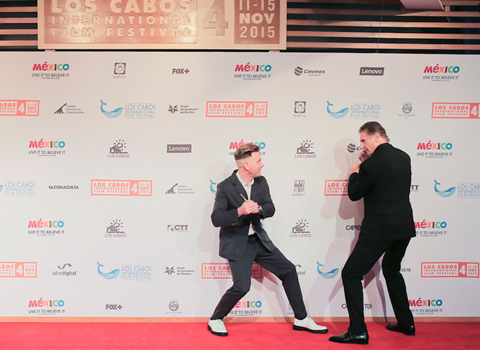 The actors were attending the Los Cabos International Film Festival and did not waste the chance to pose in character at Saturday night's awards ceremony.
Neeson played Qui-Gon Jinn, the maverick Jedi master to McGregor's young Obi-Wan Kenobi in 1999's Star Wars: Episode 1 – The Phantom Menace.
Strong as it will always be, it was not the Force that drew the pair to Mexico. Rather, Neeson flew into town to talk about Martin Scorsese's upcoming drama Silence, while McGregor came to accept the 2015 Protagonist Award for excellence in acting.
"Who's going to turn down a job from Martin Scorsese? If you need a mentor, who do you go to?" said Neeson at the Silence press conference earlier in the day. "He supplies 200% and all he wants from you is 100%."
The Irish actor spoke about his role as Father Christóvão Ferreira, a persecuted Christian Missionary in 17th century Japan whose unknown fate triggers a rescue attempt by two younger priests, played by Andrew Garfield and Adam Driver.
"Being raised an Irish Catholic myself, the subject of faith and Catholicism struck very, very close to me. The question I guess in the film is 'Is there a god?' and we're all in some way asking ourselves that all the time."
Neeson also paid tribute to Fabrica de Cine founder Gaston Pavlovich, the Mexican producer on Silence who is also one of the financiers on the Shusaku Endo adaptation that Scorsese has been trying to make for decades.
"I'm not comfortable with producers and that side of things but a one-hour lunch became four hours," Neeson said of his first meeting with Pavlovich, who he called "a kindred spirit."
Neeson (also pictured at the press conference in between Pavlovich and festival director Alonso Aguilar Castillo) voiced his love for the theatre-going experience, the importance of festivals and artistically demanding cinema.
"Yes the studios produce the [tentpoles] and that's great," he said, "but there is a dearth and a need in audiences to see more independent-minded movies."
Neeson also recounted what he described as "probably the most terrifying moment of my life" when a 6.1 earthquake struck while he was in his hotel room during the shoot earlier this year.
Facing what he believed was almost certain doom, the hulking actor staggered down the corridor towards the emergency staircase and came across a calm hotel employee with a clipboard. "No problem, no problem," the tiny lady told him. "I've been here 20 years. No problem."
Crisis averted, Neeson was sitting in his quarters three days later when an air raid siren shattered the calm. "I thought I was in a 1940s British war movie and [called reception]. I asked them what it was and they said they were just practising and did it twice a month. Why? In case China invades."
Later on Saturday McGregor, who played Jesus in festival selection Last Days In The Desert, said he hoped to reprise the role of Renton in the Trainspotting sequel, Porno.
McGregor, sporting a new shaved haircut, said if schedules allowed then the original key cast wanted to get back together on the project. Danny Boyle directed the 1996 cult film and by a coincidence a gala screening of his latest film Steve Jobs closed the Los Cabos International Film Festival.