The writer-director and producer of Monsters: Dark Continent talk about the story behind the film.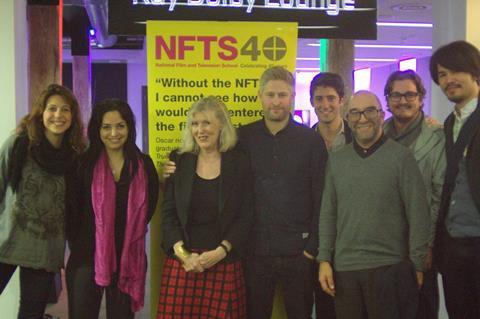 Students at the UK's National Film and Television School were given a masterclass by NFTS graduates Producer Allan Niblo and Writer/Director Tom Green, following a preview screening of Monsters: Dark Continent - the hotly anticipated follow up to the cult break-out smash Monsters (also produced by Niblo).
The film takes up the story 10 years after the events in Monsters when the 'Infected Zones' have spread worldwide. In the Middle East, a new insurgency has begun and there's also been a proliferation of monsters in that region. The Army decide to get more boots on the ground to help.
Niblo and Green spoke to students about their immense pride in the film, which marks a mammoth achievement for Green as his first feature following his success directing TV series Blackout and Misfits.
Monsters: Dark Continent was shot in only four and a half weeks, on location in Detroit and Jordan and the tight schedule and budget created formidable challenges that Niblo felt was key to the film's success: "By restricting people, what can you do? …I'm really glad that we take chances like this, not controlled by a studio or by a release date."
Independent Films
Producer and head of Vertigo Films, Niblo said he felt the independent 'ethos' of the film was integral to the production: "I grew up with punk rock music… and I wanted to bring that ethos to film making. Robots and monsters and aliens are not the preserve of Hollywood; independent filmmakers can do that too."
Due to commitments on Godzilla, Gareth Edwards, director of the first Monsters was unable to direct the sequel, leading Green to be brought onto the project.
Green had previously received critical acclaim for his stint directing six episodes of BAFTA-winning E4 TV series Misfits.
Niblo said he was been glad to bring on board someone who would keep the independent sensibilities of the first film: "We didn't want an executive, top heavy decision making process."
On the challenge of directing a sequel, Green said: "My biggest anxiety was making a sequel. The first question I asked myself was why make one? I wasn't interested in a continuing story.
"We all agreed that it absolutely had to be unique and have its own story, but carry on the ethos of the first."
He eventually accepted the challenge because: "I've always wanted to do things that scare me, and this did scare me."
Sound Design
Monsters: Dark Continent uses Dolby Atmos Sound and shown at the Dolby Cinema in London.
Green said this technology enabled him to "…make a really 'noisy' film and create a really intense, pressurized experienced for the audience with the mix."
Special and visual effects
Asked about the use of special and visual effects in the film, Green said: "If we tried to make a cheaper version of a Hollywood blockbuster, it would come up short.
"I didn't want to do that – I wanted to put special affects in, but shift the perspective. It was trying to find that balance between a genre movie and a more unconventional story telling style.
"There was a lot of back and forth between me and VFX on set - and half the time there was nothing there at all. To shoot the horses running alongside the RV in the film, our stunt man tied our cinematographer to the bonnet of the RV with some rope, and that was it!
"You need a crew who are willing to work with that kind of material – under those circumstances."
Shooting on location
Green also spoke about the rewards of shooting on location in Jordan: "(It) created a completely new aesthetic from the first film, which was lush and green in central America. There were these amazing, alien, prehistoric landscapes.
"We actually had a missile go over our heads when we were in Southern Jordan near Israel. Jordan's a very safe country but it's a very real, immersive environment. I tried to create the most immersive situation I could and then I had a team of actors who wanted to go there. Those guys totally embraced it."
Directing style
Discussing the origins of his directorial style at the NFTS, Green said: "I was always trying to put a lot of scale in my work at film school. I tried to tell stories with a lot of integrity - but also with that scale and ambition."
"One of the things I took from film school was that the 'essence of film making is collaboration.' I thought that if I could bring people in with the same sense of ownership of the film I had, it could work."
Advice to students
To students making their graduation films he advised: "You've just got to listen to your instincts. If you've made something you don't believe in, that's painful.
"You have to connect to your material, that's the thing that gets you through."
Niblo added: "Try to find kindred spirits, because it's really tough out there. I personally would never want to do it [produce films] solo."
Green said he felt the key to the success of Monsters: Dark Continent was in encouraging his crew to believe in the film as much as he did: "That's the thing you should take advantage of at the NFTS; you have a crew who care as much about the project as you because they want to get into the industry as cinematographers, sound designers…as much as you want to be a director."
Asked if he would I do anything differently, Green replied: "No, not a thing. It was a love affair. The film making process transcended any restrictions."