The tastes and aromas of Indian cuisine were offered to cinemagoers to mark the UK release of Ritesh Batra's The Lunchbox.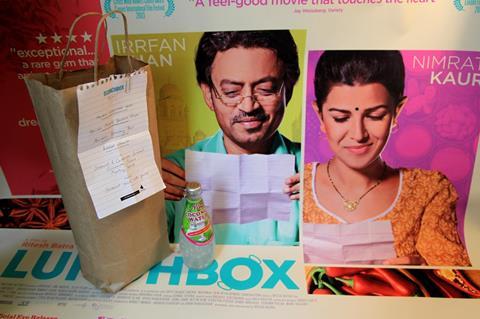 Walking into Screen 4 at the Hackney Picturehouse on Thursday night, Screen would have been forgiven for thinking it was a local curry house, greeted as we were by the appetising aromas of Indian food.
But rather than being shown to our table, the usher handed Screen a weighty bag of edible treats and showed us to our seats.
What lay within was cooked up by Artificial Eye and edible experience experts Teatime Production to invoke the tastes and aromas of Indian cuisine as portrayed in Ritesh Batra's Mumbai-set romance The Lunchbox.
Preview screenings were held at a baker's dozen of cinemas across the UK, from Curzon cinemas in Mayfair and Richmond to Picturehouses in Cambridge, Exeter, Liverpool, Oxford and York.
Every ticket holder was supplied with their own 'dabba' (lunchbox) containing a variety of sweet and savoury snacks, plus a drink, specifically matched to the film.
The packaging for each portion also came with a complimenting aroma that was released upon opening.
Treats included bakarwadi bites with sandalwood, cinnamon bark and parjita attar aroma; masala banana chips with ylang ylang, amyris, black pepper and ginger aroma; Bombay puri with black pepper, coriander seen and red thyme aroma; and baked chevdo with amyris, kewda attar and oakmoss aroma.
There was also a coconut and cardamom caramel and cinnamon praline for something sweet accompanied by coconut juice with pulp.
While some munched their way through the film, many tucked in during the trailers as a satisfying appetiser before the main course.
It would have been hard for any chef to match the exceptional-looking lunches cooked by Ila (Nimrat Kaur) for Saajan (Irrfan Khan). But the whole experience added up to a tasty session that was also a treat for the eyes and ears, whetting the appetite for more.
Is there a foody film from Japan coming soon?