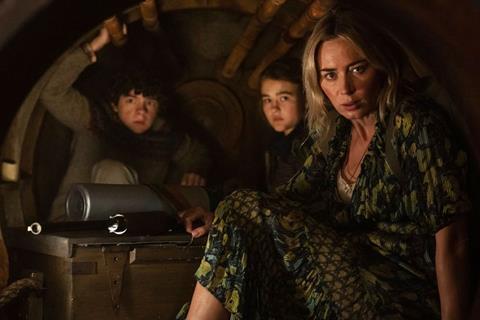 UPDATED: Paramount's A Quiet Place Part II became the first film since the pandemic began to cross the $100m milestone in North America and deprived Warner Bros musical In The Heights of a number one debut.
In its third session the horror sequel and exclusive theatrical release (after 45 days it will debut on Paramount+) added a confirmed $12m in 3,515 venues to reach $109.4m.
International box office stands at $75.8m, pushing worldwide box office to an estimated $185.2m. John Krasinski directs Emily Blunt and Millicent Simmonds.
Tribeca Festival opening night selection In The Heights, John Chu's adaptation of Lin-Manuel Miranda's New York-set musical, had been expected to top the charts on $15m-$20m. It arrived in second place, earning a muted $11.5m in 3,456 venues.
In The Heights also debuted day-and-date on HBO Max in accordance with WarnerMedia's strategy for all Warner Bros releases in 2021. That will have taken some potential box office dollars out of the weekend, although HBO Max will not release numbers.
Latino film-goers accounted for 40% of theatrical ticket sales, which was expected given that the story takes place in the predominantly Dominican community of Washington Heights. Older audiences tend to be the dominant age demographic for musicals, and according to pollsters the older age bracket is more reluctant to return to cinemas as quickly as younger crowds.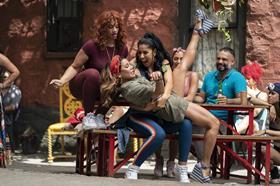 Warner Bros executives have taken heart from strong reviews and said they were hopeful of a solid run fuelled by word of mouth. Anthony Ramos, Corey Hawkins, and Leslie Grace star.
According to analytics company Samba TV, 693,000 households viewed the film on HBO Max on opening weekend. The service measures how many people watch a piece of content on connected TVs such as smart TVs, streaming devices like Roku, and gaming consoles.
By comparison with other Warner Bros releases this year that debuted simultaneously on HBO Max, Samba TV noted: Mortal Kombat drew 3.8m household views and earned $23.3m at box office; Godzilla vs. Kong 3.6m households (over a five-day weekend) and $48.5m box office; recent release The Conjuring: The Devil Made Me Do It drew 1.6m households and $24m box office; and Tom And Jerry drew 1.2m households on HBO Max and produced $14.1m box office.
Returning to the top five at the box office, The Conjuring: The Devil Made Me Do It secured third place after a 57% drop to $10.3m from 3,237 for $44.1m after two sessions. The latest instalment in the horror franchise has crossed $100m worldwide.
Columbia Pictures' Peter Rabbit 2: The Runaway directed by Will Gluck arrived in fourth place with a $10.1m three-day opening weekend in 2,246 sites, a little below studio projections.
Ranking fifth, Disney's Cruella starring Emma Stone fell 39% anf brought in a further $6.7m from 3,307 sites to boost the running total to $55.9m after three weekends.
Box office continues to find its feet although it will trail behind 2019 for the entire year. Observers are encouraged by the numbers and await further vaccinations or herd immunity to encourage more people back to cinemas. Roughly 90% of US cinemas have reopened, albeit to restricted capacity, while much of Canada remains closed.