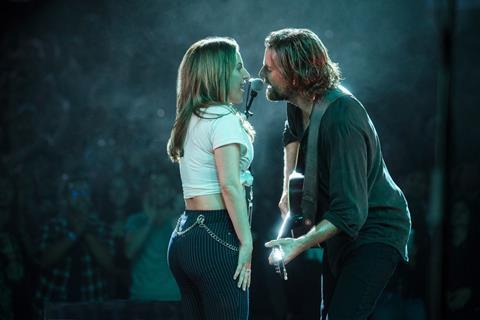 OCTOBER 22 UPDATE: Venom stayed atop international box office thanks to a confirmed $32.6m weekend haul from 65 markets that boosted the running total to $291.2m, and worldwide to $462.3m. Meanwhile Warner Bros' A Star Is Born crossed $200m worldwide, and Universal/Blumhouse's Halloween arrived in its first 23 territories on $14.3m and managed $90.6m worldwide including the number one North American launch.
SONY PICTURES RELEASING INTERNATIONAL
UPDATED: Sony/Marvel's Venom held on to number one in 30 markets led by France on $3m for number one and a $10.9m running total, Russia on $2.7m and number one for $28.2m, the UK on $2.1m for $21.8m, and $2m in Brazil for number one and $15.3m.
The comic book adaptation starring Tom Hardy and Michelle Williams added $1.9m in lead market South Korea for $28.4m, $1.9m in Mexico for $21.3m and number two, and $1.9m in Germany for $12.4m and number two.
Goosebumps 2: Haunted Halloween brought in $6.1m from 24 markets to reach an early $11m. The family sequel generated $2.8m in the UK in what appeared to be a number three finish for the weekend. It arrives this week in Australia, France, Germany, and Spain.
WARNER BROS PICTURES INTERNATIONAL
UPDATED: Warner Bros' A Star Is Born crossed $200m worldwide as a further $23.5m from 75 markets propelled the international tally to $75.6m and worldwide to $201.8m. Bradley Cooper and Lady Gaga led the way in Australia on a $4.8m number one debut that produced the studio's top launch of the year-to-date. Hong Kong delivered $636,000 to rank as the top foreign film.
The musical drama stayed strong in the UK, edging out Halloween to retain top spot on $3.8m and reach $19.4m after three weekends. It added $1.5m in Italy for $4.2m after two, $1.5m in France for $6.6m after three, and $1.2m in Germany for $5.4m after three. The second session brought a further $1.1m in Brazil for $3.1m, $865,000 in Taiwan for $2.6m, and $693,000 in Mexico for $2.6m. Spain delivered $580,000 for $3m after three, and South Korea $524,000 for $2.1m after two weekends. The final key market to open is Japan on December 21.
Smallfoot grossed $14.4m from 71 territories and the animation stands at $71.2m. It opened in China on $3.9m to rank fifth, and arrived in France in fourth place on $1.5m. In the second weekend, the UK produced the top hold on $1.9m for $5.7m, while Spain generated $927,000 for $2.7m, and Germany $637,000 for $1.6m. Australia remains the top market and the film has reached $8.9m there, followed by Mexico on $8.5m. Smallfoot opens this week in Russia.
The Nun has amassed $245m, and Crazy Rich Asians $59.6m with the China debut set for November 30.
UNIVERSAL PICTURES INTERNATIONAL
UPDATED: Halloween took $14.3m from its initial wave of 23 territories led by a number one $5.1m debut in Mexico and $3.5m in the UK for second place. Combined with the mighty $77.5m North American debut the global opening weekend produced $90.6m.
The Mexico result delivered the best debut for a Blumhouse film, the fifth best for a horror film, and the best debut for a slasher film, while the UK produced Blumhouse's fourth best opening weekend and the biggest of the last five years.
The horror staple starring Jamie Lee Curtis managed $1.8m in Russia for Blumhouse's fouth biggest opening weekend, $1.2m in fact-growing Indonesia, and $3873,000 in Central America. The bulk of the remaining 46 markets open this week.
First Man brought in a further $13.6m from 47 and climbed to an early $25.7m, with South Korea generating the best debut on $3.5m at number one, followed by France on $1.8m in third place, and Brazil on $686,000 in fourth. The UK delivered the best hold on $1.7m to rank seventh and stand at $6.7m. Australia has produced $2.9m after two weekends.
Johnny English Strikes Again used a $10.1m session in 57 active markets to reach $96.4m as the comedy arrived at number one in four markets including Germany at number one on $2.2m. A further $2.2m in the UK, ranking fourth, boosted the running total to $14.4m after four.
Night School stands at $17.6m, and Amblin Partners' The House With A Clock In Its Walls added $1.3m from 21 Universal territories for $20.1m. BlacKkKlansman has reached $37.6m.
LIONSGATE INTERNATIONAL
UPDATED: The Spy Who Dumped Me debuted in China in second place on $5.9m as the international running total climbed to $38.5m. In one weekend China established itself as the action comedy's top market, with the UK and Australia behind on $3m and $2.6m.
Mystery caper A Simple Favor grossed $976,000 from 58 markets to reach $32.7m, and $85.8m worldwide. Australia is the lead market on $7m after six weekends, followed by the UK on $6.6m after five.
FOX INTERNATIONAL
UPDATED: Mystery thriller Bad Times At The El Royale added $2.4m from 49 markets to reach an early $7.9m, while The Predator added $1.6m for $77.1m from 39, fired up by a $1.3m debut in France in seventh place. La Sombra de la Hey added $320,234 for $1.2m in Spain after two weekends. El Potro stands at $1.5m in Argentina after three.
STX INTERNATIONAL
Jennifer Garner action thriller Peppermint added $950,000 from 54 markets to climb to $11.1m and $46.4m worldwide. Melissa McCarthy puppet buddy movie The Happytime Murders added $805,000 from 50 for $5.8m. Mark Wahlberg action thriller Mile 22 stands at $28.6m.
More to follow