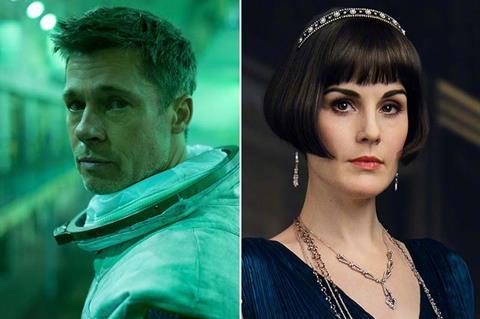 SEPTEMBER 23 UPDATE: Fox's acclaimed Brad Pitt sci-fi Ad Astra ruled worldwide box office as it launched on an estimated $45.1m, while Focus Features' period drama Downton Abbey debuted on $41m.
Meanwhile Quentin Tarantino's Once Upon A Time… In Hollywood and Warner Bros' It: Chapter Two both crossed the $200m international milestone, and Universal's Hobbs & Shaw crossed $750m worldwide. Rambo: Last Blood arrived on $28.1m worldwide, of which $9.1m came from Millennium Media's international licensees.
WALT DISNEY STUDIOS MOTION PICTURES INTERNATIONAL
UPDATED: New Regency and 20th Century Fox's sci-fi Ad Astra grossed an estimated $45.1m globally this weekend and ruled international as well on a confirmed $25.9m from its first bucket of markets. The UK led the way on $2.8m to rank second behind number one hold Downton Abbey, while South Korea produced $2.7m in a debut that was 10% ahead of that of Arrival.
James Gray's adventure starring Brad Pitt as an astronaut with father issues opened at number one on $2.6m in France, where director and star are highly popular. It scored a $2.3m number one bow ahead of Downton Abbey in Spain, touching down ahead of the debut Gravity and more than double those of Arrival and First Man.
There were also number one debuts in Norway, Indonesia ($700,000) and Singapore, and Ad Astra ranks as the number one western title in South Korea, Japan ($2.1m), Thailand and the Philippines. It arrived in Mexico on $1.4m, Australia on $1.3m, Germany on $900,000, and UAE on $700,000. Disney's The Lion King added $3.8m for $1.092bn.
WARNER BROS PICTURES INTERNATIONAL
UPDATED: It: Chapter Two generated $21.3m from 78 markets as the international running total vaulted to $206.1m and the worldwide tally reached $385m.
France led the session on $2.5m to rank second and reach $7.6m in the second weekend. Germany generated $2.2m to hold at number one in the third session as it climbed to $15.5m, and the UK produced $1.7m for number three and a $19.7m running total after three. Also in the third session, Mexico delivered $1.5m for $19.7m, Brazil $1.2m for $10m, Russia $1.2m for $16.1m, Australia $960,000 for $8.9m, and Spain $883,000 for $8.2m.
Annabelle Comes Home opened in Japan on $902,000. Overall the horror sequel stands at $152.1m internationally and $226.2m worldwide.
UNIVERSAL PICTURES INTERNATIONAL
UPDATED: British period drama Downton Abbey brought in a further $10.2m in a strong session that propelled the international running total to $31m and worldwide to $62m, factoring in Focus Features' record-setting number one North American debut.
The drama opened in 15 new markets led by Germany on $1.2m for second place, and Spain on $950,000 for second place. Predictably, the UK led holdovers on $4.1m for a superb $16.1m after two weekends. Next was Australia on $1.5m for $4.9m.
Yesterday grossed $2.9m for $68.7m and stands at $142m worldwide. Danny Boyle's musical fantasy starring Himesh Patel and Lily James opened in South Korea in fourth place on $1.6m, and in Russia in fifth place on $430,000. Hobbs & Shaw added $3.1m for $579.9m, and $750.5m worldwide. Comedy Good Boys will cross $100m soon after $2.4m pushed the international tally to $21.4m and worldwide to $98.8m.
SONY PICTURES RELEASING INTERNATIONAL
UPDATED: Quentin Tarantino's Once Upon A Time… In Hollywood used $9.8m from 59 markets to cross $200m and sits on $204.8m internationally, and $344.6m worldwide. Helping Tarantino, Brad Pitt and Leonardo DiCaprio on their way was a $6.1m number one bow in Italy (including previews) that set a new benchmark for the filmmaker in a territory that has rewarded his films handsomely over the years. It opens in South Korea this week.
The Angry Birds Movie 2 earned $5m from 58 markets and stands at $78.3m with the next debuts set for Brazil in October 3, and France on October 16.
STXINTERNATIONAL
Hustlers starring Jennifer Lopez and Constance Wu added $3m as the early international running total reached $9.8m. The revenge tale added $1.3m in its second weekend in the UK for $4.1m.